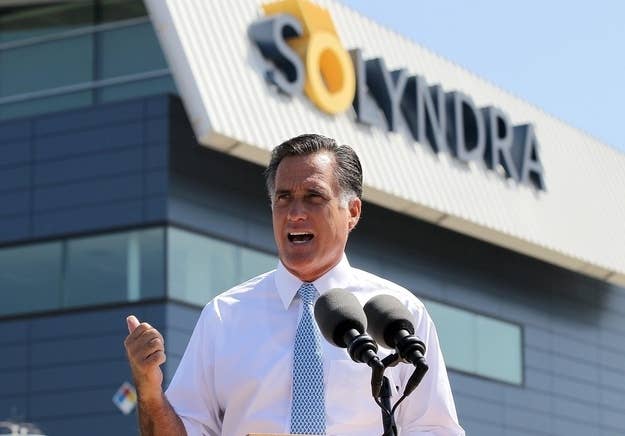 BOSTON, Mass. — After a day spent waging bi-coastal combat with the Obama campaign, Mitt Romney's team in Boston earned the highest compliment Rush Limbaugh has ever paid them Thursday afternoon: "I'm telling you," he said. "This is not the McCain campaign."
Once-skeptical conservatives knew exactly what he meant. In the eyes of many on the right, John McCain's 2008 presidential bid was a disaster not because he lost, but because he refused to fight. Conservatives believe McCain bought into a liberal media narrative that personal attacks on Barack Obama were unseemly and even racist. The conservative caricature of Candidate McCain that emerged in the wake of the Republicans' defeat wasn't of an unreliable moderate — rather, it was one of an Establishment figure paralyzed by political correctness, and unwilling to go blow for blow with Obama.
But if the Vietnam veteran disappointed conservatives with his gun-shy campaign in 2008, Romney is uniting the right by playing the role of the bomb-thrower.
The unapologetically aggressive tone of Romney's campaign is manifest at every turn — from his aides' fierce Twitter wars, to the candidate's surprise press conference at failed green solar company Solyndra, and the campaign's continued refusal to apologize for Donald Trump's outlandish conspiracy theories about Obama's birth certificate. It's all part of a deliberate — and, so far, successful — strategy aimed less at convincing undecided voters, and more at rallying the Republican Party around its candidate.
"There were a lot of folks who didn't think he'd have the edge to really take on the president," a Romney advisor, who outlined the campaign strategy on the condition of anonymity, told BuzzFeed, refrring to "the Santorum people and conservatives who have been off the bandwagon."
"They've been pretty surprised and impressed at how willing Boston has been to push back," the advisor said. "We're raising money, and I'm getting calls from people saying, 'This is amazing… I didn't think this would happen."
"Now there's a narrative that this guy is going to fight back and that's not going to be a McCain situation where they get to attack you and everything you say is off limits," he said.
The conventional wisdom of the chattering class has been that Romney is captive to the Republican Party's conservative base, desperate and anxious to maintain their tepid support. But his new appeal to the right marks a recognition that he can court conservatives without, in any traditional sense, "tacking right." His aggressive tactics stand in for the sort of policy compromises that could damage him in November; better, his advisers argue, to court conservatives with a press conference shouting match than with a high-profile fight over abortion or gay marriage. What's more, they say, the media obsession with Romney "pandering" to the right represents a misunderstanding of conservatives, who can live with Romney's moderate record – as long as he's a fighting moderate.
"I thought we were going to see John McCain all over again," said Brad Thor, a bestselling novelist and popular figure on the right who supported Santorum. "But you know what? That fire I've felt for previous candidates, I'm starting to feel it. And that surprise presser at Solyndra was like pouring accelerant on the fire."
Thor said when he heard about the Solyndra stunt, he cheered aloud: "Way to go Mitt!"
"My God, this is right out of Breitbart's playbook. I love it!" he said. "I swear to God, if he roller skates into the DNC convention, or hijacks an Obama press conference — if he does either one of those I'm going to give my kid's college money to his Super PAC."
That appetite for confrontation has a particular appeal for the vibrant online right.
"I unquestionably see more excitement on the right as Mitt Romney takes the gloves off and comes out fighting," said Kat McKinley, a Tea Party activist and blogger. "The more he does the opposite of what John McCain did, which was NOT fight, the more conservatives will like him."
Romney's aides and advisors tick off a series of punches and counterpunches that form the core of this new brand of conservative outreach, beginning with his staff's decision to turn Democrats' absurdist attacks on his treatment of a family dog into an absurdist assault on Obama's memory of having eaten dog meat as a boy in Indonesia.
"Same thing with the Mormon issue," said the advisor, noting the course of MSNBC host Lawrence O'Donnell's attack on Romney's faith. "The next thing you know you've got Ricketts talking about Jeremiah Wright" — a planned Super PAC, unconnected to the campaign, which threatened to air ads attacking Obama's former pastor — "and David Axelrod comes out and says everything is off limits."
Also part of this pattern has been the campaign's refusal — mystifying to liberals and the media that praised McCain — to stand up Trump's birther crusade. President Obama has even questioned the candidate's "moral leadership" as a result of his alliance with The Donald. But the Romney campaign sees instances like McCain's publicly rebuking a supporter who called Obama an "Arab" as moments of political weakness — the equivalent of throwing the base into an ice bath when he most needed them fired up.
His campaign's most recent muscle-flexing stunt came Thursday, when Romney pulled off the surprise visit to Solyndra in San Francisco, using the bankrupt company's headquarters as a backdrop to hammer the president for "picking winners and losers" in the economy. Meanwhile, 3,000 miles away, campaign aides, interns, and volunteers crashed a press conference scheduled by senior Obama adviser Axelrod on the steps of the Massachusetts Statehouse. The rowdy crowd drowned out the speakers at times with loud boos, blew bubbles at them when they were talking, and interrupted with chants of, "Five more months!"
"They were on our home turf," campaign spokesman Ryan Williams said. "They had this botched sneak attack. This was personal for us since they were right up the block. We're not just going to sit by and let them do that — we're not weak."
Kevin Madden, a Romney adviser, said they're simply making good on their promise in the primaries to take the fight to Obama.
"As a campaign, we won't cede even an inch when it comes to delivering the governor's message," he said.
And Romney himself said his supporters were merely responding to rowdy Democratic behavior.
"And at some point you say, 'You know what, sauce for the goose is sauce for the gander,'" he said. "If they're going to be heckling us, why we're not going to sit back and play by very different rules. If the president is going to have his people coming to my rallies, and heckling, why, we'll show them that, you know, we conservatives have the same kind of capacity he does."
That kind of talk has won approval from the Republican grassroots figures who took McCain's civility for surrender in 2008.
"Time and again, he pulled back from lines of attack that could have been productive against Obama," said Rick Wilson, who cut slashing ads for the National Republican Trust PAC, an outside group McCain denounced. "He undercut surrogates and supporters. His consulting team acted like it was wine-tasting night at the Borgia's."
"Conservatives want a fighter, and Romney's been stepping up fast on that front," he said.
Romney aides, too, privately contrast their no-holds-barred approach to McCain apologizing for his party's rowdy base in 2008. And for now — while swing voters go on vacation, and activists stay tuned in — the campaign is welcoming the comparison to a confrontational icon of the conservative movement.
Told that conservatives were comparing Romney's tactics to Breitbart's, one aide responded: "Oh great, that's what we were going for."
With Zeke Miller in Boston.