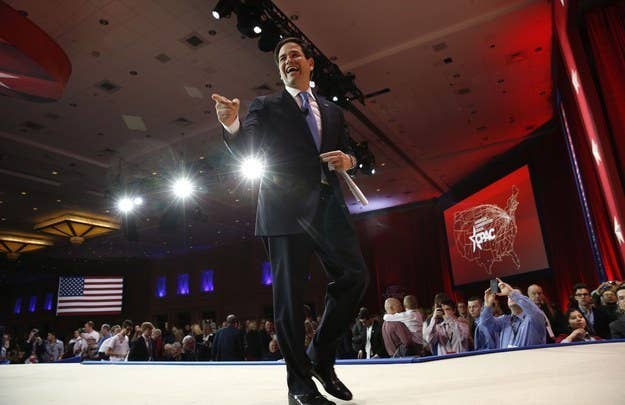 As Florida Sen. Marco Rubio prepares to launch a presidential bid next month, his circle of campaign consultants and political aides has linked arms in a high-minded 2016 resolution that they will not talk to reporters for "process stories" like this one.
For those not fluent in the language of the Washington green room, the "process story" is a genre of political journalism that focuses on the mechanics of campaigning and policymaking, rather than the specifics of the issues involved. As a rule, professional politicos tend to feign aversion to such coverage — complaining that it distracts from substantive debate — even as their obvious appetite for it continues to support a thriving news ecosystem of outlets competing for insider scooplets. It is not uncommon for a campaign operative to publicly lament the cheapening effect of process journalism, while simultaneously feeding journalists news tips and anonymous quotes designed to tout his own savvy, or tarnish that of a rival.
But Rubio's team — led by top political adviser Terry Sullivan — has been boasting to reporters in advance of the campaign's kickoff that they won't take part in inside baseball stories this cycle at all. No self-serving strategy spin, no indulgent shop talk, no jockeying for position on Politico's homepage. They plan to keep the focus on their candidate and his agenda, and skip what some of them refer to as the "Playbook primary," in which campaigns hustle to get stories written about their successful fundraisers, or their superior grassroots networks. Coverage like that might give consultants a temporary sugar-high, they argue, but in the long-term they do nothing to win votes, and they carry the constant risk of becoming a distraction.
True to their word, Rubio's advisers declined to answer questions about their process story boycott.
"I'd call you to discuss," Sullivan told BuzzFeed News in an email, "but it would ruin the entire premise of your story. So, 'no comment.'"
But several political reporters have heard the spiel from the senator's aides in recent months, typically by way of explaining their decision not to answer questions that often seem relatively benign. Among the stories the Rubio camp has recently skipped: an examination of his campaign hiring strategy; a report on his outreach to Tea Party groups; any number of articles about his recent fundraising blitz; and an article looking into his potential prospects in Iowa.
The evasiveness isn't likely rooted in any sort animus for the political press: Rubio has been one of the most accessible, and media-savvy, senators on Capitol Hill, and his longtime press secretary Alex Conant is widely known for being chummy with reporters, and hyper-responsive to their queries.
But Conant, who recently left Rubio's Senate office to join the campaign-in-waiting, has also seen firsthand the fruitlessness of a candidate courting the chattering classes with fancy political footwork. In 2012, Conant worked for Minnesota Gov. Tim Pawlenty's campaign, helping to build buzz with splashy hires and favorable early coverage — only to see the candidate run out of money months before the Iowa caucuses and drop out of the race.
And, of course, Rubio and his inner-circle continue to be haunted by one of the biggest political process stories of the past few years: the sausage-making that produced the Senate's 2013 immigration bill. Rubio took a central role in drafting the legislation and getting it passed, appearing regularly on conservative talk radio to defend the policy — and his strategy for shaping it — against a growing right-wing backlash. His office, meanwhile, plunged itself into the contentious frenzy of the daily news cycle — aggressively taking the fight to websites like Breitbart News that were spreading misinformation about the legislation, and conservative pundits who were churning out sharply critical columns on Rubio.
The hand-to-hand combat in the political press only served to further alienate Rubio from the Right, and by the time the bill passed, any sense of victory he might have enjoyed had been poisoned by the toxic runoff from the all those dreadful process stories. It's no wonder his team would rather skip all that in 2016.
Or would they? On Thursday afternoon, the Washington Post and National Review published a pair of stories reporting that Rubio had won the support of a Miami billionaire auto dealer who was pledging to spend as much at $10 million to get him elected. The stories went on to cite anonymous Rubio advisers pointing to the inroads he's successfully made to the donor class, and confidently predicting that his campaign would raise at least $40 million before the Iowa caucuses.
It was the quintessential process story — meaningless to the average Iowa voter, but pitch-perfect Playbook-bait that offered a compelling response to some of Rubio's naysayers in the political class.
BuzzFeed News asked an adviser to Rubio whether the articles constituted a violation of the team's rule against process stories, but received no response.