Lee Atwater's Widow, Running For Office In South Carolina, Promises Positive Campaign
Her last name has become synonymous with dirty tricks and political mischief-making — but Sally Atwater is "just real passionate about education."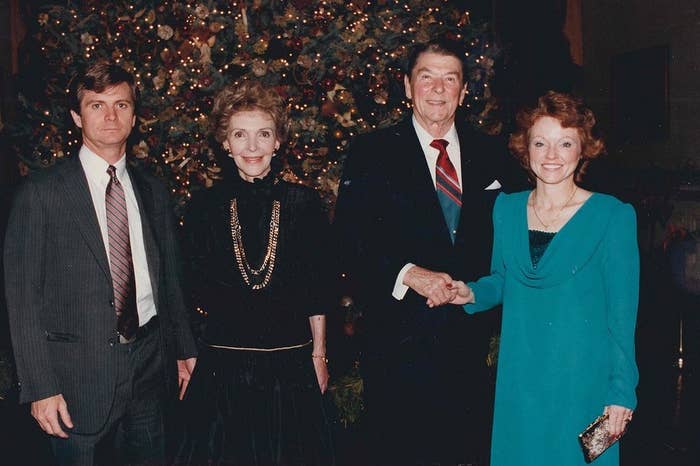 COLUMBIA, S.C. — Twenty-five years after Republican strategist Lee Atwater engineered the election of George H.W. Bush with a slashing campaign that cemented his place in political lore — and spawned a generation of trouble-seeking imitators — the late operative's widow is running for office in South Carolina. And she's being very polite about it.
Sally Atwater, who has spent the years since her husband's 1991 death working on education policy for the federal government in Washington, announced in January that she would run for South Carolina superintendent of education. In the months since her entrance into electoral politics, Atwater has eschewed the hard-edged tactics that made her husband famous, and instead harnessed her D.C. connections to outrun a crowded field of local opponents — hiring a slick consulting firm, pulling in high-profile endorsements, and tapping a national fundraising network to fill her campaign coffers.
Sitting in the downtown offices of First Tuesday Strategies — a political powerhouse in the state that counts Atwater as a client — the candidate cheerfully recited her talking points in a disarming Southern accent, casting herself as a humble schoolteacher whose experience as a single mother uniquely qualified her to serve the state's students. She laughed when the subject of her husband's bare-knuckled politics came up. Lee Atwater's dirty tricks have gone down in the annals of electioneering: In a 1980 congressional race, for example, he seized on a Democratic candidate's acknowledgement that he had undergone electroshock therapy for depression as a teenager by gleefully spreading word that the man had "been hooked up to jumper cables." Sally Atwater didn't try to apologize for her late husband's behavior. "He was creative," she reasoned. "He always could think out of the box."
But she said Lee's style didn't rub off on her: "You know, that's not really my personality. I'm just real passionate about education."
Atwater said her campaign would be about positive issues, and that she wouldn't go farther than politely comparing her record to those of her opponents.
"I don't [think] it's gonna be nasty," she said. "I think that people come to this race representing different aspects. I'm the teacher, there's a school board member running, there's a university professor running, there is a state department of education bureaucrat running, there is a woman that does the association for school administrators running, and then there's somebody that's really, I guess, a defender of common core. That's her agenda."
"If there's one message I really care for it's that I want citizens of South Carolina to really make education a priority," she added.
Willie Horton, this was not.
Rather, Atwater has opted to rise above the fray by leveraging her rolodex. Last month, President George H.W. Bush endorsed her, shortly before a $500-per-attendee fundraiser in Alexandria, Va., for Atwater's superintendent bid. She has used the cash to employ veteran Republican consultants in the state, and a campaign manager, Delinda Ridings, who previously worked as Newt Gingrich's state field director in 2012.
If Atwater's polished, civilized campaign seems to stand in contrast with the type of politics her last name is synonymous with, it shouldn't be surprising. Whereas Lee Atwater had to claw his way to the top of the GOP with a brazen killer instinct and a ruthless drive to win at all costs — he once explained at length in an interview how to use racist dog whistles to win southern voters — Sally is already firmly in the embrace of the Republican establishment. She has worked in every Republican administration since Ronald Reagan's, and has cultivated a wide network of political allies. Her campaign website includes photos of the elder Bush holding one of her daughters. The uncouth business of attack politics is unnecessary when you have the former first family writing you checks for a superintendent's race.
"That is one thing I did learn from Lee: Network, network, stay connected," she said. "When I'm there [in Washington], I stay connected to these people down here. When I'm down here, I stay connected up there. You know, now of course, people from the Bush administration are all over."
But for all her Beltway-honed manners, Atwater showed little desire to disown the South Carolina political culture her husband helped create. At one point during her interview with BuzzFeed, she said she all her early exposure to campaigns had made her "never, never, never" want to run for office herself. The pace was grueling, the hours were long, and the travel would have kept her away from her three daughters.
And, surely, the occasional ugliness of the campaigns must have turned her off as well?
"I'm not gonna go that far," she said, smiling.