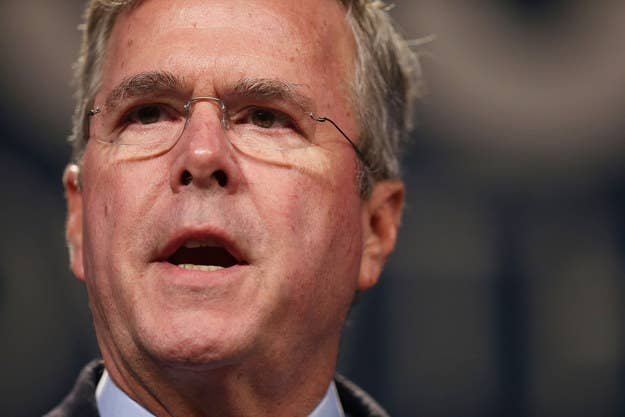 BERLIN — If all goes according to plan, Jeb Bush will end this week with a superlative worthy of a campaign bumper sticker: Vladimir Putin's least favorite Republican.
Beginning with a saber-rattling speech here Tuesday, the presidential contender is set to kick off a carefully choreographed five-day tour of European capitals — from Berlin, to Warsaw, to Tallinn, Estonia — designed to place him in meetings and photo ops with some of the continent's leading critics of Putin's Russia. Aides say the itinerary will help Bush lay out his vision for a more aggressive American stance against Russia, and illustrate what he considers to be the failures of President Obama's weak-kneed response to Putin's recent aggression in Eastern Europe.
It will also allow Bush to score political points with Republican primary voters back home. The day after he returns from Europe, Bush is expected to officially announce his bid for the presidential nomination in a party where few geopolitical figures are more reviled than Russia's president.
"Putin looms large in the American imagination in a way that no other Bond villain out there does," said Hugh Hewitt, an influential conservative talk radio host. He said the Republican voters he talks to "cannot name the president of China… but everybody knows the bare-chested, horseback-riding, Olympics-giving, country-invading Putin."
It's true that Putin has achieved a pop culture–fueled notoriety rarely bestowed upon world leaders. He shows up in best-selling spy novels, and inspires mocking memes that litter the internet. His barely fictionalized clone in the most recent season of House of Cards was notable, perhaps, for being the only character in the show who seemed less cartoonish than his real-life counterpart.
But Russia's growing potency as a political issue in 2016 is also emblematic of long-held frustrations on the right with Obama's foreign policy. When Russia annexed Crimea last year, many American conservatives called for immediate action from the United States, beginning by providing arms to Ukraine. The Obama administration has resisted those calls so far, in favor of economic sanctions and diplomatic pressure.
Hewitt has made it his mission to get Republican candidates on the record with regard to their Russia agenda, frequently quizzing them on air about the intricacies of NATO treaties and U.S. Naval policy. It was on Hewitt's show in March that Bush said the United States should be willing to use military force to prevent Russia from further infringing on the sovereignty of its allies in Eastern Europe — some of his more elaborative remarks on the topic. Bush also called for more NATO troops to be deployed in the region, and said the United States should start providing Ukraine with weapons.
But Bush has not yet distinguished himself as a true Russia hawk when compared to a field of GOP rivals like Sens. Ted Cruz and Marco Rubio, who regularly turn up on cable news and talk radio to rail against Russian aggression. At times, Bush's rhetoric has seemed a little vague and unsteady. In a question-and-answer session following a speech earlier this year on his foreign policy agenda, Bush emphasized engaging countries like Germany and stronger support for Ukraine. He also praised Obama for his so-called "forward lean" in the Baltics — but seemed unsure of whether the approach had been successful. "I don't know what the effect has been because it's really kind of hard to be on the road, and I'm just a gladiator these days, so I don't follow every little detail," he said.
Here in Berlin, Bush will use his appearance at a major economic conference to sharpen his rhetoric, calling for unified, aggressive NATO action against Putin's recent provocations.
"Russia must respect the sovereignty of all of its neighbors," he is expected to say. "And who can doubt that Russia will do what it pleases if its aggression goes unanswered? Our alliance, our solidarity, and our actions are essential if we want to preserve the fundamental principles of our international order."
From Berlin, Bush will head to Poland, an ex-communist state where anti-Russia sentiment permeates the political establishment. Last month, for example, Polish President Bronislaw Komorowski used a high-profile speech to warn that a recent parade in Moscow's city center commemorating the defeat of Nazi Germany was, in fact, a "demonstration of force." He predicted, ominously, "Once again, Red Square will turn into Tank Square, and the very same tank divisions which recently invaded Ukraine will be there. This is not about history; it's about the future."
While in Warsaw, Bush will meet with Andrzej Duda, the president-elect who recently defeated Komorowski in part by attacking his foreign policy for being too weak. According to Michal Kolanko, co-founder of the insider news website 300Polityka — a Polish Politico clone — the country's business and government leaders will welcome the sort of Putin-bashing that plays so well back home. But they may also seek to extract some campaign promises of their own from Bush.
"The U.S. is seen as the only country which could help Poland if the situation goes from bad to worse," said Kolanko. "If there's some sort of commitment from Bush in regards to U.S. military deployment in Poland, setting permanent bases in Poland, or strengthening U.S. presence in the region, that'd be seen as proof that he 'gets it' — that Putin's Russia is a Cold War–type enemy… There is hope that a GOP administration is going to be more 'realistic' and less dithering on Putin than Obama."
To drive his message home, Bush will conclude his trip across Europe at Russia's doorstep, touring a NATO cyberdefense facility in Estonia that was formed after the country endured a serious cyberattack that many suspected the Russian government of orchestrating.
Estonia's president, Toomas Hendrik Ilves, has worked urgently to bring attention to what he describes as a dire situation in the region, warning that his country — and other Baltic states — are obvious annexation targets for Putin. Asked last year to account for the international community's lackluster response to Russia's aggression, Ilves said, "The West has been in a state of shock."
When Bush meets with Ilves and his political allies later this week, he will likely present himself as a clear-eyed leader prepared to pry the West from its stupor, and finally confront Putin. Chances are, he'll be making the same pitch on the campaign trail next week.