Jeb Bush: Last-Minute Campaign Shakeup Was Response To "Overwhelming Challenge" Of Primaries
The Republican presidential hopeful says his 2016 prospects are good, despite his surprise decision to swap campaign managers. He adds that his standing in the polls "doesn't really matter" right now.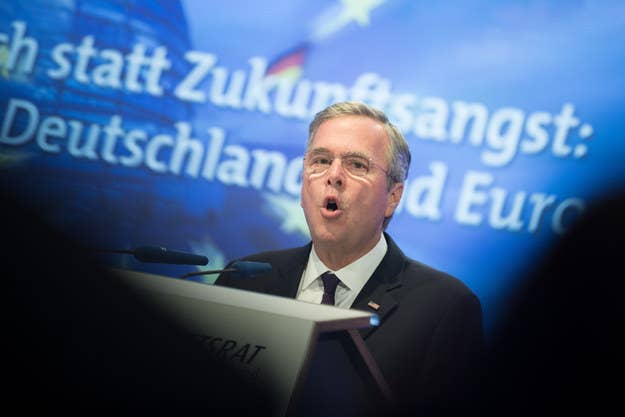 BERLIN — Jeb Bush sought to quiet dire speculation about the shakeup inside his political team Wednesday, telling reporters in Berlin the surprise reshuffling at the top of his campaign would enable him to confront the "overwhelming challenge" presented by a crowded field of Republican rivals and a tight schedule of 2016 primary contests.
Earlier this week, the Wall Street Journal reported that the job of Bush's campaign manager would go to an aggressive, 39-year-old operative named Danny Diaz — not the more seasoned strategist, David Kochel, who had initially been tapped for the position. The abrupt change just days before Bush is expected to officially announce his presidential candidacy prompted media reports of organizational infighting, and a flurry of commentary suggesting the once-presumed Republican frontrunner has stumbled.
Speaking to reporters outside a hotel here before leaving for the second leg of his tour of Europe, Bush rejected the premise that his candidacy was in trouble. He said he decided to make a change after acknowledging "the magnitude of the journey" he faced. Kochel will now serve as the campaign's chief strategist, focused on developing a plan to compete in the crucial early primary contests.
"It's a pretty overwhelming challenge, and so I decided to kind of split up the duties," Bush said. "David has got great success in these early states, particularly Iowa. He also has got a great strategic mind. And Danny's a grinder."
National polls, as well as those in early primary states, suggest Bush has failed to break away from the pack of candidates, and he continues to face deep skepticism from his party's conservative base, many of whom regard him as a too-moderate heir to a political dynasty they would rather forget.
But Bush said he isn't worried about the jockeying in the polls this early in the election cycle.
"It's hard to imagine this, but I don't even read the clips," Bush said, adding, "Polls are, you know, it's fun to see them when you're winning, not so fun when you're not. It doesn't really matter, though, it's June, for crying out loud, so we've got a long way to go."
Bush, who has been open about his distaste for political "process stories," also took the opportunity to gently scold the press for its hyperbolic horserace coverage.
"I just urge everybody to be a little more patient about this," he said. "I mean, y'all cover this kind of in the here and now, and who's winning and who's losing is important. And I respect that. But if you have a strategy, you think about it over the long haul."
He added that he planned to contend seriously in every state.
"I'm pretty confident that we're in a good position, for sure. And I'm going to compete everywhere," Bush said. "If I'm a candidate, there's no fifth place, you know, kind of mentality in my mind."