I Went To Church With Mitt Romney Sunday Morning
The famously guarded candidate attended a Mormon service today in Wolfeboro, N.H. — and he brought along a few reporters. A brief respite from the bubble.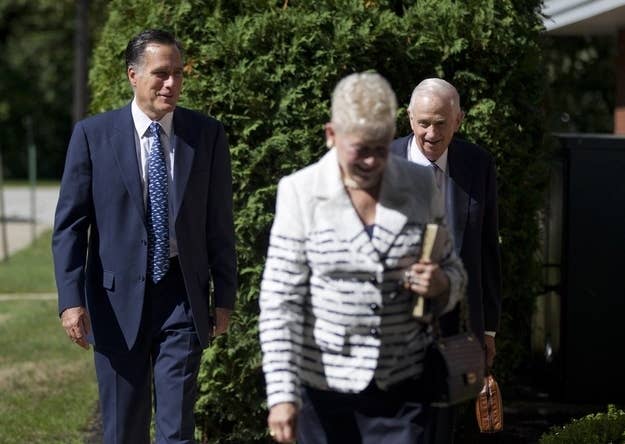 WOLFEBORO, N.H — A little after 10:00 a.m. on Sunday morning, Mitt Romney got out of a black SUV with his wife, greeted a couple in the parking lot, and walked into a Mormon chapel to take their seats with a small congregation of wealthy vacationers and native New Hampshirites.
And I followed him in.
As a member of Romney's traveling press corps, I've followed the candidate across the country over the past eight months. I'm also a fellow Mormon, and I've written thousands of words along the way about how our shared religion seems to be shaping his candidacy. But until today, I had never actually sat in the same chapel as him, sung the same hymns with him, and said "Amen" to the same prayers as him.
It's an experience I wasn't sure I'd ever have. For all his private devotion, Romney has refused to engage even the most innocuous questions about his faith, arguing that discussion of Mormonism should have no place in 2012's recession-worn public square. I've often wondered why the candidate insists on keeping one of the most meaningful — and humanizing — aspects of his life hidden from public view; what it was about the fundamentally un-exotic Mormon experience that he was so afraid to share.
My chance to find out came Sunday with BuzzFeed's turn in the recently-formed "protective pool," a rotating group of reporters who follow Romney everywhere he goes and file short dispatches to the rest of the press describing the candidate's schedule. As luck would have it, my turn on pool duty happened to align with the pool's first trip to church with the candidate.
Shortly after entering the chapel, Mitt and Ann filed into an aisle with their son Tagg, his wife, and their six children, while a handful of reporters took seats in the back of the chapel. As my colleagues surveyed their surroundings, they commented on how unremarkable it all looked: a generic high-ceilinged room full of nondescript parishioners.
What I saw, though, was a slice of Mormon Americana — a buffet of congregational quirks that any Latter-day Saint would recognize.
After a couple of hymns, including one titled "He Died, the Great Redeemer Died," a gaggle of teenage boys in wrinkled white shirts and crooked ties walked down the aisles passing out trays of bread and water that symbolize the flesh and blood of Jesus Christ. When one of the boys accidentally moved on before the tray got to Romney, Tagg gestured for him to return. The candidate quietly partook in the ordinance, which represents repentance for past sins and a renewed commitment to avoid them in the future. It's a key tenet of Mormonism — this notion of constant spiritual course-correction — and a campaign aide would later tell me that, wherever Romney finds himself on Sundays, he tries to attend a Mormon Sacrament meeting.
After the bread and water had been dispensed, Mitt and Ann took turns juggling grandchildren, while the service's speakers — selected from the congregation, and comprised today entirely of members of the Marriott family — took their turns at the pulpit. Ali Marriott, who looked to be in her mid-twenties, had just returned from serving a mission she split between southern Utah and Oakland, Calif., and the local bishop had invited her to regale the congregation with her war stories.
At one point, Romney took a restless, blonde-haired grandson onto his lap and flipped through a picture book to quiet him. At another, a congregant with a thick New England accent stood and asked for volunteers to join the women's choir that was about to sing. Egged on by an encouraging nod from her husband, Mrs. Romney rose (along with the majority of the women in the chapel) and made her way to the stand. The hymn they sang, "Because I Have Been Given Much," is a Mormon standard, whose pay-it-forward moral teaches that every individual should use the blessings they've received to bless the lives of others.
Standing with about 40 smiling women dressed in long colorful skirts and Sunday dresses, Mrs. Romney sang the lyrics, "I shall divide my gifts from thee with every brother that I see, who has the need of help from me."
There's a long history of press attending church with presidential candidates, and Romney's own father was no exception. The famously forthright George Romney made a show of being open about his Mormonism when he sought the presidency 40 years ago, answering reporters' questions about his religious undergarments, and inviting the entire campaign press corps to hear him give a sermon about social justice at a Mormon church meeting.
But, as with many other aspects of his campaign, the younger Romney has defined his public approach to religion in opposition to his father's, sticking closely to a script that doesn't include the word "Mormon." When Associated Press reporter Kasie Hunt followed the Romney family to church earlier this summer, the details in her dispatch were so hard-won that they were treated in the press like an exposé.
The working thesis of the chattering class has been that Romney eschews discussion of his faith for political reasons. But as the Sacrament Meeting wound down Sunday morning with the congregation singing a hymn titled "I Need Thee Every Hour" — and Romney fervently joining in — the election seemed far away. The man who would soon stand on a stage in Tampa and officially accept the Republican presidential nomination received no special welcome from his congregation. His presence wasn't acknowledged from the pulpit. And when a congregant offered the service's closing prayer, she didn't ask God to bless him with electoral success.
Instead, she asked that "Heavenly Father" guide and inspire those who were present, and help them to be mindful of others in need. When she finished, Romney said "Amen," wiped his eyes, and stood, smiling, to greet a man he appeared to know.
This was his respite from the campaign bubble — the last chunk of his personal life that he hasn't allowed to be consumed by presidential politics. And while members of the protective pool will be joining Romney at church for the duration of the election, he gave no sign on Sunday that he planned to turn his faith into a talking point.
When the last "Amen" was said, Secret Service agents quickly ushered reporters out of the building, where we stood on the hot sidewalk outside awaiting word on the candidate's plans. After a few minutes, an aide emerged with news.
"He's going to stay for Sunday school," the aide said. "We're going to wait in the vans."