Huntsman To Romney: Country Over Party
Huntsman hurls his sharpest attack yet at Romney, and says the frontrunner doesn't put his "country first." Hey that's John McCain's line!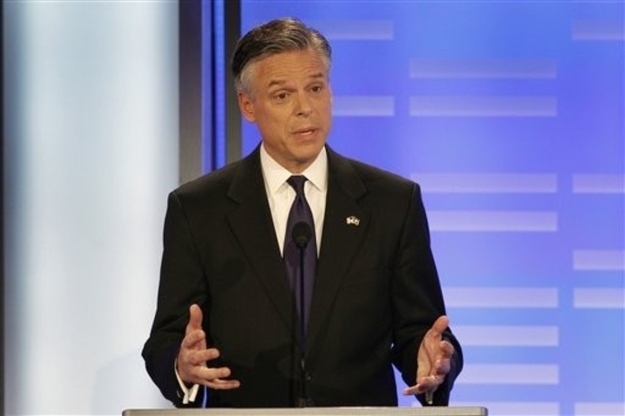 KEENE, N.H. -- Seeing an opportunity in Mitt Romney's assertion during last night's debate that being Obama's ambassador to China was an act of disloyalty to the Republican Party, Jon Huntsman escalated his anti-Romney rhetoric at a Keene State College town hall Sunday night.
"The biggest difference between me and Mr. Romney is that I'm someone who believes in putting my country first," Huntsman told a crowd of about 200, sharpening a line he used in Sunday morning's debate. "Mr. Romney apparently believes in putting politics first."
Huntsman's wife, Mary Kaye, also got in on the action, though she didn't call out Romney by name. Instead, she sought to add an emotional element to her husband's diplomatic appointment.
"When he was asked to serve, we had two boys who were just about to join the United States Navy," she said. "If she had turned down the opportunity to serve, what kind of an example would that have been to these boys who are now going to put their lives out on the line to serve this great country?"
Addressing his chances on Tuesday night, Huntsman was careful to walk a line between managing expectations--"Do I need to come in second? Third? Fourth? I don't know how we're going to do"--and trying to rally his supporters for a "New Hampshire surprise."
"I'm the underdog," he told the enthusiastic attendees. "But you know what I love about this state? New Hampshire loves the underdog."