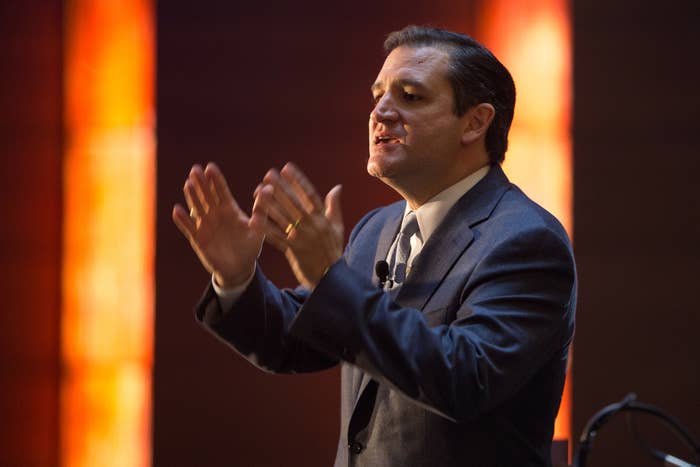 DES MOINES, Iowa — As an audience of 600 Republicans awaited the arrival of Sen. Ted Cruz Friday night at the Iowa Events Center, conservative Christian activist Steve Scheffler came to the podium to give thanks to God for the Tea Party savior — and plead for more principled conservative leaders like him willing to "be crucified for their belief system."
The ballroom full of amens that followed went a long way toward explaining why Cruz — fresh off a failed crusade to dismantle Obamacare that resulted in a 16-day government shutdown and a political disaster for his party — has been greeted with such adoration by Tea Party crowds in recent days.
In Cruz, conservatives have found something better than a champion for their cause or a defender of their values. They've found a martyr.
Indeed, since the government shutdown, establishment Republicans have done little to conceal their frustration with Cruz and the "kamikaze caucus," who have fielded pointed criticism from the likes of Sens. John McCain, Lindsey Graham, and Orrin Hatch. But in the eyes of the Tea Party, the onslaught has only made Cruz seem more heroic.
"Every time one of these guys attacks him, it's good for him," said one Iowa Republican operative. "He's like a superhero. The more bullets that get shot at him, the bigger and stronger he gets."
The Texas senator fully embraced this role at the Iowa GOP's annual Reagan fundraising dinner, where a theme of victimization ran through the rhetoric of the evening's speeches. Over the course of the event, Cruz and his conservative compatriots repeatedly cast themselves as humble Davids fighting against an army of Goliaths, including "the D.C. media that's attempting to divide us"; the "permanent political class whose goals are money and power"; "Washington strategists"; The New York Times; and any number of villains in the Obama administration, who Cruz said were "intent on violating every Constitutional protection."
"I am here more than anything else with a word of encouragement, with a word of hope... We are facing extraordinary times," said Cruz, who wore a microphone clipped to his tie so he could pace across the stage as he spoke. He told the crowd he appreciated how hard they had been fighting, and assured them "this is not a typical moment in the political process."
At one point, he asked everyone in the room to take out their cell phones and text a given phone number — an instruction many dutifully followed, adding hundreds of valuable phone numbers to his campaign's list, should he decide to run for president in 2016.
Cruz reiterated his defense of the shutdown strategy he pursued in Congress, arguing that while they didn't successfully defund Obamacare, the effort managed to rally the conservative base — an accomplishment that would bear fruit during the 2014 midterms.
"For everyone who talks about wanting to win elections in 2014 — particularly an off-year, nonpresidential year — nothing, nothing, nothing, nothing matters more than an energized and active and vocal grassroots America," Cruz declared.
He went on to lay out an alternative history of the past seven years of American politics, arguing that Republicans lost in 2006, 2008, and 2012 because they followed the "prevailing wisdom in Washington... keep your head down, don't rock the boat, don't stand for much of anything."
"I gotta say, if you took every Washington strategist and dumped them in the ocean, you know you'd call it? A good start," he joked.
More than perhaps anywhere else, the Tea Party and the religious right in Iowa have reached a sort of political singularity — unified, in large part, by feelings of outsiderness and rejection from the Washington establishment. Cruz, with his frequent Bible citations and his small government ideology, has long stood poised to take advantage of this dynamic in the Hawkeye State. But D.C.'s outpouring of disdain for the Texan over the past couple weeks have helped make him a superstar here.
In his speech Friday night, Cruz made the most of his suffering and delivered a message of validation and catharsis: "I'm convinced we're facing a new paradigm in politics. It is the rise of the grassroots."
And, he added, "It has official Washington absolutely terrified."