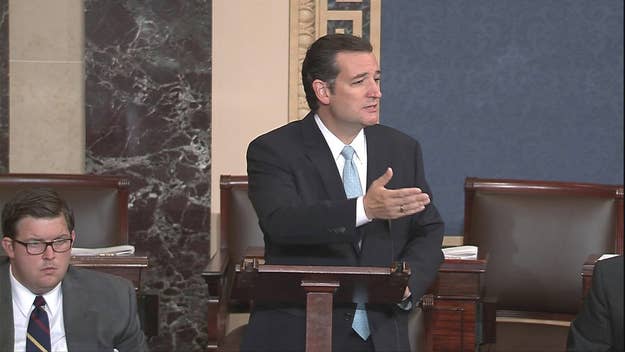 WASHINGTON — Texas Sen. Ted Cruz's quixotic campaign to defund Obamacare — currently culminating in an hours-long quasi-filibuster on the Senate floor — has caused conservative activists across the country to swoon.
But one key contingent of the Republican Party is decidedly unimpressed with the gambit: big-ticket donors.
According to several Republican sources, most of whom declined to disparage a rising star on the record, the party's donor class is rolling its eyes at Cruz's last-minute, long-shot attempt to keep the controversial health care law from fully going into effect — dismissing it as unintelligible parliamentary trickery at best, and counterproductive self-promotion at worst.
Cruz, who most Republicans believe is positioning himself for a 2016 presidential run, will need the support of at least a portion of the party's moneyed donors to stay competitive in a primary. But skeptics say he's running the risk of being seen as unserious by the same people he will need to write him checks in a couple of years.
"Sure, he's revving up the base, but so did Michele Bachmann and Pat Buchanan," said one longtime Republican strategist who has worked on multiple state and national campaigns. "If you're serious about running for president... you need the serious money, more than the direct mail crowd and the small money donors."
"That," the Republican said, "is the difference between winning the Iowa Caucus and winning in a serious state like Florida."
Like most Americans, Republican donors generally oppose Obamacare — but many disagree with the tactics Cruz has employed to block it. The Texas senator has pursued a strategy that could force a government shutdown unless funding for the law is revoked.
"People see it as an inside-the-beltway play, and I think donors see it the same way," said one operative with ties to major GOP fundraisers. He noted that while activists may take visceral satisfaction in Cruz's campaign, many donors are more results-oriented — and they're savvy enough to know that none of his maneuvering will actually stop the law from being implemented.
But Cruz has never shown much interest in or capacity for courting his party's elite. He was elected in Texas by taking on the favored candidate of the establishment and running to his right as a champion of the common conservative voter. And at a Republican National Committee fundraiser this week in Manhattan, Cruz was one of the only prospective 2016 candidates who didn't show his face.
As of June 30, Cruz's PAC, the Jobs, Growth & Freedom Fund, raised just $313,323 with $183,537 cash on hand, according to OpenSecrets.org. That's a far cry from the $1.8 million Rubio's PAC has raised, and the $929,904 Rand Paul's PAC has taken in.
Cruz's war chest is likely to grow some following his headline-grabbing filibuster. Jackie Bodnar, spokesperson for the tea party activist powerhouse FreedomWorks, said of Cruz's crusade, "It's giving me 2010 flashbacks. Republicans especially should know, with all eyes on the Senate, grassroots America is watching them."
But several Republicans expressed doubt that the activist support Cruz is receiving will ultimately make up for the credibility he's losing among the big-money crowd.
"When the Wall Street Journal starts to belittle you... That's what these people read every day," said one senior GOP aide.
A spokesman for Cruz declined to comment.