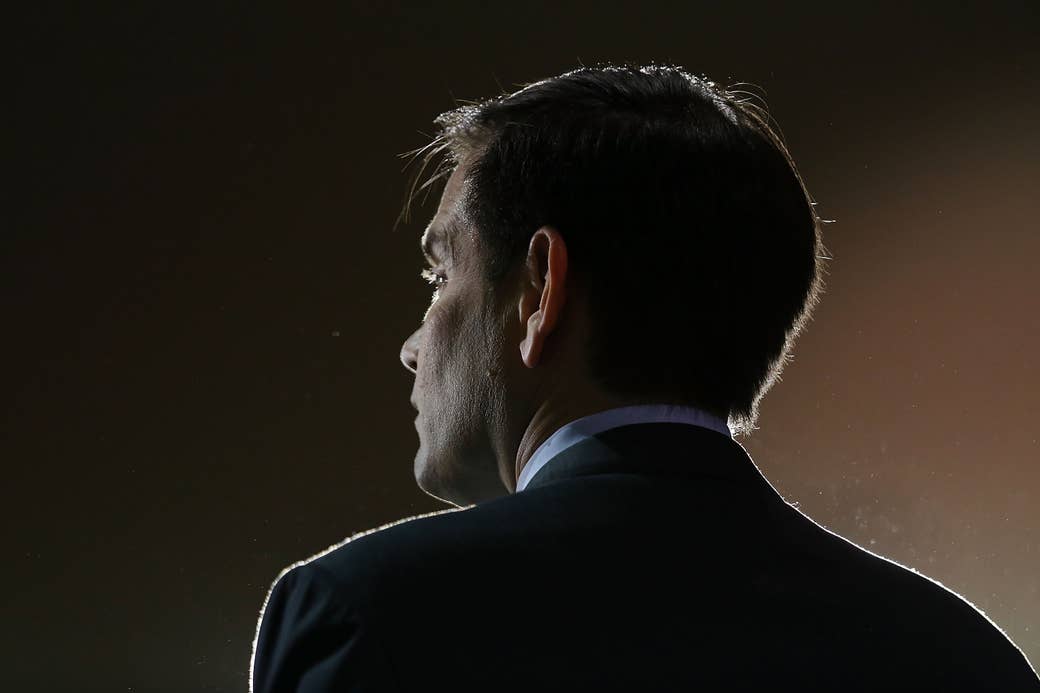 MIAMI — The reviews from the latest Republican presidential debate are in, and Marco Rubio was a hit.

"Poised, confident, and knowledgeable!" raves the Washington Post.
"A home run in his home state!" proclaims HotAir.
"Smart! ... Snappy!" gushes RedState.

It was the sort of night that the telegenic candidate and his advisers once believed could propel him to the Republican nomination. With millions of primetime viewers watching, he delivered a polished performance marked by memorable one-liners and sharp policy arguments — and by the time it was over, pundits were declaring (for the 10th time this primary season) that it had been a "good night" for Rubio. But when the cameras blinked off in the CNN debate hall late Thursday, he was left to face a grim reality: In just five days, his political career could be over.
Rubio, who opted not to run for Senate re-election so as to focus on his presidential bid, is now scrambling across his home state in a last-ditch effort to salvage his candidacy. But barring a miraculous upset, he appears headed for defeat Tuesday at the hands of frontrunner Donald Trump — a humiliating loss that may impede his future in Florida politics.
In the slate of recently published campaign postmortems, many journalists and commentators have blamed Rubio's death spiral on his brief flirtation with Trumpian name-calling and anatomical innuendos. They argue that Rubio — desperate to position himself as the clear alternative to The Donald — resorted to off-putting, off-brand taunts that served only to tarnish his wholesome image and undermine his upbeat message. After two weeks, the candidate abandoned the personal attacks against Trump and expressed regret for letting himself to get sucked into the mud.
"At the end of the day it's not something I'm entirely proud of," Rubio told MSNBC this week, adding, "My kids were embarrassed by it, and if I had to do it again, I wouldn't."
But Rubio's failed Trump-bashing experiment was symptomatic of a much deeper — and more damaging — strategic miscalculation that runs to the core of the campaign.
While preparing to launch his presidential bid last year, Rubio and his advisers developed a unique media-first strategy they believed would take advantage of the candidate's vaunted talents as a communicator. Instead of slumming it in early-state diners and Pizza Ranches for months, trying to woo voters one handshake at a time, he would appear on highly rated cable news shows and conservative talk radio, where he could make his pitch to big national audiences. The theory was that Rubio would use these high-profile interviews, as well as the debates, to convert viewers into voters, and ride a wave of on-camera charisma all the way to Cleveland.
When Rubio officially declared his candidacy last spring at the Miami Freedom Tower, campaign manager Terry Sullivan coordinated closely with Fox News producers to ensure that the event would get maximum live coverage on the channel's popular evening newscast Special Report With Bret Baier. As I report in my book The Wilderness, the length of Rubio's speech was carefully tailored to fit between commercial breaks, and the candidate didn't go onstage until a Fox producer gave Sullivan the go-ahead over the phone. The rally was a perfect made-for-TV event.
While his primary opponents pounded the pavement, some in Iowa and New Hampshire eventually began to take note of Rubio's relative absence from the campaign trail. Still, his advisers stood firm by their televised campaign strategy.

"Any venue we can create for Marco to communicate his message is a winner for us. More people in Iowa see Marco on Fox and Friends than see Marco when he is in Iowa," Sullivan told the New York Times in December. "Of course, that doesn't mean you don't go to Iowa."
While the Rubio camp publicly pushed back against any comparisons to Barack Obama, they privately drew inspiration from elements of his 2008 campaign. As a young, dynamic freshman senator, Obama was helped immensely in his presidential bid by his status as a media darling and magazine cover boy. Rubio had already shown a similar ability to captivate the press — from TMZ to Politico — with his inspiring biographical story and musings about hip-hop.
But any chance Rubio had of captivating the country with free media coverage evaporated the moment Trump entered the race. The most skilled showman in modern political history, Trump instantly eclipsed the rest of the Republican field and sent some of the candidates scurrying in search of stunts that would make them relevant. Rand Paul, for example, posted a video of himself taking a blowtorch to the federal tax code.
For a while, Rubio was content to play the long game — doing smiley, low-key hits on Fox News, giving wonky interviews to Hugh Hewitt, and generally staying above the fray during crowded primary debates.
But once the field began to narrow last month, putting greater pressure on Rubio to start actually winning contests, his team decided it was time to make a move. The question was how to get the country's TV cameras pointed at their guy now that cable news networks were routinely broadcasting entire Trump campaign rallies live.
Their solution, for better or worse, was for Rubio to do his own best impression of Trump's insult comic routine. For two weeks, the senator mocked the billionaire's spray tan ("He should sue whoever did that to his face") and made barely veiled jokes about his manhood ("You know what they say about men with small hands?").
The stunt worked, as Rubio acknowledged with some dismay in an interview this week with Fox News.
"Every media outlet in America was cutting in live for my events because they were hoping I would say something [about Trump]," Rubio told Megyn Kelly. "This is how sad things have gotten."
But despite all the punditry that pegs Rubio's cratering support to his anti-Trump trash talk, it's unclear whether the approach actually hurt him at the polls. It may have scandalized his donors and embarrassed his kids, but as FiveThirtyEight's Nate Silver notes, there's not much evidence to suggest it actually drove voters away.
The more costly long-term consequence of the Rubio campaign's strategic reliance on national media may end up being how it de-prioritized building an effective ground game outside the early states. While Rubio prevailed over Ted Cruz in South Carolina and Nevada, the Texan's campaign has since consistently out-hustled his rival in getting voters to the polls — especially in caucuses, where grassroots organization is crucial.
Rubio spokesman Alex Conant rejected the premise that their campaign has emphasized courting media over field organizing. But even here in Florida, there are signs to the contrary.
On the eve of Thursday's debate, Rubio held a sunset rally in Hialeah, a heavily Cuban Miami-Dade city lined with brightly colored casitas, concrete driveways, and small businesses with bilingual signs in the windows.
"We have to win here in Florida," Rubio told the crowd of hometown supporters. "I'm asking you to come out and vote in massive numbers."
He repeated the message in Spanish as well, and urged attendees to take advantage of the early voting location "just a block away," adding that the campaign had selected an earlier-than-usual 5 p.m. start time for the event so that everyone would have time to vote afterward.
Then, after finishing his speech, Rubio welcomed Megyn Kelly onto the stage, informed the crowd that he would be taping an interview with Fox News, and invited them all to stay. A few people peeled off from the audience, but most dutifully stuck around. They listened to instructions from a Fox News producer ("Obviously cheer at some points that the senator makes that you like") and provided a boisterous backdrop for their candidate's entire interview.
By the time it was over, the nearby polling location had closed for the night.