HillaryClinton.net Redirects To Carly Fiorina's Campaign Website
Carly Fiorina has been asked 200 questions in the last week, and an adviser says the URL snafu has come up in almost every interview. But what about Hillary?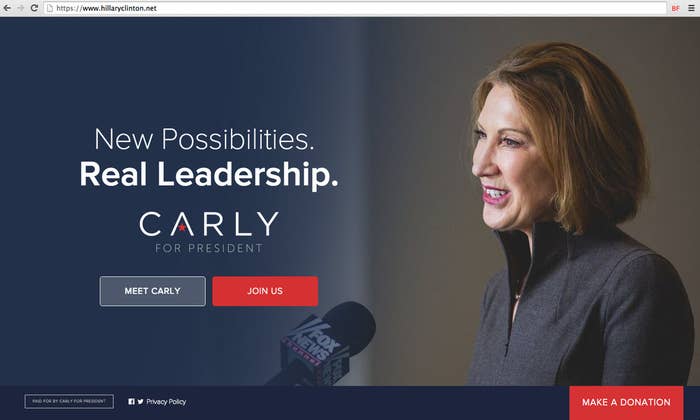 In the week since Carly Fiorina officially kicked off her presidential campaign, the Republican candidate has faced an onslaught of questions in media interviews about her failure to register the domain name for CarlyFiorina.org.
But type HillaryClinton.net into your browser right now and you'll be redirected to Fiorina's website.
The person listed as the site's administrator did not immediately respond to a request for comment from BuzzFeed News, and a spokesperson for Fiorina said they had nothing to do with the URL trolling.
But the Republican's campaign was quick to point to the dueling stunts as evidence of media bias. According to an adviser, Fiorina has answered "well over 200 on-the-record questions" this week, and in virtually every interview she was asked about CarlyFiorina.org. The site earned widespread attention after a critic purchased it and filled the homepage with 30,000 frowning emoticons to illustrate the layoffs she presided over as CEO of Hewlett-Packard.
The Fiorina campaign has been generally good-natured about its mistake, using it in fundraising pitches, and buying up the dot-org domain names for high-profile interviewers like Seth Meyers. On Sunday morning, when Meet the Press moderator Chuck Todd featured the site during his interview with Fiorina, the candidate and her supporters mocked the media's fascination with the stunt on Twitter by dubbing it #domaingate.
Amid all the coverage of Fiorina's web mishap, no one in the press seems to have noticed that Clinton failed to secure one of her own eponymous domain names. It's unclear when HillaryClinton.net began redirecting to Fiorina's campaign site — but the URL has been the stage of a conservative squat protest for some time now. According to the Way Back Machine internet archive, the site was prompting visitors to donate to the political action committee for Sen. Ted Cruz in January 2014.
Many of the website-related questions put to Fiorina have dealt with her business record, not just her domain name snafu. But to Sarah Isgur-Flores, Fiorina's deputy campaign manager, the contrast in coverage reveals a partisan double-standard.
"It's hard to be surprised anymore when Republicans get held to a different standard by the press than Hillary Clinton," said Isgur-Flores. "Of course, since Mrs. Clinton has only taken seven questions since April 12, they probably won't have a chance to ask her about it anytime soon."
A spokesman for Clinton did not respond to a request for comment.
A Fiorina spokesperson clarified that the candidate has answered more than 200 interview questions this week, but not all of them dealt with the domain name. The spokesperson said the subject did come up in almost every interview.