Heritage Scholar Slams Marco Rubio's Anti-Poverty Speech
Will Rubio's push into welfare reform make him a pariah on the right all over again?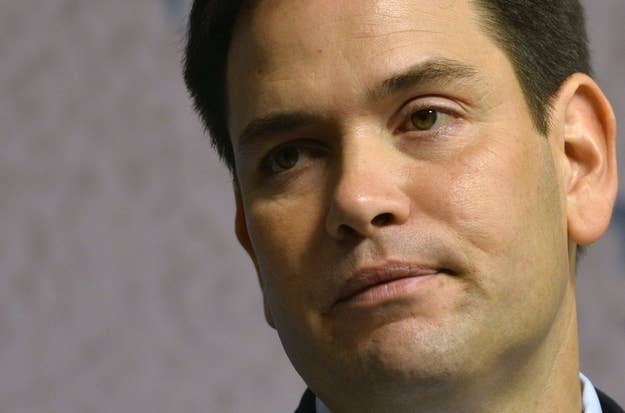 WASHINGTON — A senior scholar at the conservative Heritage Foundation was quick to criticize Sen. Marco Rubio's new anti-poverty proposals in an interview Wednesday — an early sign that the Florida senator's new push to help the poor could land him in hot water with his party's right wing again.
Speaking in the ornate Lyndon B. Johnson room at the Capitol, Rubio declared the "War on Poverty" that was launched 50 years ago by LBJ a failure, and outlined his own plan to combat poverty and income inequality. His two central policy proposals included transferring the money used to fund existing federal anti-poverty programs to a "flex fund" for the states, and replacing the earned income tax credit with a wage subsidy.
"The erosion of equal opportunity is among the greatest threats to our exceptionalism as a nation," Rubio said. "But it also provides us with an exciting and historic opportunity: to help more people than ever achieve the American dream."
Reached for comment by BuzzFeed immediately after the speech, senior Heritage scholar Robert Rector trashed Rubio's proposals, saying the wage subsidy "doesn't really change much of anything," and calling the flex fund "an extraordinarily bad idea."
While Rubio argues that states should have the flexibility to address their own unique problems — "The poverty found in rural areas has some characteristics that are very different from the poverty found in inner cities," he said — Rector contended that giving states power to create their own programs would simply enable local bureaucracies, particularly in liberal states, to undermine reforms.
"The idea that what you want to do is collect money at the federal government level and hand it out to states is the exact wrong way to produce conservative policies," he said.
Rector went on to argue that the success of the 1996 welfare reforms — which he played a key role in crafting — was due to the federal requirement that "states run aggressive work programs." He worried Rubio's plan would give too much money to states without strict guidelines as to how it can be used.
(Rector's position is not universally accepted on the right; conservative activist Grover Norquist, among others, has advocated giving states more autonomy in fighting poverty and dispensing welfare.)
Rector was also critical of Rubio for saying widening income gap, while not the sole driver of economic strife in America, is "startling" and "deserve[s] attention." Echoing the arguments of many conservatives, Rector said income inequality is "largely irrelevant" and that the focus should be on helping the poor break into the middle class, regardless of how much money the rich are making.
"The war on poverty has been a complete catastrophe because welfare discourages work and sabotages marriage," Rector said. "And what you need to do is fix those problems."
The conservative reviews of Rubio's speech — like the legislation he has outlined — are still largely unwritten. But Heritage, whose political arm led the charge against Rubio's immigration proposals last year and helped spark a right-wing revolt, could be a thorn the senator's side if it mobilizes against him. While it's highly unlikely Rubio's anti-poverty measures will get the same legislative traction as his immigration bill, his aides say he plans to spend much of this year working on the issue. And as he looks toward the Republican presidential primaries in 2016, Rubio isn't eager to make more conservative enemies.