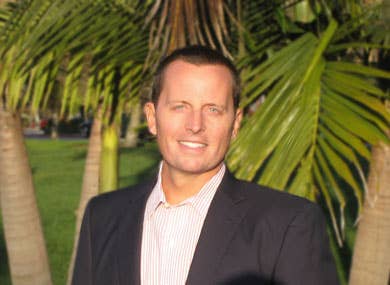 Mitt Romney's recently-hired foreign policy spokesman, Ric Grenell, has left the campaign amid controversy surrounding his sexuality and combative Twitter feed.
The Washington Post's Jen Rubin first reported Grenell's departure, suggesting that he was "hounded" from the campaign by "anti-gay conservatives."
Romney campaign manager Matt Rhoades seemed to reject this suggestion in a statement: "We are disappointed that Ric decided to resign from the campaign for his own personal reasons. We wanted him to stay because he had superior qualifications for the position he was hired to fill."
But Grenell appeared to hint at the uproar created by social conservatives — like high-profile anti-gay activist Bryan Fischer — as a reason for his leaving:
"I have decided to resign from the Romney campaign as the Foreign Policy and National Security Spokesman. While I welcomed the challenge to confront President Obama's foreign policy failures and weak leadership on the world stage, my ability to speak clearly and forcefully on the issues has been greatly diminished by the hyper-partisan discussion of personal issues that sometimes comes from a presidential campaign. I want to thank Governor Romney for his belief in me and my abilities and his clear message to me that being openly gay was a non-issue for him and his team."
Meanwhile, the Obama campaign wasted in no time in attacking the Republican Party for the incident. Shortly after the news broke, Teddy Goff, the campaign's digital director, posted this Tweet:
Then Bill Burton, co-founder of pro-Obama Super PAC Priorities USA, weighed in with this Tweet: