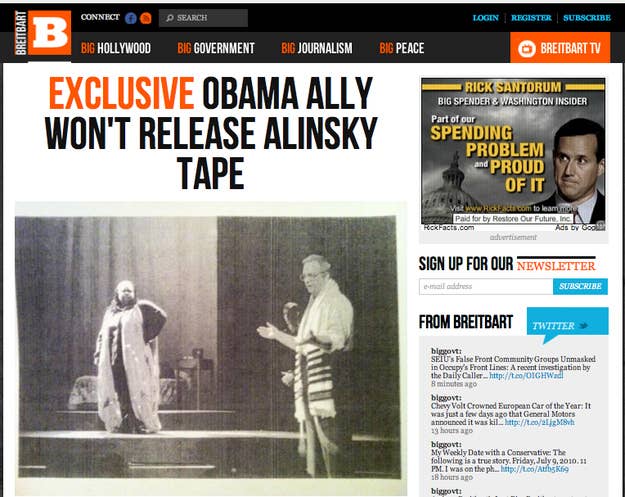 Days after Breitbart's sudden death, his right-wing new media empire has been revamped, redesigned, and relaunched with the goal of competing as a serious news outlet—and moving away from the aggregation and activist blogging that have been his sites' bread and butter until now.
Breitbart.com editor-in-chief Joel Pollak described the website's new strategy in an interview with BuzzFeed late Monday.
"We've moved from aggregation to cultivation, and investigation across the nation," said Pollak. "We'll go a little Jesse Jackson on you."
Until this week's relaunch, Breitbart.com existed mainly as an aggregator, consisting of links to newswires in addition to a quartet of Breitbart-owned group blogs with specialized focuses, like the politics-centric BigGovernment.com, and media criticism page BigJournalism.com.
Now, all four of "the Bigs" have been folded into Breitbart's main site, which features a splashy, tabloid-style front page with big photos and all-caps headlines. It's a transition Breitbart had been working on for months before his death, said Pollak, and the goal was clear.
"The logic is the front page," said Pollak. "The front page we have now is several orders of magnitude different from what we had... what we have now is a way of defining the news cycle."
He added: "Obviously the blogging component is still there and very important... but we want to weaponize those blogs as a form of news delivery. And we see ourselves as competing in the news market."
Pollak declined to discuss traffic numbers in detail, and the relaunch is too recent for reliable comparative figures to be available. But Breitbart's sites have not, according the traffic-tracking service Quantcast, found a mass audience. The main site currently ranks 830th among U.S. websites and the Big sites are substantially lower.
The revamped site's first lead story was a column Breitbart wrote before he died, drawing connections between then-State Senator Barack Obama and a play staged in Chicago in 1998 titled The Love Song of Saul Alinsky. Today's lead story is a follow-up written by Ben Shapiro, which quotes an anonymous second-hand source claiming that the play's director is withholding a videotape of the production to protect Obama.
It's not exactly Watergate, but Polak promises big scoops in the near future as the site works to "vet" the president and his allies. The prize: A giant splash like the one Breitbart made when an expose of sexually explicit images shared on social media ended the career of a top Democratic Party spokesman, Congressman Anthony Weiner.
But will the site be able to break more "Weiner-gates" without Breitbart's no-hold-barred approach to journalism driving it? Pollak is optimistic.
"The team is picking up where Andrew left off," he said. "Andrew was irreplaceable but his vision was always generous and forward-looking."
To honor that, Pollak said they're committed to turning the revamped venture into a major force in the news industry: "We're competing in the major leagues now."