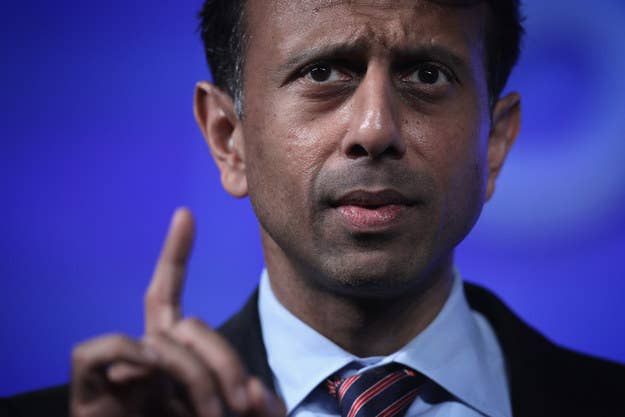 NEW ORLEANS — The most viral headline this year with the Louisiana governor's name in it was published in The Onion: "Bobby Jindal Not Sure He Willing To Put Family Through 2-Month Presidential Campaign."
The article on the satiric news site — which included fictional quotes from Jindal fretting about how his young kids would cope with having a dad "spend dozens of days running for president" — was perfectly tuned to the sniggers and skepticism that pervade the political world when it comes to Jindal's 2016 prospects. When the article was published in January, several reporters (including this one) forwarded the link to the governor's advisers in hopes of goading them into responding. The strategists laughed it off at the time, joking that at least expectations were low.
Now, Jindal's small team of campaign aides and operatives is embarking on a plan to confound those expectations and transform their candidate from a punchline into a president. When he officially announces his bid for the Republican nomination here Wednesday evening, Jindal will be launching a campaign with little money, virtually no grassroots organization, and a principal who sits at around 1% in national polls. The most generous pundits call him an "underdog." The less generous ones call him a "dumbed-down" self-parody who "will never catch fire."
In multiple conversations with BuzzFeed News — as well as a candid, on-the-record briefing with reporters ahead of the announcement Wednesday, complete with a PowerPoint presentation and an expansive Q&A — Jindal's top strategists laid out their theory of the race and what they view as their candidate's most plausible path to victory.
Camp out in Iowa
Jindal's team conceded that their campaign is not starting out with the sort of war chest that will enable rivals like Jeb Bush and Scott Walker to crisscross the country and launch national ad campaigns.
"It wouldn't be bad to have $100 million," said Curt Anderson, Jindal's chief campaign strategist. "I'll be honest about that."
But for now, he said, all they really need is enough cash to buy roundtrip plane tickets from Des Moines to Manchester, New Hampshire. Jindal's advisers repeatedly stressed that they're running an "early-state campaign," and that the first "signs of life" for the Jindal candidacy will likely register with improved polling in Iowa.

Anderson pointed to the last two Republican victors in Iowa — grassroots favorites Mike Huckabee and Rick Santorum — as proof that the first-in-the-nation caucuses "can't be bought" by well-funded establishment front-runners. And he said in this election's crowded field of 14 candidates and counting, the winner of the Hawkeye State will probably only need about 20% of caucusgoers, or 26,000 votes. Jindal will spend the bulk of the next six months trying to win those voters over one handshake at a time in diners and county fairs across the state.
Of course, it's been 15 years since the winner of the Iowa caucuses in a contested race went on to be the Republican presidential nominee. But as Anderson put it, "If you win Iowa, you're a serious contender for the nomination."
Harness the power of Duck Dynasty
Jindal will hardly be the only Republican candidate pinning his hopes on a strong showing in Iowa. Ted Cruz, Rick Perry, Carly Fiorina, Ben Carson, and Huckabee will all likely be pursuing similar strategies, and they will have to compete for attention with Donald Trump's high-profile political torch-juggling act. But one Jindal adviser noted that their candidate has something none of his rivals have: the Duck Dynasty endorsement.
Indeed, Jindal was perhaps the most outspoken defender of the Robertsons — the bearded, duck-hunting stars of A&E's hit reality TV show — when the family patriarch came under fire in 2013 for crude anti-gay remarks he made in a magazine interview. Jindal has known the family of Louisiana natives for years, and he used the flare-up in the culture wars to warn of a triumphalist secularism in American society that aims to bully conservative Christians like the Robertsons out of the public square.
The family rewarded Jindal's loyalty by featuring him in the most recent season premiere of their show, and Willie Robertson has said he would support the governor if he ran for president. The background photo on Jindal's Twitter feed shows him and his family posing with the Robertsons.
To many in the political class, Jindal's close alliance with a cast of goofy reality TV stars scans as pandering. But a senior adviser to the candidate pointed out that the show has been tremendously popular with the sort of religious conservatives who dominate the Iowa caucuses, and that Willie's endorsement could be a real selling point.
"The governor and Willie have been good buddies for a long time," he said. "And having somebody who folks know and trust, who can say, 'Hey look, I know this guy and he's a good man, and a great governor' — that's a big deal."
More substantively, Jindal's campaign says he has been out front on the debate over religious freedom dating back to a speech he gave in early 2014 at the Ronald Reagan Presidential Library, when he prophesied of a "silent war" between people of faith and their antagonists in government and media. With the Supreme Court now poised to legalize same-sex marriage nationwide, they predict the issues he's been discussing could be central to the 2016 race. Helping him shape that message and take it to grassroots Christian voters is Family Research Council president Tony Perkins, a key power broker on the religious right who has been informally advising the Louisiana governor.
Jindal, who was raised Hindu before converting to Catholicism, refers to himself in his 2009 book as an "evangelical Catholic." According to Anderson, "He's going to talk a lot about his faith on the campaign trail, and he's not going to apologize for it."
Straddle the line between culture warrior and policy wonk
At the same time, Jindal's aides said they wouldn't pigeonhole him as the social conservative candidate. Anderson argued one reason Huckabee and Santorum ultimately flamed out after winning in Iowa was because they "had only one gear and were stuck in the evangelical lane."
Jindal, by contrast, is a Rhodes scholar who is well-versed in public policy. One slide in their presentation called Jindal "the sharpest knife in the Republican drawer."
"You hear this stuff about, 'Oh, so-and-so has assembled a team of experts — he's got Henry Kissinger who he had lunch with,'" Anderson said. "But Jindal actually is a policy expert. It might not be a bad idea to have the head guy be a policy guy."
Anderson also rejected the premise that a governor is automatically less qualified to handle foreign policy than a member of Congress. "This is one of the things that makes me laugh the most, when reporters or somebody says we have some freshman senators who have great foreign policy experience," he said. "Yeah, the government paid them to take a few trips. It's just a joke. I don't know that we have anybody [in the GOP field] who's a foreign policy [expert.].. I don't see a former secretary of state."
Win the trolling primary
Jindal's penchant for hurling barbed, intentionally provocative one-liners at Democrats is often derided by pundits, who note that this is the same politician who not long ago called for the GOP to "stop being the stupid party" and talk to voters like "adults."
But Jindal's campaign suggested the charged rhetoric won't let up anytime soon, arguing that early-state voters are eager to support candidates who are "truth-tellers."
"He's not gonna sugar-coat anything," Anderson said, as a PowerPoint slide appeared on a projector screen that read, in part, "Clinton and Obama are leading America toward socialism."
While Jindal's trolling does little to earn the respect of political elites, it does earn him media headlines — and with TV networks using national polls to select the candidates who will participate in their debates, Jindal needs all the national attention he can get.
Own his polarizing Louisiana record
The campaign pointed to polls that show the vast majority of the Republican electorate would prefer to nominate a governor instead of a member of Congress. Jindal's own record in Louisiana, though, has been the subject of much debate recently.
According to the campaign's talking points, Jindal has cut the state budget by 26% while in office; reduced the number of government workers by 30,000; pushed through bold ethics reforms; reversed the decades-long trend of out-migration in the state; and done it all without raising taxes.
But Jindal's critics argue he is leaving out some key facts. The reduction in the government payroll, for example, was largely made possible by privatizing nine hospitals in the state — and it's unclear how much money Louisiana is actually saving with the overhaul. Timmy Teepell, a longtime Jindal adviser who will serve as his campaign manager, countered these claims by saying credit agencies have shown their approval of his administration's handling of the budget with several rating upgrades for Louisiana.
Anderson griped about the "rash of national reporters who knew nothing about what's going on in Louisiana" but nonetheless wrote stories saying Jindal's polarizing record and low approval ratings would ultimately sink his presidential aspirations. He said Jindal would eagerly tout his record on the campaign trail as a way of contrasting his competence with his rivals' lack of executive experience.
"We have a stunning crop of great talkers in the race right now," Anderson said. "But very few doers."
Take advantage of Jindal's low name recognition
At one point in the presentation Wednesday, the Jindal campaign presented a chart with two axes: one that mapped the Republican presidential contenders ideologically from "moderate" to "conservative," and the other from "insider" to "insurgent."
"This will really offend the other candidates, so we're not handing it out," Anderson said.
Nonetheless, he argued that the best positioned candidates in this race were those in the conservative-insurgent quadrant. According to the Jindal campaign's chart — which didn't appear to be based on any scientific data, but rather their own perception of the field — those candidates included Perry, Walker, Marco Rubio, and Jindal. (Huckabee, who seems like a logical rival for Jindal was placed on the "moderate" end of the ideological axis, presumably because of his stances on fiscal issues like entitlement reform.)
The Jindal campaign also eagerly pointed to a poll that showed 62% of the primary electorate said they had "no opinion" of Jindal. At this point in the cycle, Anderson argued, most poll respondents are basing their answers on name recognition, which explains why "a reality TV star" is currently polling in second place in New Hampshire.
They attributed Jindal's low standing in the polls to the fact that he has been busy with his "day job." Because he isn't part of a political dynasty and hasn't spent as much time as other candidates appearing on cable news, many voters simply don't know what to make of him, they said. "Half these people don't even know who their own damn governor is," Anderson said. He said at this point the popular perception of Jindal is largely colored by stereotypes, joking that because Jindal is Indian-American, people probably think he's "good at math."
Teepell said they plan to take advantage of voters' lack of familiarity with Jindal by defining him as "the youngest candidate with the longest resume" — a line several of the candidate's strategists have been using in recent days.
Anderson said at this point in the cycle, he would rather have a blank canvas to draw on than a widely unpopular caricature to erase — as in Bush's case. As he put it, "You don't want to have 100% name ID and 11% in the polls."