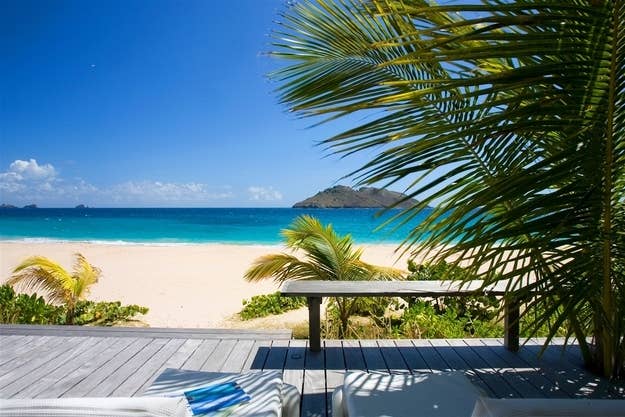 The owner of The Atlantic Media is paying to send 20 senior executives and editors to St. Bart's, a posh French Caribbean destination.
Atlantic owner David Bradley, who is building a home on the resort island, rented villas for editors and senior executives and their spouses at a cost that an internet search suggests would be several thousand dollars per employee.
The trip comes at what some see as a somewhat difficult time for the company: Though the company continues to hire, ad sales at its venerable magazines are off, said spokeswoman Linda Douglass.
"Print is not doing as well as one would in hope in the first quarter," conceded Douglass. "That's absolutely true."
But Douglass also stressed that Atlantic Media, with political magazines like National Journal and Government Executive, has been aggressively expanding since last year, and continues to do so. Digital revenues are "doing very well," she said.
"I think 2012 is going to be our largest head-count expansion in history," she said.
Bradley, who owns the privately-held company, is paying for the trip out of pocket, not with company funds, Douglass said. Douglass said Bradley has been fond of these types of retreats throughout his career, and that this isn't a first at The Atlantic Media, though the recent economic turmoil appears to have reduced their frequency a bit. Bradley reportedly hosted the magazine's staff there February of 2006.
This year's trip is open to top managers and to the editors of the Atlantic Media's various titles, including Atlantic chief James Bennet and National Journal Editor Ron Fournier.
The more junior editorial staff was treated last year to a visit to Atlantic City, a former staffer said, but family was not invited, and they were expected to work the whole trip.
Editorial staffers being left behind on the St. Bart's trip grumbled to BuzzFeed that the money could be put to better use &mdash, but declined to be quoted criticizing their employer. After BuzzFeed inquired about the trip, Fournier tried to soothe feelings by addressing the subject in a meeting with staffers this afternoon.
Meanwhile, Douglass said she hasn't personally heard of any complaints, and besides, the trip won't be all fun in the sun.
"Again, this is work," she said. "These retreats are very productive. A lot of ideas come from these brainstorming sessions, which last long hours."
UPDATE: After publication, Douglass sent BuzzFeed this statement:
"The entire staff of The Atlantic (not just "the more junior editorial staff") was treated to a trip to Atlantic City last year to celebrate The Atlantic's profitable year. They listened to some presentations about their great work and then partied for the rest of the time they were there. Some on the digital staff did a bit of work to keep the websites fresh and up-to-date. But the staff was not "expected to work the whole time they were there", as the unnamed former staffer was quoted as saying in your story."