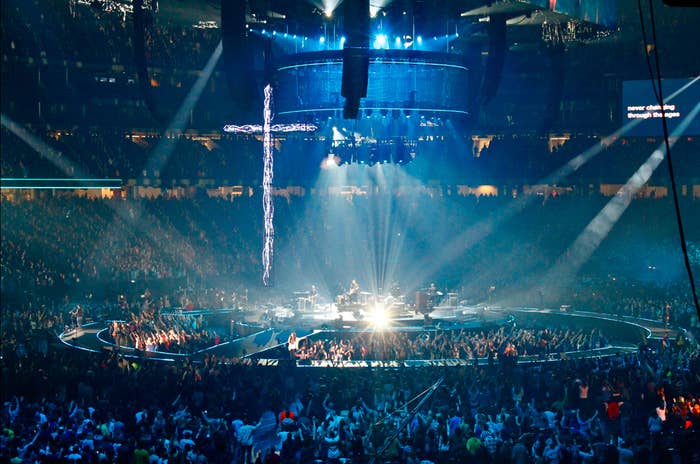 On Jan. 2, 2012, more than 40,000 Christian college students gathered at the Georgia Dome in Atlanta for a four-day "spiritual awakening" led by the well-known Evangelical pastor Louie Giglio. The conference was studded with worship rock anthems and energized sermons designed to marshall the faithful — but the cause they were rallying around had nothing to do with same-sex marriage or abortion. Instead, the sons and daughters of Jerry Falwell's "Moral Majority" were raising money and organizing grassroots campaigns aimed at ending global human trafficking.
The event received only marginal press coverage, but the White House took notice. A few weeks later, senior Obama adviser David Plouffe sat down in the White House with Joshua Dubois and Michael Wear, the president's ambassadors to America's believers. Plouffe had seen data that suggested young Evangelical voters were up for grabs in the upcoming election, and he wanted to know how the president could appeal to that demographic, according to someone with direct knowledge of the meeting. They discussed a range of tactics, and at the end of the meeting Plouffe asked which single issue could make the biggest difference in courting young Christians.
"Human trafficking," Wear responded.
On the heels of another bruising blow to the religious right's political agenda — with conservative Arizona Gov. Jan Brewer vetoing a bill Wednesday night aimed at protecting religious business owners who don't want to provide services for same-sex weddings — many young Evangelicals, conflicted about the culture wars of the past, are working to make the issue of trafficking a top priority for their movement. And politicians on both sides of the aisle, eager to win their support while steering clear of polarizing social issues, are beginning to respond.
Since the 2012 conference, where students reportedly donated more than $3 million to the anti-trafficking cause, churches and campus Christian groups across the country have joined the "End It" movement, an awareness campaign armed with alarming statistics like a 2013 State Department estimate that 27 million people are currently enslaved throughout the world. Among activists there's no one definition of human trafficking — the commonly cited State Department statistic includes both people enslaved in the sex trade and in forced labor. In addition to spreading the word — Christians throughout the world, including Tennessee Republican Sen. Bob Corker, drew a red "X" on their hands Thursday for "Shine A Light On Slavery Day" — advocates are calling for more aggressive government action, and pressuring corporate hotel chains and airlines to train their employees to recognize trafficking victims.
Leith Anderson, president of the National Association of Evangelicals and longtime spiritual adviser to Tim Pawlenty, said trafficking has migrated from a niche concern among liberally-minded "social justice Christians" to an increasingly prevalent platform plank for Evangelicals across the political spectrum. And while the nonpartisan nature of the cause has largely kept the cable news bookers at bay, Anderson predicted it could become the defining issue of politically active Evangelicals in years and decades to come.
"I'm not sure it's to the forefront yet," Anderson said. "I don't think it's anywhere near peaking."
As the issue has gone mainstream in conservative Christianity, politicians have begun working it into their speeches and legislative agendas. Shortly after his aides discussed it in early 2012, Obama gave a shout-out to anti-trafficking efforts at the National Prayer Breakfast, praising young Christians who "worship the God who sets the captives free and work to end modern slavery." And just weeks before the election, at the Clinton Global Initiative, Obama spoke at length about the issue, in remarks that one adviser called "the longest speech on slavery of any president since Abraham Lincoln."
Meanwhile, stalwarts of the religious right like Rick Santorum and Kansas Gov. Sam Brownback have prominently featured the issue in public remarks. Florida Sen. Marco Rubio introduced a bill with Democratic Sen. Kay Hagan in December meant to combat human trafficking in U.S. child welfare systems. Asked about Rubio's involvement in the issue, spokesman Alex Conant cited the senator's religious beliefs.
"Obviously, Sen. Rubio is a person of faith, and this is an issue that both he and his wife care a lot about," said Conant.
For a rising generation of idealistic Christian voters who are drawn to theologically-tinged activism but repelled by their parents' culture wars, human trafficking represents an obvious target.
Rebecca Harper, a 25-year-old Evangelical and associate at the Clapham Group, a consulting firm that focuses on faith, watched the recent battle in Arizona warily. She said she's sympathetic to Christians' marriage-related concerns, but argued that trafficking is much more deserving of her attention and energies.
"I would absolutely say modern-day slavery is more important than the marriage issue," Harper said. "It's a difference between the most basic of freedoms and something that often feels petty. When the marriage issue is debated on the public scene, regardless of your theological beliefs surrounding the issue, it doesn't carry the same urgency as modern-day slavery."
She added that the movement's goal of putting a permanent end to global human trafficking is easier for young Evangelicals to get behind than defending bakeries that don't want to supply cakes for same-sex weddings.
"I would say among my peers, modern-day slavery is a whole lot more tangible to them than religious liberty," she said. "It's a whole lot easier to understand how taking away someone's physical and mental freedoms harms someone. It's a very clear and obvious injustice."
But not all conservative Christians are willing to surrender traditional culture war battles in favor of less controversial issues. Hogan Gidley, who has worked as a spokesman for both Santorum and Mike Huckabee, said Christians won't let candidates off the hook on same-sex marriage or abortion just because they talk up anti-trafficking efforts in their speeches.
"For the true Evangelical, human trafficking will never be the new marriage," Gidley said. "And some politicians are going to try to use it as a smokescreen to not have to answer tough questions about marriage or life. They're reading the tea leaves on marriage, and they're trying to replace it with issues like trafficking and hoping no one will notice. And my point is, that won't work. Evangelicals are going to recognize that in a heartbeat."