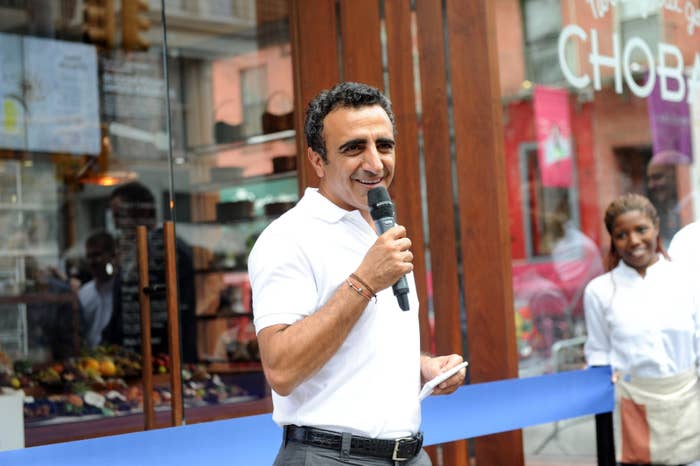 Greek yogurt maker Chobani has sued right-wing conspiracy theorist Alex Jones, claiming that the Infowars creator knowingly published fake stories about the company's refugee hiring practices.

In a lawsuit filed Monday, the company said that Alex Jones promoted a false story connecting Chobani founder Hamdi Ulukaya's support for hiring refugees with an unrelated sexual assault incident involving refugee children. The suit was filed in the Idaho District Court in Twin Falls, where Chobani operates one of the world's largest yogurt manufacturing plants. Twin Falls is also home to a refugee resettlement center.
The complaint highlights an April 11 video in which Infowars reporter David Knight connects foreign workers at Chobani to the 2016 sexual assault of a young girl in Twin Falls by three refugee boys, who pleaded guilty to the charges. Though the boys were not accused of rape, the Infowars report claims that the mainstream media failed to cover the "rape" story, and contrasts this to a 60 Minutes profile of Ulukaya's work to help refugees.
(Knight also seems to take issue with the fact that Chobani makes Greek yogurt, also known as strained yogurt, although Ulukaya is from Turkey.)
Alex Jones later shared the video on his YouTube channel, which has 2 million subscribers, using the headlines "MSM Covers for Globalist's Refugee Import Program After Child Rape Case" and "Idaho Yogurt Maker Caught Importing Migrant Rapists."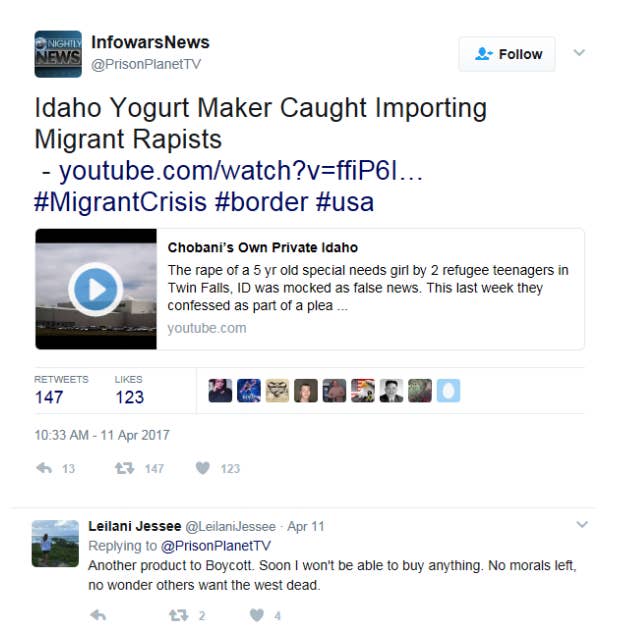 Infowars and Jones did not immediately respond to a request for comment. A spokesperson for Chobani declined to comment on the suit.

The lawsuit also states that Infowars falsely accused Chobani of bringing tuberculosis to Twin Falls, citing a story published by the site that said the town "has seen a 500% increase in tuberculosis" as a result of refugees hired by Ulukaya.
The false stories were designed to cause people to boycott Chobani products, and affected the lives of individuals who worked at the plant and their families, the complaint says. It adds that Infowars ignored repeated requests to take down the stories and seeks at least $10,000 in damages, attorney fees, and an admission that the articles were false.
Infowars has been known to publish false and inflammatory stories, including an article published earlier this month claiming that the Syrian chemical weapons attack was funded by liberal billionaire George Soros. Jones has also claimed that the 2012 Sandy Hook school shooting, which left 20 children and six staff dead, is "completely fake," and that the attacks on 9/11 are a government hoax.
Just last year, Jones removed all of his posts about the conspiracy theory known as Pizzagate — which falsely claimed that politicians working with Hillary Clinton were trafficking children through a Washington, DC, pizzeria — after a man stormed the restaurant and fired an assault weapon. A criminal complaint said the shooter had texted a friend an Infowars article that Jones had shared about the conspiracy.
Jones later released an apology video, which CNN Money reported was done to avoid a potential lawsuit.
The 43-year-old radio host is currently embroiled in a civil lawsuit over the custody of his children, which has become a national sensation since his attorney said he would defend his client on the grounds that his inflammatory work is "performance art."