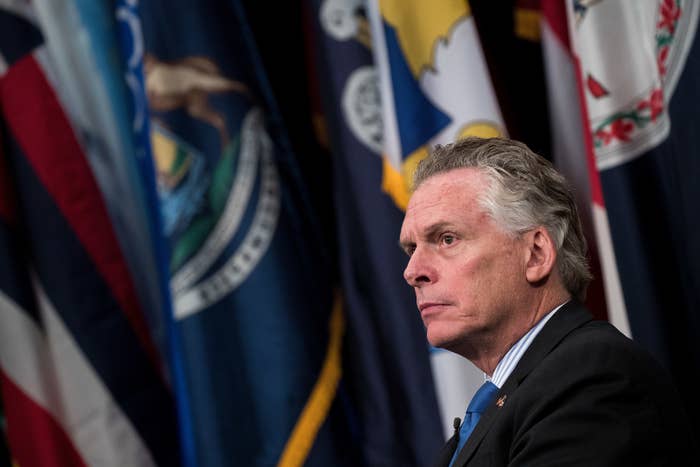 As violence erupted in Charlottesville, Virginia, during a white supremacist protest, the governor told those who had come for the event to "go home."

Virginia Gov. Terry McAuliffe also said he had spoken with President Trump and told him the only way to move forward was to bring people together and stop the hate speech.
The protests started on Friday night around a Confederate statue of Gen. Robert E. Lee, and by Saturday, the "Unite the Right" rally had turned into full-blown chaos — with a car plowing into a group of anti-racist demonstrators, killing one, and a helicopter crashing nearby, killing two state police officers.
McAuliffe on Saturday thanked those helping amid the chaos, and also had powerful words for the racists who had descended upon his state.

"Our message is plain and simple: Go home," McAuliffe said. "You are not wanted in this great commonwealth. Shame on you. You pretend that you're patriots, but you are anything but a patriot. You want to talk about patriots? Talk about Thomas Jefferson and George Washington, who brought our country together."
In his speech, he thanked law enforcement officials, first responders, state police, the National Guard, and clergy "who helped us on the streets." He also acknowledged students at the University of Virginia, who had on Friday night surrounded the statue of Jefferson in order to protect it.
He then went on to describe the sacrifices of members of the US military, saying they are the American patriots — not the white supremacists who came to the rally.
"You think about the patriots today, the young men and women who are wearing the cloth of our country," the governor said. "Somewhere around the globe they are putting their life in danger. They're patriots. You are not."
"You came here today to hurt people, and you did hurt people," he continued. "But my message is clear. We are stronger than you. You have made our commonwealth stronger. You will not succeed. There is no place for you here, there is no place for you in America. We work here today to bring people together, to unify folks. "
The governor also noted the history of Virginia, which was founded by immigrants.

"I'll remind you all that we are a nation of immigrants. Unless you're Native American, the first ships that came to Jamestown, Virginia, in 1607, and since that time, many people have come to our great country to unite us," the governor said. "Our diversity, that mosaic tile of immigrants, is what makes us so special, and we will not let anybody come here and destroy it."
"So please, go home and never come back," the governor reiterated. "Take your hatred and take your bigotry. There is no place. And if I could give you a piece of advice, use your time and energy to help people."

McAuliffe went on to say that we must work to bring people together. He suggested that they volunteer by working at a homeless shelter, or by helping with veteran employment or housing.
"That's what we need help on, to bring people together," McAuliffe said.
The governor then said that he had spoken with President Trump about how the US needed "a movement in this country to bring people together," and emphasized that hate speech has to be stopped.
"The hatred and rhetoric that has gone on and has intensified over the last couple months is dividing this great nation," McAuliffe continued. "We need to work together. I told the president that twice, be willing to work with you if we can work together to bring people together, but stop the hate speech. Stop the rhetoric in this country. We have got to bring people together.
"But we are a great commonwealth, and we are a great nation, and we are even stronger today because of those actions of those people who came with their bigotry and hatred," the governor concluded.