President Donald Trump on Tuesday interrupted his call with the new Irish prime minister to bring attention to a reporter, saying, "She has a nice smile on her face, so I bet she treats you well."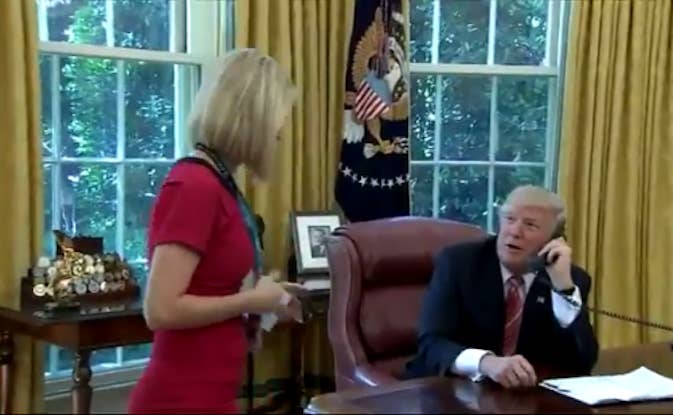 The reporter, Caitriona Perry, who has been the Washington correspondent for the Irish public service broadcaster Raidió Teilifís Éireann since 2014, shared the "bizarre moment" on her Twitter feed and it quickly went viral.
The interaction happened in the Oval Office during a phone conversation in which Trump was calling to congratulate Leo Varadkar on his election earlier this month as prime minister — known as a taoiseach in Ireland.
"We have a lot of your Irish press watching us right now," Trump told Varadkar, before turning to Perry. "We have all of this Irish, beautiful Irish press. Where are you from? Come here, come here..."
"She has a nice smile on her face, so I bet she treats you well," the president said to Varadkar on the phone as Perry, who was covering the call, retreated.
"He thanks you for the newspapers, Caitriona," Trump added.
RTÉ shared the clip of the "bizarre moment," which appears to have been shot from a camera Perry was holding.
In an article posted by RTÉ about the encounter, Perry described what it was like:
"One minute we were outside the window and the next minute I'm meeting the president of the United States," she told RTÉ Entertainment. "Usually we would shoot from outside the window of the White House and that's what we were expecting today, but instead we were invited inside to witness the president's call to the taoiseach. When we went in, he was already on the phone, but I managed to catch his eye and he called me over."
BuzzFeed News reached out to Perry for additional information, but a communications manager for RTÉ replied that she "is not doing any further interviews at the moment."
She also shared another image of the moment on her Instagram account — which has since been made private — saying, "One of the more bizarre moments of my time as #rte Washington Correspondent...being called over by President #Trump as he is in the middle of speaking to Taoiseach Leo Varadkar. #thisjob #thistown #thereisnohashtag"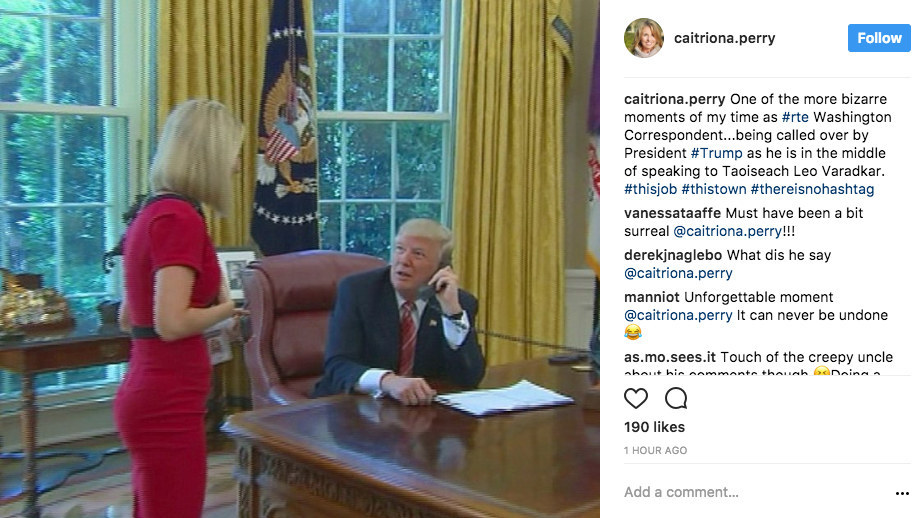 In response, people took to the internet to call Trump's comments creepy.
"Creepy old man does a perv demo for the cameras..."
People said they were disgusted by the way Trump focused on a woman's looks.
People called it gross.
And many found the interaction cringe-worthy.
Some even implied it made them gag.
Others pointed out that Trump displayed "his lechery" in the Oval Office.
Some said the interaction would be the perfect subject for an "HR harassment video."
Or as footage for a harassment training video.
"This should bring chills to anyone who has ever had to work with a man like this."
Some also pointed out how Trump was caught on a hot mic making a series of lewd comments years ago, including going after a married woman.
And people started tweeting their apologies to the Irish reporter.
"We apologize that our president is a weird, inappropriate creep."
"Embarrassed for my country," one person hashtagged.
People also applauded Perry's reaction.
"Smart move getting the heck out of there," said one Twitter user.