Hawaii is set to become the first state in the US to ban the sale of sunscreen chemicals that are toxic to coral reefs and marine life.

A bill to ban the sale of sunscreens containing two types of chemicals toxic to the ocean was passed by the Hawaii state legislature Tuesday and will now go to the governor's office for his signature. If signed, the ban would start in 2021.
Oxybenzone and octinoxate are destroying the oceans around the world, according to scientists whose research has shown that the chemicals break down coral by leaching it of nutrients and disrupt the development of fish and marine life, like sea urchins and algae.

About 14,000 tons of sunscreen lotion ends up in coral reefs around the world each year, according to a study published in 2015 in the Archives of Environmental Contamination and Toxicology. The highest concentrations of sunscreen were found in tourist-filled beaches, like many in Hawaii and the US Virgin Islands.

In Hawaii, a study conducted last year by the nonprofit Haereticus Environmental Laboratory at the iconic snorkeling spot Hanauma Bay found that the nearly 2,600 average daily visitors left about 412 pounds of sunscreen in the ocean. The damaging effects of sunscreen can occur in concentrations as low as 62 parts per trillion, which is equivalent to one drop of oxybenzone in six Olympic-sized swimming pools.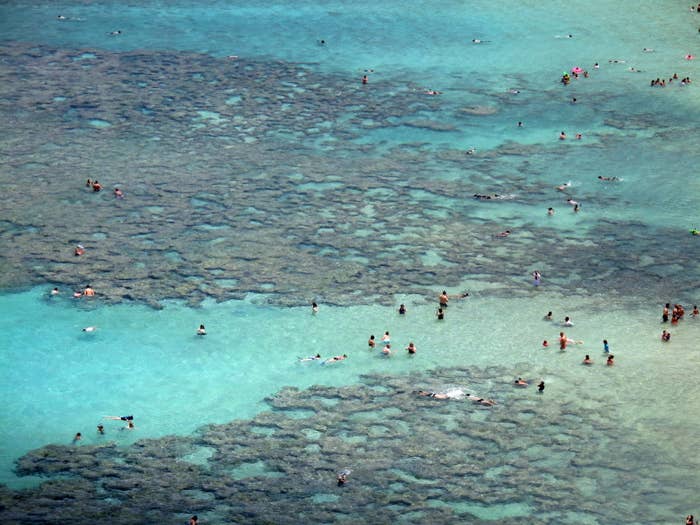 Studies have also shown that the ocean pollution comes from both people wearing sunscreen as well as through wastewater streams that are sent to the sea.

"More and more people realize, as you go home and shower the water is getting treated and put out into the ocean," Hawaii state Sen. Laura Thielen told KHON2. "So really it's damaging our corals no matter whether you're wearing it on land or at the beach."

Oxybenzone and octinoxate are found in almost all common sunscreens, including products sold by Hawaiian Tropic, Banana Boat, and Coppertone, as well as some face lotions.
Still, many alternative sunscreen options are for sale — some from the same aforementioned brands — that use ingredients such as titanium oxide or zinc oxide for skin protection. Also, sun-protection clothing rated with Ultraviolet Protection Factor — a similar system to SPF — is made by Patagonia, Australia's Coolibar, REI, Lilly Pulitzer, Athleta, and others.