Maryland Man Turns Motorized Toilet Into Snow Plow
This is one way to get shit done.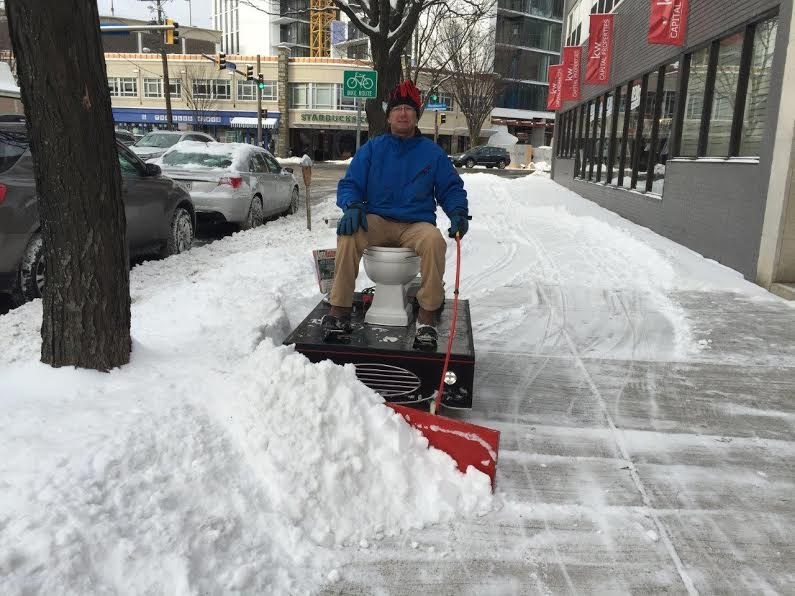 It's been snowing a lot in Maryland and 55-year-old David Goldberg was feeling wiped out from constantly shoveling.
Looking for an alternative, Goldberg told BuzzFeed News he decided to attach a plow to a motorized toilet that he had built in the summer for a parade.
"Loo-cy is custom," Goldberg said in an interview explaining how he built his invention. "It has two DC motors from a wheelchair. The plow itself is an extra shelf from our stock room and an aluminum angle for the blade."
The motorized toilet hadn't been used since summer, but when winter started, Goldberg was ready to test "Loo-cy" out in the snow.
"I was hoping for a bit lighter snow for our first try at this," Goldberg said. "But Loo-cy has plenty of power available."
Goldberg uploaded a video to YouTube of himself clearing the sidewalk with "Loo-cy" in front of the Union Hardware store he owns in Bethesda, Maryland.
"We took a video of me plowing yesterday and it has gone nuts," Goldberg told BuzzFeed News on Wednesday. "That is the big surprise for me."