A flight from Oakland to Maui was delayed about 90 minutes because of a fake crime-scene photo. And because that apparently wasn't enough airplane drama for one morning, the crew had to declare an emergency while airborne because pepper spray filled the cabin.
It was a wild ride, to say the least, so let's see if we can break it down.
Hawaiian Airlines Flight 23 was originally set to take off Friday morning and was already taxiing when multiple passengers alerted the crew that they had received a horrifying photo of what appeared to be a dead child facedown in a crime scene with numerical markers.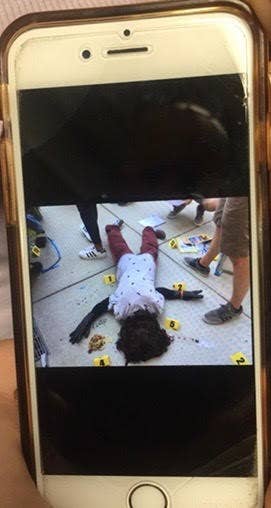 At least 15 passengers were sent the gruesome photo, Alameda County Sgt. Ray Kelly told BuzzFeed News. The crew showed the images to the pilot, who made the decision to return to the gate.
It turned out that the photo came from a 15-year-old girl who was trying to send an image from her high school medical-biology class to her mother, who was sitting next to her, but accidentally AirDropped the photo to the other passengers around her. AirDrop allows the instant transfer of files among supported Apple devices, like iPhones and iPads, as long as the option is turned on. The "dead" child in the image was actually a mannequin.
"She was telling her mom about the class, and her mom supposedly just got a new iPhone," Kelly said. "People were a little alarmed by it."
The girl and her mother were not allowed to continue on the flight and were rebooked on a flight Saturday, Kelly said. They were questioned by officers from the Alameda County Sheriff's Office, who determined that there was no actual crime.
"Obviously, it inconvenienced some folks," Kelly told BuzzFeed News. "All in all everybody did everything right... The passengers did the right thing by alerting the flight crew, and the flight crew did the right thing by trying to figure out if there was a valid threat or not."
He added that the girl was "very embarrassed" and "she was actually crying, so we had to console her a little bit — it was OK, it was a mistake."
After a 90-minute delay the plane took off, and I'm sure everyone was excited because they were going to Hawaii. But the wild plane ride wasn't over yet.
As the plane was flying somewhere over the Pacific Ocean, a bottle of pepper spray went off and filled the front part of the cabin. People immediately noticed the strange smell and many in the surrounding area started coughing.
Nicholas Andrade, a passenger on the flight, told the Associated Press that he and his fiancé were napping when he heard someone cough. The couple then woke up and realized that several people were coughing, he said.
"Everyone was coughing and then we were coughing," Andrade told the AP. "And the flight attendants were covering their faces and passengers started covering their faces."
He described feeling light-headed and having a headache. "People were definitely panicked," he added.
Andrade's fiancé, Lisa Sakimura, described on Twitter the panic she felt as she tried to figure out what was going on.
"I put my fuzzy sweater to my mouth thinking it would filter the air better," she wrote. "I'm worried. People are yelling for help. I feel trapped on a plane over the Pacific Ocean with diminishing amounts of air."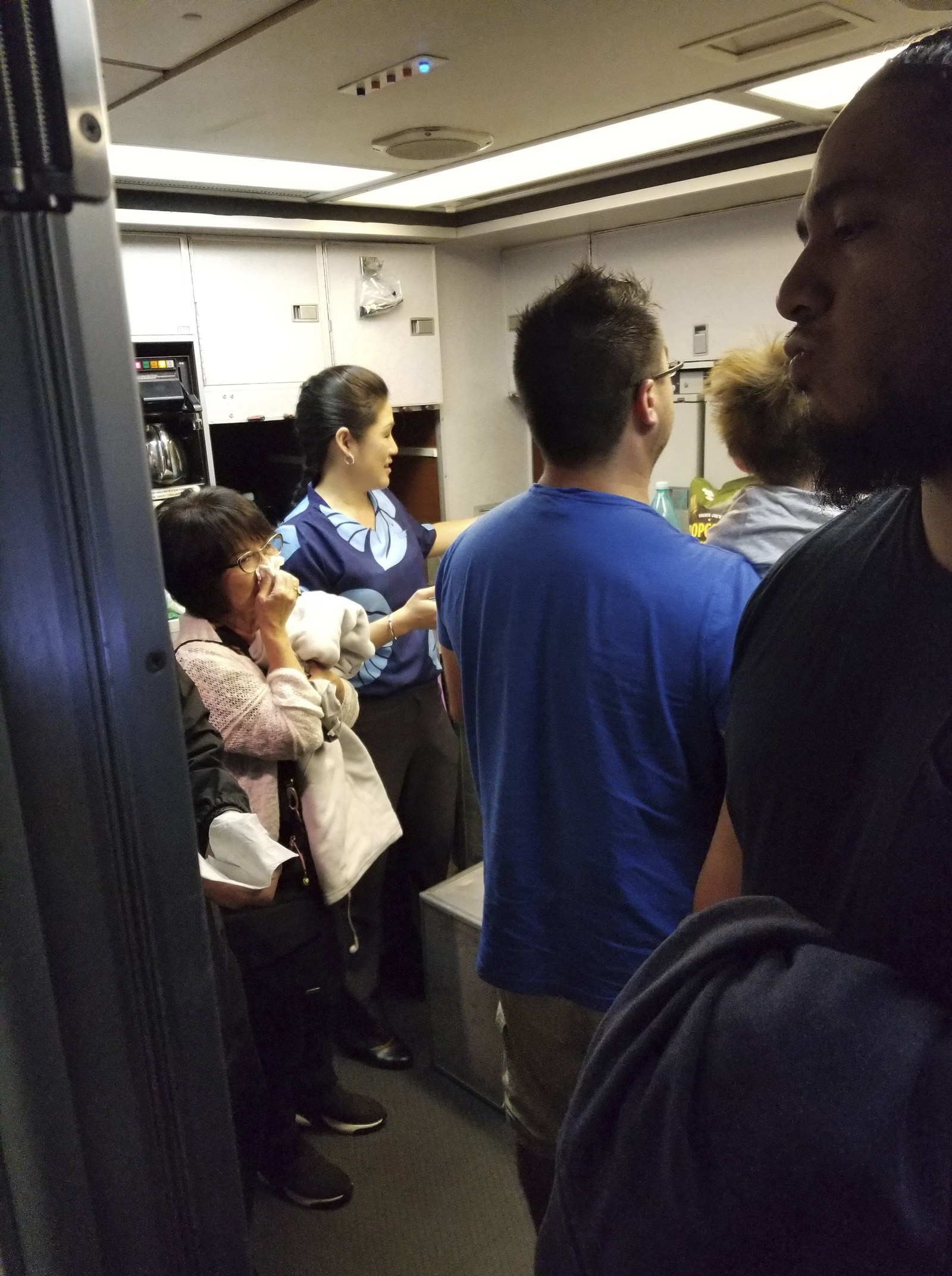 The flight crew told people to go the back of the plane until the air cleared. But Sakimura wrote that it was still not clear what was happening and said she prepared herself for the possibility that the plane would crash.
"I grab what I thought I'd 'need' for a plane crash: my lucky charm, a sweater, and a pen. I actually spent time doing this. It's just what I did. Why did I need a pen? I really can't tell you. It made sense at the time," she tweeted.
Andrade told the AP that about 40 people gathered with him and Sakumura in the back of the airplane.
"People are on the ground or hunched over asking for air," Sakimura said on Twitter. "So many people stuffed into the back."
Sakimura said passengers started to worry that the photo from the beginning of the flight "and this mysterious poison that was coming from first class is linked and it's a terror attack." Kelly told BuzzFeed News that the incidents were not related.
Turns out a passenger brought a bottle of pepper spray onboard illegally and it was discharged by accident, according to Hawaiian Airlines, who sent a statement to BuzzFeed News. It was not clear how the accidental spraying happened.
The flight declared an emergency to get priority landing. After landing at Kahului Airport on Maui, 12 passengers and three flight attendants were treated for respiratory issues, Hawaiian Airlines said in a statement to BuzzFeed News. There were a total of 256 passengers and 10 crew on board.
A Transportation Security Administration spokesperson told the AP that they were working with officials on Maui to investigate the incident. Bringing pepper spray on board can carry a fine of nearly $2,000.