The First Person To Buy Legal Marijuana In Spokane, Washington, Lost A Job Over It
Michael Boyer waited 19 hours in line to make history as the first person to buy legal pot in Spokane on Tuesday, but some of his employers weren't so happy about it. Update: Things are looking up for Boyer, as one of his employers, TrueBlue, decide to keep him on.
"TrueBlue got ahold of me and offered me my job back," Boyer told Newsweek Thursday.
"I'll accept it and we'll see where it goes from there," he added. "The reason they said they gave me my job back was because their policy says you cannot be under the influence at work, which I was not, and since I officially had the day off, what I did on my time was my time. And they gave me my job back, and even gave me a day's worth of pay that I missed."
In honor of Washington legalizing recreational marijuana Tuesday, 30-year-old Michael Boyer waited in line for 19 hours to be the first to purchase pot in Spokane.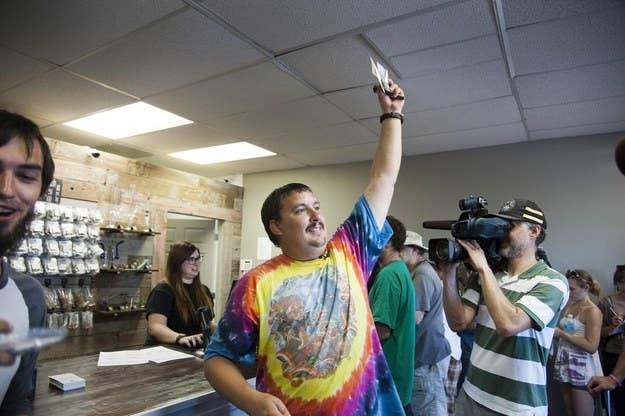 Boyer's place in line, and probably his tie-dye shirt, earned him a few television and other press interviews.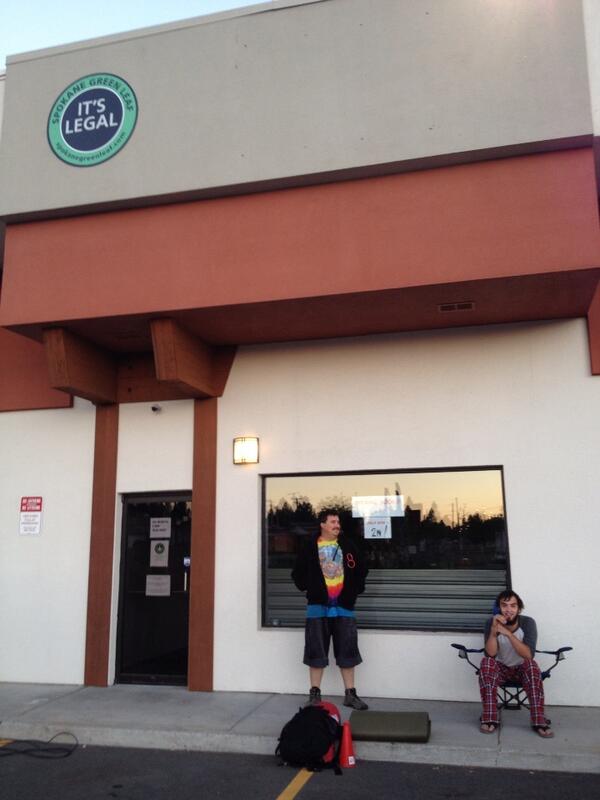 Boyer's adventure started Monday night at 7 p.m. outside retail pot shop Spokane Green Leaf with just his sleeping bag, Doritos, and some Mountain Dew. He said his shirt was worn especially for the occasion, but "I've been rockin' it for about 12 years now."
When the the store opened its doors at 2 p.m. on Tuesday, Boyer was the first to enter, and he bought 2 grams of Sour Kush for $50. Afterward, he raised his arms in victory and shouted, "Go Washington."
But the attention backfired. As soon as Boyer arrived home he got a call from his boss saying he would be required to take a drug test, which he would obviously fail, for his guard job with Kodiak Security Services.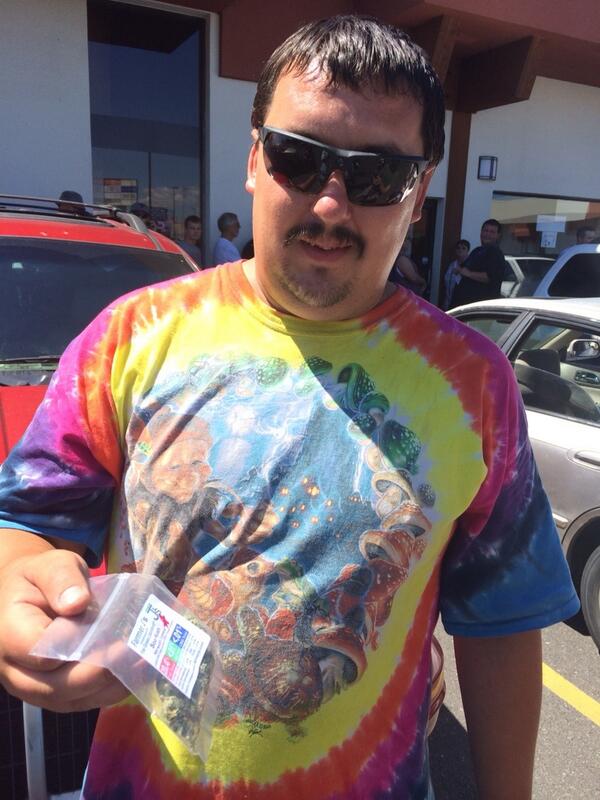 His employer explained one of their clients had seen Boyer on television and he would likely be fired as a consequence.
Luckily, Boyer had some weed to smoke, so he got high and took the nap he'd been planning on taking anyway.
Despite being let go, Boyer says he has no regrets.
"I'm still the captain! I'm still number one!" Boyer told Vocativ. "I mean, a man can always can get a job. But a man can only be the first person to buy recreational cannabis in Spokane once."
He described himself as "jobless," but explained he works three part-time jobs, of which two — Kodiak and a staffing agency called TrueBlue — had asked for the urine tests.
On Wednesday, Boyer had already posted his résumé on Craigslist, in a post titled: "LOST MY JOB! still #1 tho!!"
"I lost my job due to the news coverage of me being the FIRST PERSON TO BUY MARIJUANA LEGALLY IN SPOKANE! I regret nothing. But now im jobless and have decided to post my resume here. Thanks for reviewing it."