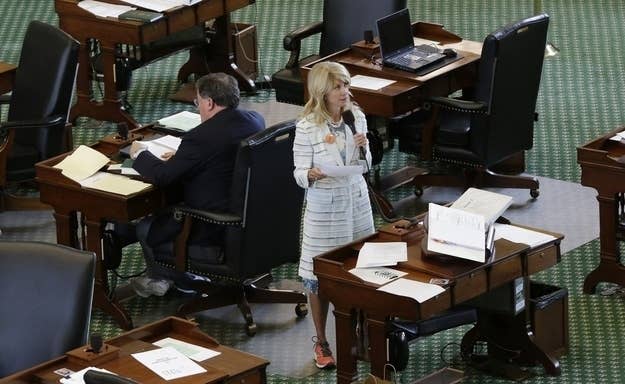 Sen. Wendy Davis of Fort Worth started the filibuster at 11:18 a.m. CT Tuesday. It will need to last till midnight — almost 13 hours of standing — to derail a vote in the Republican-dominated Texas Senate.
During the filibuster, Sen. Davis is required to stay on topic and is not allowed to lean on anything or take a break for the restroom.
In 2011, Davis filibustered to temporarily block cuts to public schools.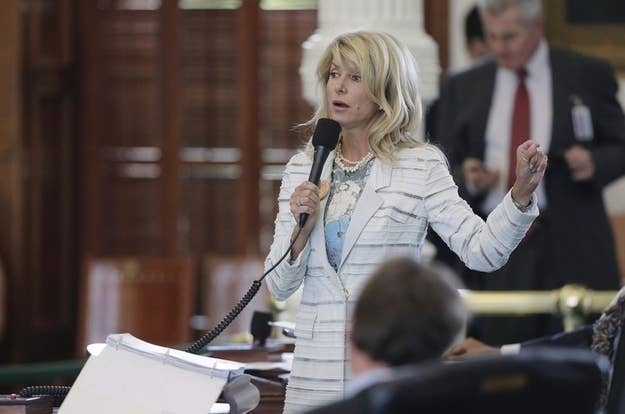 The senator tweeted on Monday that she planned to filibuster the bill.
UPDATE - June 25, 2013, 11:15 p.m. ET: The line for the Senate chamber to see Wendy Davis speak wrapped around the halls and went out the door.
Texas Lt. Gov. David Dewhurst, R-Houston, interrupts the filibuster with less than two hours to go.
According to the Texas Senate's rules, the filibuster must stay on topic. Dewhurst ended the filibuster by calling third strike at 10:07 p.m., when Sen. Davis mentioned a 2011 sonogram law that Texas passed.
The first strike was for discussing Planned Parenthood's budget. Sen. Davis received her second strike because a colleague helped her adjust a back brace.
UPDATE - June 26, 2013, 12:12 a.m. ET: It's still packed in the Texas Senate.
Democratic state Sen. Leticia Van de Putte asked, "At what point must a female senator raise her hand or her voice to be recognized over the male colleagues in the room?" which earned spontaneous applause that continued until after midnight.
UPDATE - June 26, 2013, 1:00 a.m. ET: It's over.
UPDATE - June 26, 2013, 1:15 a.m. ET: It's not over?
UPDATE - June 26, 2013, 1:38 a.m. ET: Audience chants, "Hell no we won't go!"
UPDATE - June 26, 2013, 1:57 p.m. ET: Official computer records of the vote on Tuesday, June 25, 2013.
UPDATE - June 26, 2013, 2:17 a.m. ET: Although, the Texas Legislature Online changed the time stamps for unknown reasons.
UPDATE - June 26, 2013, 2:24 a.m. ET: Senator Davis sits down for the first time in 15 hours and talks on the phone to her daughters.
UPDATE - June 26, 2013, 3:30 a.m. ET: Cheering because they've heard the bill is dead, but still waiting for final confirmation.
It's over.