A sign displayed at an Alabama high school football rally that read "Put the Panic back in Hispanic" has gone viral on social media, prompting the school superintendent to announce he is "following up on the matter."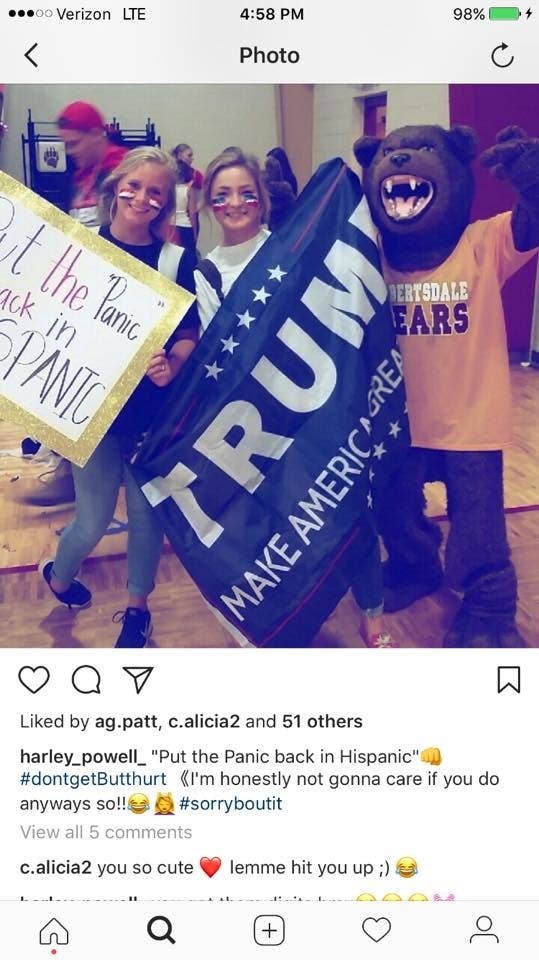 The sign was displayed Friday at a Robertsdale High School football game against the Spanish Fort Toros.
Jennifer Lopez Vazquez, a senior at Robertsdale, saw someone on Instagram share the photo with the sign and decided to screenshot and share it on her own Facebook page Saturday. As of Monday morning, her post had drawn more than 100 comments.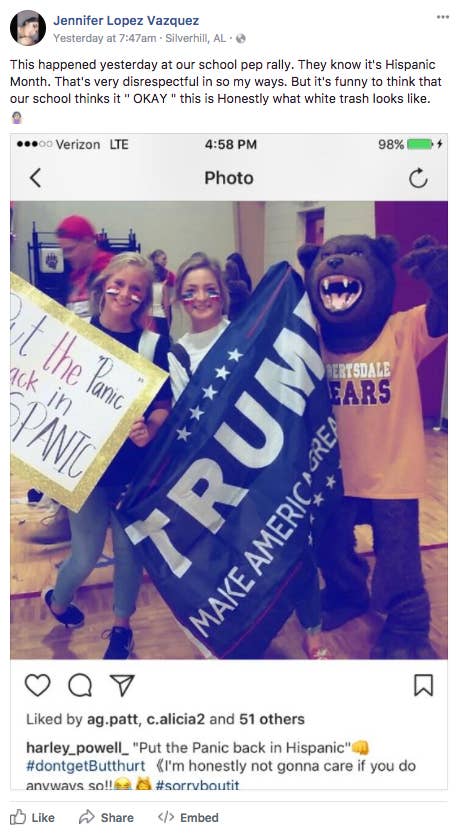 "The girls had posted on Instagram. Thinking it was a joke. To make fun of Hispanics. Knowing it's Hispanic Month!" Vasquez told BuzzFeed News. "But it clearly shows they have no respect! But then again the school doesn't care. That's why the students do what they do."
The superintendent of Baldwin County Public Schools, which operates Robertsdale, said in a statement Saturday that he had been made aware of the picture and is working with school administrators to follow up on the matter.
"We are aware of a photo that appears to be taken at a Robertsdale High School football pep rally Friday, Sept. 15 that is circulating on social media containing political banners and unacceptable language. School administrators, as well as my office, are following up on the matter," Eddie Tyler, the school superintendent, said in the statement.
On Tuesday, the superintendent released another statement calling the sign "unfortunate," particularly in light of President Donald Trump's decision to rescind the Deferred Action for Childhood Arrivals program. Tyler also noted that the school system has one of one of the highest Hispanic enrollments of any school system in Alabama.
"The picture of these two signs together has created a firestorm of controversy. In light of DACA and the immigration debates underway in this country I can understand why. I am not going to debate but I do want to speak to the community about who we are and what we stand for."

The Baldwin County Public School System has one of the highest Hispanic enrollments of any school system in Alabama," the statement continued. "Robertsdale is among the highest in our county because of the many migrant workers who enter our country to work for local farmers in our fields. Our ESL (English as a second language program) has been recognized by the state department of education for its excellence.'

Not only do we work hard to provide for these members of our community, but they are hugged on and loved every day not just by their teachers but by their friends where they go to school.

Last week Baldwin County opened our storm shelters where we welcomed more than 400 evacuees from Florida. These people came from all walks of life, many of whom were Hispanic and nearly all without much financial support.
Our parents and kids donated and volunteered to help these families who were misplaced during their time here to the point that officials asked us to call off and redirect that call for help, because what being delivered was too much to process. 'Our love for others was overwhelming' they said.

Unfortunate things happen. Sometimes young kids, young adults, say things they shouldn't say or in a way that can become controversial. Sometimes we don't see a context that someone else might see. I also know that you can't judge, or should not judge, a community by one picture, regardless of what the sign says.

Since this past Friday night, and continuing throughout the day today, I have received an overwhelming number of emails. I have been trying to respond to as many as I can but with the start of the day that has become impossible.

Many have been calling for expulsion, lengthy suspension, banishment from all school related activities and to my disappointment several were very 'hateful' in nature. How ironic. There was one from a young lady out of state that simply said, 'Mr. Tyler, I believe that you have a teachable moment here.'

I can't go back and undo the pep rally, I can only go forward with the message to our students, faculties and employees that we are all affected by the actions of those around us when those actions inflict pain, and we must be accountable for our actions."
The girl who posted the original photo to Instagram has since erased her social media accounts.
Domingo Soto, a lawyer representing one of the girls captured in the Instagram photo, but not the one who posted it on social media, told BuzzFeed News that there were a lot incorrect assumptions surrounding the screenshot, which he said his "client had nothing to do with."
Soto told BuzzFeed News that his client sent a email to the superintendent of Baldwin County Public Schools in order to explain the "misunderstanding."
Her note says that the the point of the sign was not to insult classmates, and that it was meant to be a joke about the Spanish Fort's football team.
"I am ... one of the girls in the picture at the Robertsdale High school pep rally. I had the sign that said 'Put the "panic" back in Hispanic.' Sir I would like to inform you that, that wasn't my intention and was not meant for it to be taken that way," the email said.
"We played the Spanish Fort Toros on Friday night, I was meaning 'panic the Toros' considering when I think Spanish I think Mexican or Hispanic. When I realized how people were taking it, I wasn't going to bring it. But my friend who had it in his truck brought it to the bleachers, when one of the boys sitting near me saw it and held it up," the email continued. "I do apologize for making our school look bad and I do understand any consequences I must face. But I also believe in my right of speech. I did not mean it in any kind of racial way, half of my family are Hispanic. Thank you for your time reading this, I apologize for all the publicity and misunderstandings this has brought to our school."
As the screenshot continued to go viral Wednesday, Soto told BuzzFeed News that it was having a negative impact on the community, and perpetuating a caricature of racist Southerners.
"The South has a horrible reputation and it's not undeserved but I am so tired of everyone acting like this is Dog Patch down here," he said.
"Yes, the poster was insensitive, but that's something she realized in hindsight," Soto said. But, he added, it "probably would have gone unmentioned but for the fact of the [Trump] banner and it's connection to the national hurt we're going through."
He also emphasized that his client's apology was sent before he was asked to represent her, and that she issued it "on her own initiative."
Since the incident, he said, her mother has "mandated" his client "study and report back to her on white privilege and DACA." The family is also "taking a special trip ... to Selma," he added, apparently referencing the Alabama city that is considered a birthplace of the 1960s civil rights movement.