Playboy's Latest Cover Looks A Lot Like Hustler's Infamous 1978 Meat Grinder Cover
Playboy's December issue shares a similar cover to Hustler's June 1978 cover of a woman being fed through a meat grinder.
Playboy's December 2013 cover and Hustler's June 1978 cover both show the disembodied bare legs of a woman.

The December 2013 issue of Playboy features a pair of legs upside down in a chimney, and it shares a similar compositional disembodiment with the infamous June 1978 cover of Hustler featuring a woman's legs being fed through a grinder, while the head and torso have already been turned into ground meat.
Hustler was a porn pioneer in the 1970s, changing the status quo by pressing the limits in print pornography. As a result, Hustler was the recipient of huge backlash and the magazine's creator, Larry Flynt, was involved in many legal battles over free speech and pornography.
The 1978 cover of Hustler gained notoriety for depicting a woman like a piece of meat. The cover reads "We will no longer hang women up like pieces of meat," and the quote along with the depiction of a woman being made into meat was a direct response to criticism of pornography.
Since 1978 many ads have taken inspiration from Hustler and have depicted disembodied women.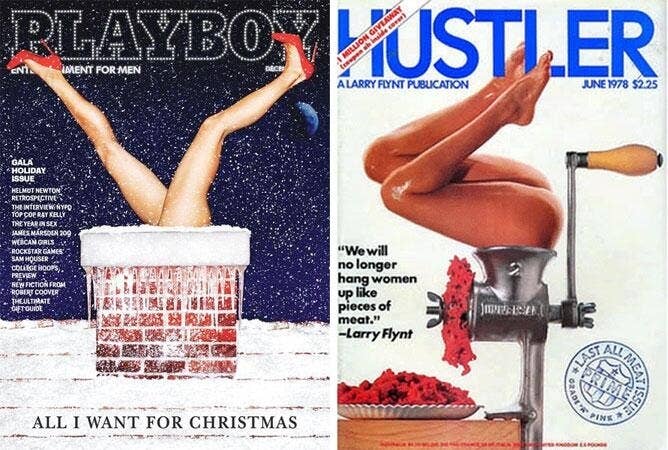 Playboy's holiday issue is also its first glow-in-the-dark cover, which reveals the famous Playboy bunny ears logo as a constellation in the sky. The legs on the issue belong to Playmate of the Year Raquel Pomplun.
Raquel Pomplun poses with her Playboy cover.