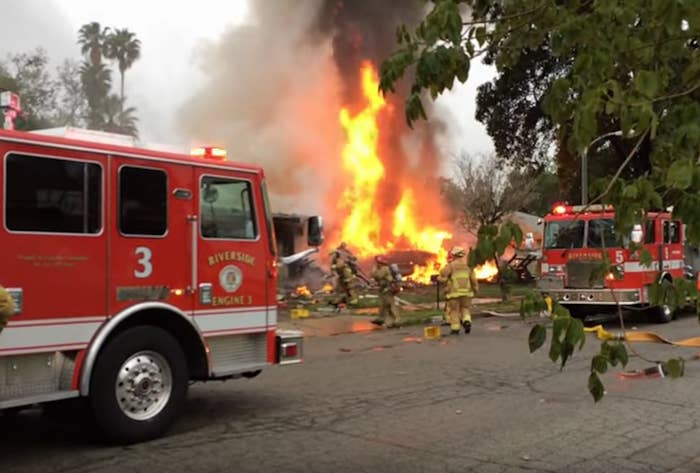 A small plane carrying a family to Northern California after a weekend at a cheerleading event at Disneyland crashed into homes Monday in Riverside, igniting a large fire and killing three people.
Officials on Tuesday said there were five people aboard the plane when it crashed.
Riverside Fire Capt. Tyler Reynolds told reporters that one man, a woman, and teenage girl were among those killed in the fiery crash. Two other women aboard the plane survived with critical injuries, one of them with third-degree burns over 90% of her body.
Authorities had originally said four people were killed when the 310 Cessna when crashed shortly after take off amid light rain.
One witness told the Riverside Press-Enterprise that he saw the Cessna make a turn moments before the falling from the sky during slightly rainy conditions.
"All of a sudden it turned into a freefall," Brian Mars told the paper. "Flames were everywhere. Smoke was billowing out."
Two houses were destroyed in the crash and neighboring homes suffered minor damage. No one on the ground was injured.
The identities of those aboard the plane, including the pilot, were not immediately released pending notification of family, many of whom were in San Jose, Reynolds said.
Investigators with the National Transportation and Safety Board arrived Tuesday to determine the cause of the crash.