Orangutan Granted Basic Legal Rights In Argentina
A court in Argentina ruled that an orangutan who has lived in a zoo for the past 20 years can be granted basic human rights, including freedom from unfair captivity.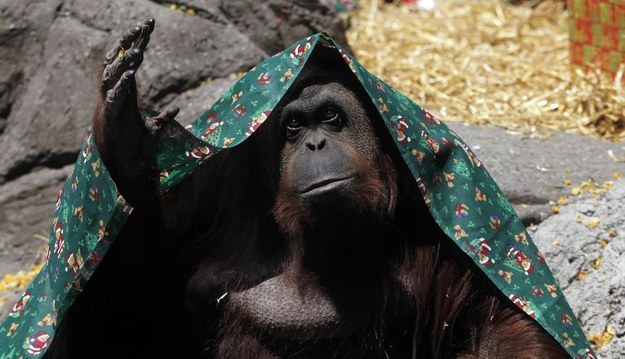 A court in Argentina ruled that a shy orangutan who has lived in a zoo in Buenos Aires for the past 20 years can be granted the right to not be held without cause and should be allowed to live in semi-freedom with other large primates.
Sandra currently lives at a privately owned zoo in Buenos Aires where she has spent the last 20 years. The Sumatran orangutan was brought to the zoo in 1994 from Germany, where she was born in captivity in 1986, but had always tried to avoid the public by hiding within her enclosure.
Lawyers for Argentina's Association of Professional Lawyers for Animal Rights (AFADA) filed habeas corpus — typically a petition to show why a human should be jailed — for the orangutan last November over "the unjustified confinement of an animal with probable cognitive capability."
The lawyers argued that Sandra was a "non-human individual" who deserved basic rights and was being illegally obtained by the zoo. The lawyers said she was a "person" philosophically speaking — not biologically — and should not be classified as a "thing."
In Sandra's case, the court unanimously agreed, "starting from a dynamic and non-static legal interpretation, to acknowledge that the animal is an individual with rights, and therefore non-human individuals (animals) are possessors of rights, such that they are protected according to the appropriate measures."
If there's no appeal, Sandra will be moved to a sanctuary in Brazil, where she will have greater freedom, the BBC reported. She will not be released into the wild, since she was born in captivity.
AFADA lawyer Paul Buompadre said to an Argentine daily newspaper: "This opens the way not only for other Great Apes, but also for other sentient beings which are unfairly and arbitrarily deprived of their liberty in zoos, circuses, water parks, and scientific laboratories."
In December, a New York State appeals court rejected a request to grant a chimpanzee legal rights. The animal was privately owned, and the court ruled against an animal rights group that brought the case to release him from what they called unlawful detention.