Nordstrom is selling a stone wrapped in a leather case for $85 and people are...confused.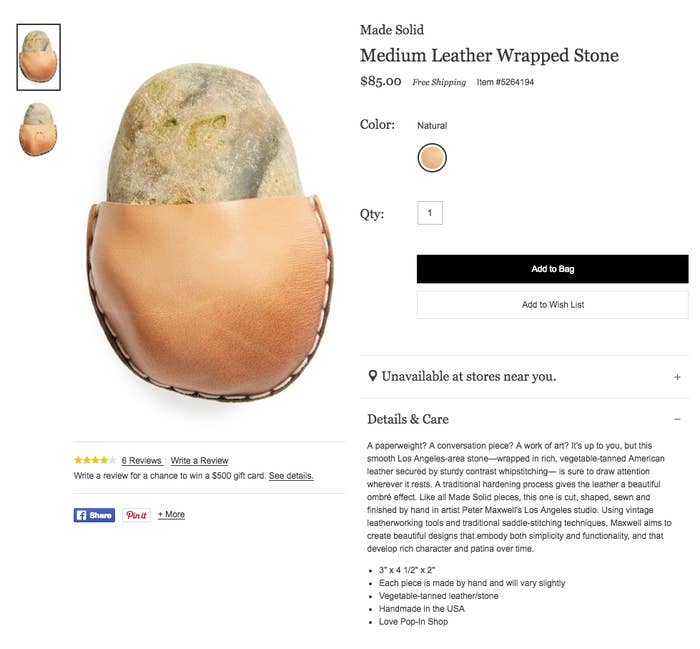 The description for the stone reads in part: "A paperweight? A Conversation piece? A work of art? It's up to you."
"This smooth Los Angeles-area stone — wrapped in rich, vegetable-tanned American leather secured by sturdy contrast whipstitching — is sure to draw attention wherever it rests," the description continues. "A traditional hardening process gives the leather a beautiful ombré effect. Like all Made Solid pieces, this one is cut, shaped, sewn and finished by hand in artist Peter Maxwell's Los Angeles studio."
But people still have questions.
Cayla Durrett was one of the first people to point out that Nordstrom was selling a rock — and wanted to know if it was a joke.
"I ordered the leather wrapped stone as a gift for my beloved girlfriend but when it arrive in the mail I quickly noticed it wasn't as described," wrote one reviewer. "It clearly states that the stone was hand-made but upon inspection one could easily discern many markings from factory machinery. I had it returned so they could ship me an authentic hand-made stone."

The product was designed by a company called Made Solid and has been for sale since Nov. 18, Nordstrom spokeswoman Brie Cross told BuzzFeed News. The handmade part of the product was the leather pouch, but "only Mother Earth can take credit for rocks," she said. The description of the product would be updated to make this clear, Cross added.
Made Solid told BuzzFeed News that the company called the product "Wrapped Stone" and emphasized that "it's not a joke." They described them as "really cool, labor-intensive objects that are used as everything from paperweights to doorstops to home/display accents."
The company said the rock was "one of our most consistently popular items, actually," and that the last time they had done a sale with Nordstrom "they sold out at most stores." Made Solid added that it sources stones from "select reps that can legally pull them from our local mountains for use in landscaping."
People online had to explicitly remind others that the stone really was for sale on Nordstrom's website.
But stay for the reviews...
"Choose this over food," wrote one reviewer. "As a single mother, it is often difficult to put food on the table for my 5 children. However, when I saw this piece of rock, I couldn't help it but to purchase this item. Yes, no one in my family will eat this month, however I have a piece of rock... I can't believe the rock is made by hand too! I was always told rocks were made through thousands of years erosion, guess I was wrong."

"This is the perfect holster for your slappin' stone," another reviewer wrote. "Even comes with a backup. It's a little pricey — but the sales lady told me the rock was made by hand. That's got to be difficult."

"rock make all grak friend jealous best rock in village. rock work for hitting things. rock look nice in pouch to wear for hunt or night out with mrs grak. rock cost much but grak get what grak pay for."

"Have to say that this is truly a beautiful product, but I had to send it back because there aren't any doggone instructions. I don't even know how to turn the flippin thing on. I know you millenials know how to do all this new techno stuff, but help some of us old guys out, would ya?"

Some people thought it would make a good replacement for people on Santa's naughty list.
"The perfect stocking stuffer for the naughty person that has everything!"

Others were actually comforted by the stone's sale. "If some jerk can sell a rock for $85, I'll be ok."
And if you can't afford the big one, there's a smaller, less pricey stone.