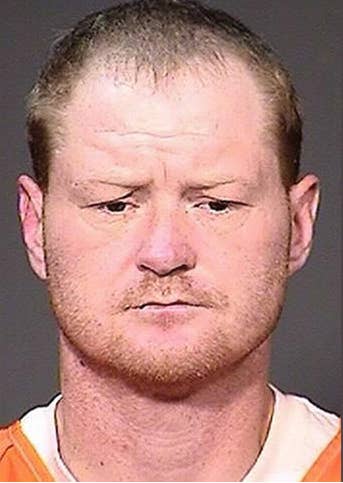 A 35-year-old Minnesota man is accused of brutally beating and decapitating his girlfriend's alleged rapist, authorities said.
Joseph Thoresen of Grand Rapids, Minnesota, is being held on second-degree murder charges in the June 21 death of David Haiman, the Associated Press reported. According to the police report, Thoresen is accused of beating his acquaintance Haiman with a baseball bat and beheading him with a large knife.
The complaint says the unidentified woman told Thoresen that Haiman had raped her in the couple's bedroom. When Haiman arrived at their Grand Rapids apartment, she punched him. She said he then agreed to be tied up and beaten.
The woman tied Haiman up with a rope in the bedroom and punched him in the face, breaking his nose. Haiman was then untied and Thoresen repeatedly punched him while yelling he shouldn't have raped "my girl," according to the police report.
The couple then got in Haiman's car, with him in the back seat. Thoresen drove them around while they smoked marijuana and meth, the woman said in the police report.
The three were driving in the woods when the woman said Haiman started calling them "pieces of shit" and her "a slut," the police report said.
Thoresen said they began to experience car troubles, so he got out of the vehicle and opened the hood. The woman said Haiman also exited the car and she heard a loud thud, according to the complaint.
Thoresen stabbed Haiman multiple times while he was on the ground groaning and asking for her, she said. Thoresen then took a large knife from Haiman's belt loop and cut his head off. The girlfriend said that she tried to make Thoresen stop and said that this was "not my Joe," the complaint said.
Thoresen made his initial appearance Wednesday on a murder charge in Itasca County District Court, the AP reported. His bail was set at $1 million with conditions.

The woman was being held Wednesday in the Itasca County Jail on a preliminary fifth-degree assault charge. She had not yet been formally charged.