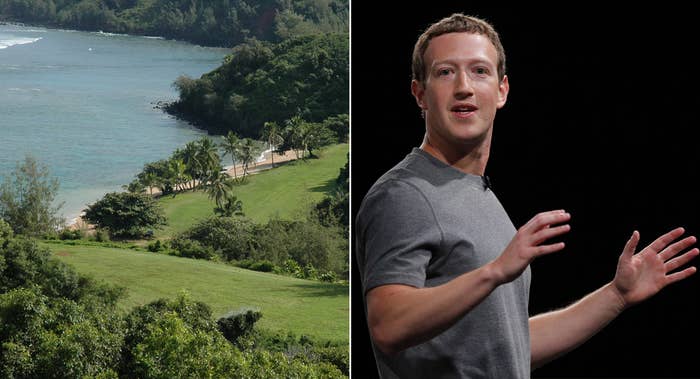 Facebook CEO Mark Zuckerberg has filed lawsuits against hundreds of Hawaii families who retain rights to small parcels of land within the vast estate he purchased on Kauai for close to $100 million.
Zuckerberg bought 700-acres on the island of Kauai in 2014, after purchasing several multi-million dollar condos on Oahu the year before. Within the large property on Kauai are more than a dozen small parcels of land that were partitioned during the 1850s and have been passed down for generations by local families.
In order to enhance his privacy, Zuckerberg has brought lawsuits aimed at finding and forcing these descendants to sell their land at a court auction to the highest bidder. (Zuckerberg has already worked on making his corner of paradise secluded by building a 6-foot-wall around it, which drew ire from many of his neighbors.)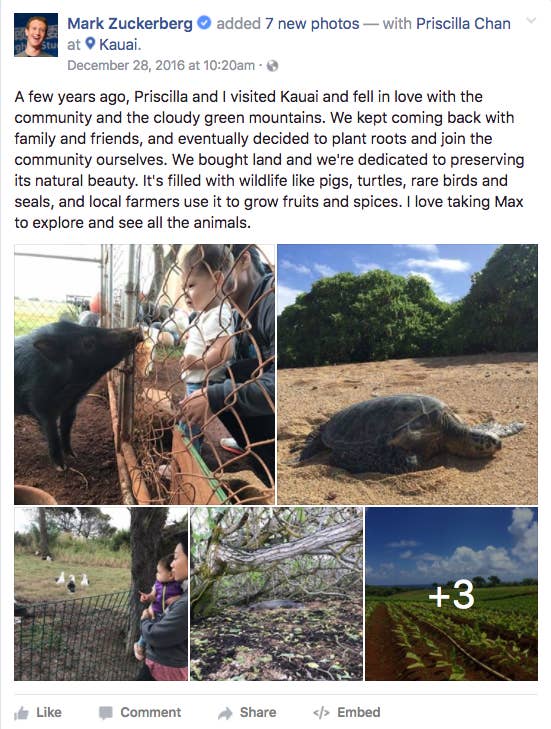 Before land in Hawaii was divided in 1845, Hawaiians did not have private land ownership. Between 1850 and 1855, common people in Hawaii were granted land titles for places that they already had been living or working on for generations. Many, however, did not make claims for the land as the rules were complicated and they had no context to understand why it was important to have a title to land.

For the small fraction that did successfully claim land, it amounted to less than 1% of all of Hawaii. Now, individual descendants of those who did claim land might only be entitled to a very small fraction or may not even be aware of their rights to the land.
Zuckerberg said in a Facebook post Thursday that stories written about his property in Hawaii have been "misleading," and that he hopes to make sure "smaller partial owners get paid their fair share too." By filing a quiet title action, Zuckerberg does aim to find all land owners, but once they have been notified of their claims, a judge will likely order the land to be sold at public auction.
Since Zuckerberg is one of the world's richest people, it's clear he will be able to outbid anyone in Hawaii who tries to contest his actions.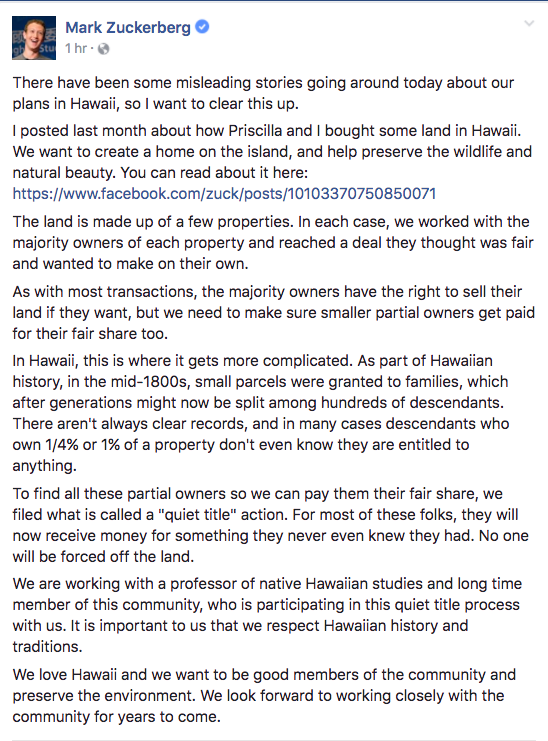 "For most of these folks, they will now receive money for something they never even knew they had. No one will be forced off the land," Zuckerberg said.
Keoni Shultz, a partner at the Honolulu law firm Cades Schutte representing Zuckerberg companies in the litigation, said this is a common procedure.

"Quiet title actions are the standard and prescribed process to identify all potential co-owners, determine ownership, and ensure that, if there are other co-owners, each receives appropriate value for their ownership share," Shultz said in a statement to BuzzFeed News.
BuzzFeed News reached out to Facebook and Shultz for more information but representatives were not willing to talk on the record about the matter.
The actions that Zuckerberg is taking to acquire the land is not uncommon in Hawaii, still for many people it serves as another example of ways that Native Hawaiians continue to be moved out of Hawaii by those with more money.
A Native Hawaiian Law primer published with the assistance of the University of Hawaii has stated the use of quiet title laws to force land sales has reduced Native Hawaiian landownership.
"The amount of land held by Native Hawaiians rapidly declined after Western contact. Quiet title and partition lawsuits, or actions, are other mechanisms by which Native Hawaiians continue to be divested of their interest in ancestral lands," the primer said.
"Partition by sale in particular is highly problematic for the Native Hawaiian community because it severs a family's connection to ancestral land," it added.