Hershey Sues Colorado Company Over Marijuana Candy Knockoffs
Colorado-based makers of edible pot treats have been sued for names that mimic Hershey's candies like "Ganja Joy" and "Hasheath."
UPDATED — June 11, 7:30 p.m. ET:
Hershey has filed a lawsuit against a Colorado company for creating marijuana-infused edibles, which feature names and packaging that mimic Hershey's signature candy bars.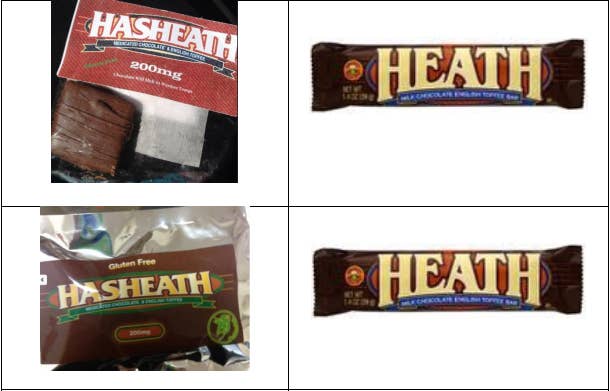 Hershey says the famous Reese's, Almond Joy, Heath, and York candies have all been used to sell pot-laced edibles by TinctureBelle. Hershey's accuses the edible company of trademark infringement, trademark dilution, false designation of origin, unfair competition, and passing off.
The lawsuit includes these side-by-side comparisons to illustrate how the cannabis candies attempt to copy Hershey's branding.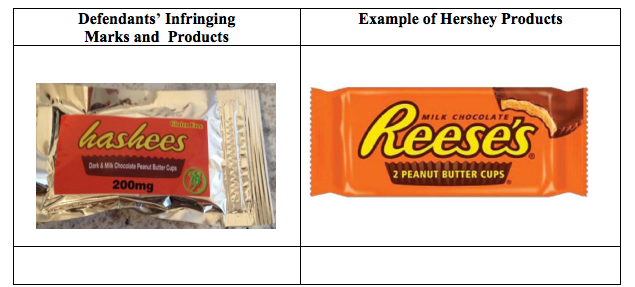 The lawsuit says the a Pueblo West, Colorado-based company is trying to "confuse consumers" and "call to consumers' minds Hershey's famous and beloved brands."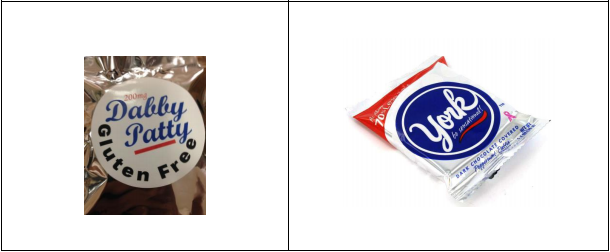 "Defendants, who are well aware of the fame and popularity of these Hershey products and marks, are manufacturing and selling cannabis- and/or tetrahydrocannabinol-laced chocolate and candy products using names, marks and designs that are knock-offs of Hershey's famous Reese's, Heath, Almond Joy and York trademarks and trade dresses, in order to increase sales of defendants' cannabis and tetrahydrocannabinol candy products, draw additional attention to their products, confuse consumers as to the source of their products, call to consumers' minds Hershey's famous and beloved brands, and otherwise to trade on the goodwill of Hershey and its brands."
The suit claims that the knockoff product "creates a genuine safety risk with regard to consumers" because "individuals and families the world over trust Hershey and its various brands as signifying safe and delicious treats for people of all ages."

Hershey's is seeking to block the sales of the candy with the lawsuit. The candy company is also seeking punitive and compensatory damages. Hershey's also wants to have any profits earned by TinctureBelle's look-a-like products returned.
It is not uncommon for marijuana-infused edibles to be marketed using popular candy puns, but Colorado provides the first market where they're being sold legally for recreational use.
TinctureBelle's owner, Char Mayes, has responded to the lawsuit in a statement sent to BuzzFeed:
"The lawsuit from Hershey came as a huge surprise to us, because we changed our entire label line approximately six months ago, long before these allegations surfaced last week. Our new packaging looks nothing like Hershey's or anyone else's.

The first we heard of it was from a reporter, who called last Thursday for a comment on Hershey's lawsuit. We were unable to comment because that was the first we had heard of the suit. We have yet to be served.

Our mission is simple. We wish to contribute to the health and well being of all MMJ patients, as well as assist our beloved MMJ community in building a positive reputation for the community and the many dispensaries in the state of Colorado that carry our quality line of products.

The suggestion made by some media reports that our products are available to children, and even sold side-by-side with Hershey products, is dumbfounding, and shows a profound lack of awareness of how infused cannabis products are regulated, manufactured, and sold under Colorado's strict regulatory regime.

The lawsuit from Hershey has absolutely nothing to do with our current line of quality products. TinctureBelle will continue to operate and to serve our community. We hope this issue/misunderstanding with Hershey can be resolved as quickly as possible.