Notorious right-wing radio host Alex Jones appeared on Megyn Kelly's new NBC News show Sunday night, amid a swirl of controversy surrounding the network's decision to air his interview.

Many people were furious that Kelly provided a platform to Jones, a conspiracy theorist who has repeatedly claimed, among other things, that the 2012 massacre at Sandy Hook Elementary, in which 20 children and six adults were killed, was a hoax. One of the network's advertisers, JP Morgan, even asked that its commercials be pulled from Kelly's show until after the interview aired.
Still, the former Fox News reporter decided to show Jones on Sunday Night With Megyn Kelly, framing the segment as a way to "confront" the conspiracy theorist on his "notorious lie about the Sandy Hook massacre."
"Some thought we shouldn't broadcast this interview because his baseless allegations aren't just offensive, they're dangerous," Kelly said at the beginning of the show. "But here's the thing: Alex Jones isn't going away. Over the years his YouTube channel has racked up 1.3 billion views. He has millions of listeners and the ear of our current president."
Before the interview aired, Kelly had already defended her decision to talk with Jones, citing his reported influence with President Donald Trump.
Kelly began by asking Jones about the attack in Manchester last month, which left 22 people dead and dozens more wounded, including some victims as young as 8 years old.
"With few facts known, Jones did what he often does — jumps mouth first into controversy," Kelly said. She then quoted him saying, "Liberal trendies were killed. The same people promoting open borders, bringing Islamists in," adding that a lot of people were surprised by Jones' remarks given that many of the victims were so young.
"I'm sorry I didn't blow them up," Jones said, cutting Kelly off. "I know. I did something bad, though?"
In a voiceover, Kelly described this as a "classic Alex Jones," in which the right-wing talk show host says something reckless and then follows it with excuses.
The show then explained Jones' rise to prominence and the growth of his brand, Infowars, since Jones caught the attention of Trump, with Kelly noting that both men promoted the false claim that former president Barack Obama wasn't born in the US. In December 2015, Trump appeared on Jones' radio program, and after Trump won the presidency, Infowars received White House press credentials for the first time.

During the interview, Jones downplayed his connection with Trump, but did say he considered their relationship "friendly." When Kelly asked how many times the president had called Jones, he replied, "I don't want to get into that."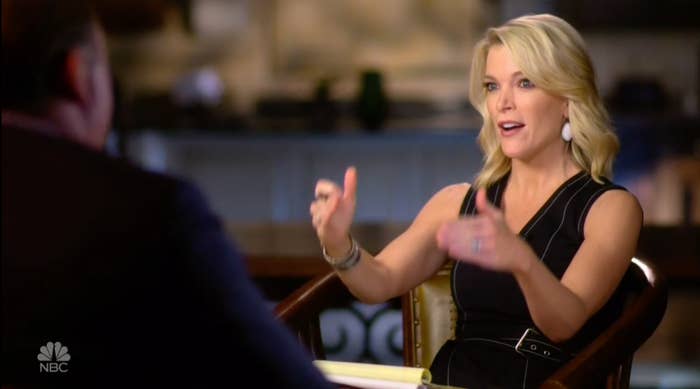 Kelly's interview was spliced with Charlie Sykes, a conservative writer and contributor to NBC News, who critiqued how Jones and the Infowars operation works.

"He has injected this toxic paranoia into the mainstream of conservative thought in a way that would have been inconceivable a couple of decades ago," Sykes said. "We are talking about somebody who traffics in some of the sickest, most offensive types of theories."
After Kelly addressed Jones' most "outrageous" conspiracy theory, that the Sandy Hook massacre was a hoax, the interview segment cut to a parent of a Sandy Hook victim, Neil Heslin, discussing the death of his 6-year-old son Jesse in the school shooting.
Kelly reportedly reached out to parents of Sandy Hook victims and asked them to appear on the show after the backlash started, according to Page Six.
"I lost my son. I buried my son. I held my son with a bullet hole through his head," Heslin said.
Parents of the victims of Sandy Hook have said that Jones' claims have led to an onslaught of harassment and death threats from his zealous followers. Connecticut's NBC station decided it would not air the interview, citing concerns for the local community.
After showing a segment of Jones talking about Sandy Hook in 2014, Kelly turned to him and said, "You said the whole thing is a hoax."

"At that point, and I do think there is cover-up and manipulation, that's pretty much what I believed," Jones replied in an almost incoherent babble. "I was going into devil's advocate but we know there are mass shootings and these things happen."
"You're trying to have it all ways," Kelly said.
"No, I'm not," Jones responded. After Kelly pushed him again, he added, "I didn't create that story."
Later, Kelly asked him point blank: "What happened to the children?" But Jones evaded the question, saying, "I will look at every position and play devil's advocate."
"Was that devil's advocate? The whole thing was a hoax? The whole thing was fake?" Kelly asked.

Jones again defended his decision, saying, "Yes. I remember even that day then saying, but then some of it looks like it is real, but then what do you do when they've got the kids going in circles in and out of the building with their hands up? It looks like a drill. I have watched the footage."
Eventually, Kelly's voiceover cut away, noting that Jones "never completely disavowed his previous statements."

The segment went on to explain that earlier this month, a Florida woman was sentenced to five months in prison for sending death threats to the parent of a 6-year-old who died in the Sandy Hook massacre. "Her defense attorney said she was primarily motivated by Infowars," Kelly said.
The show then turned to how Jones encouraged his listeners to personally investigate Pizzagate, a conspiracy theory that claimed Democrats used a DC pizza joint as a hub for a prostitution and pedophilia ring. One of Jones' listeners, Edgar Maddison Welch, did go to "investigate" the case, bringing loaded guns with him. Fearing a lawsuit, Jones apologized on air for promoting the theory.
Kelly noted that Jones has also apologized for promoting fake stories about Chobani's refugee hiring practices, which connected the yogurt company to an unrelated sexual assault incident involving refugee children.
On Sunday's show, Jones claimed Chobani "choose to go after me and so I simply pointed out that we were reporting other people's reports that were not entirely accurate and we were sorry because it was true."
"You don't sound very sorry," Kelly replied, asking why he didn't fact-check the story.

This line of inquiry continued with Kelly trying to push Jones to apologize and admit Infowars perpetuated the lie, with little success.
"But it was clear Infowars was the only media outlet to report the lie that forced Jones to apologize," Kelly concluded in another voiceover.
Since the backlash started over the interview, Jones has attempted to discredit Kelly. He called on NBC News to pull the interview, blaming unfair edits for making him appear to be a monster. Jones also leaked a pre-interview he secretly recorded, which makes it sound like Kelly promised him the interview would air in July, and claimed it was unfair to the parents of Sandy Hook victims to air it on Father's Day.

In the tape Jones recorded, Kelly repeatedly reassures Jones she intends to be fair. "You'll be fine with it," she can be heard saying. "I'm not looking to portray you as a bogeyman... The craziest thing of all would be if some of the people who have this insane version of you in your heads walk away saying, 'You know, I see the dad in him. I see the guy who loves those kids and is more complex than I've been led to believe."

Shortly before the interview aired Sunday, Jones released his own one-minute video addressing parents of Sandy Hook victims and offered his "sincere condolences," but did not go so far as to offer an apology for repeatedly claiming that the massacre was a hoax.

While the interview was airing on NBC News on Sunday, Jones simultaneously livestreamed his own segment with Kelly's interview in the background. Jones complained about how he looked on the show, saying, "I'm one ugly son of a bitch on that show. Am I that ugly?" and brought on Roger Stone, a Republican lobbyist who formerly worked for President Richard Nixon and was referenced in Kelly's interview, who called the NBC segment "a hatchet job."