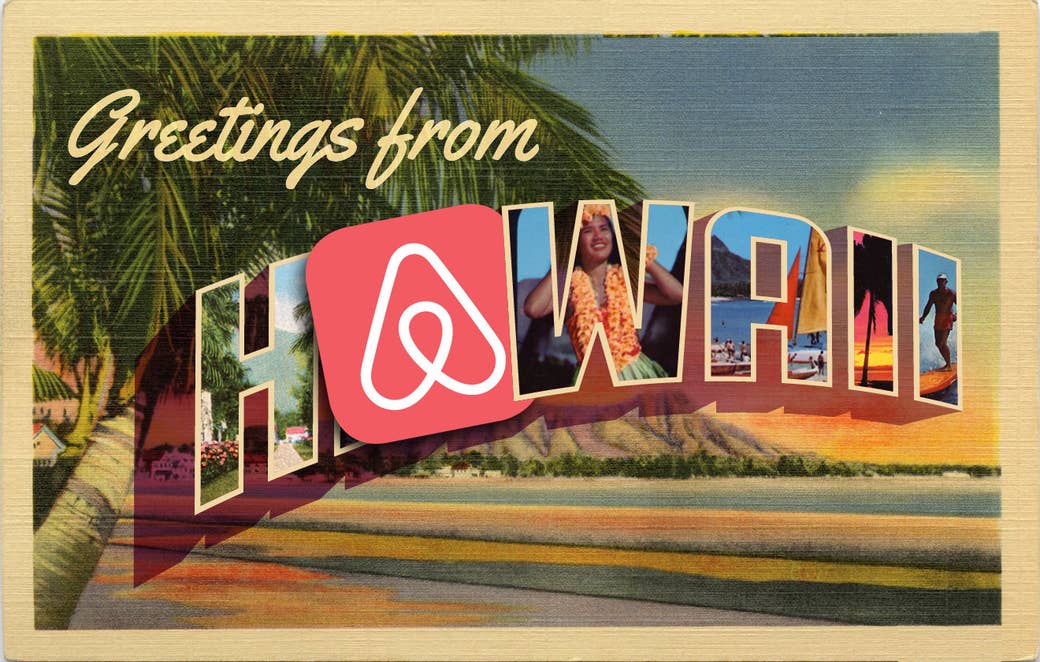 In an Airbnb commercial posted on social media in December, a family frolics among turtles in the ocean off the beachfront town of Waialua, as a voiceover explains that their Airbnb host in Hawaii told them about "the rock," a place where the sea creatures are often found.
As they swim, one of the family members steps on coral and touches the shell of a Hawaiian green sea turtle.
The ad drew the ire of some locals and people on Facebook, who flooded Airbnb's post with negative feedback, explaining that it's illegal to touch green sea turtles and that stepping on coral can kill an entire colony.
Airbnb removed the post and issued an apology four days later, saying that it "deeply regret[s] the actions captured." (Some versions of the commercial still remain online, however, with one Airbnb tweet sharing it with the line: "Find your slice of heaven.")
Matt Middlebrook, the head of public policy at Airbnb, told BuzzFeed News that the ad was made by company marketing team.
The fallout from the spot highlights the tensions between Airbnb, which hopes to capitalize on the more than 9 million tourists who visit Hawaii each year, and locals who are facing a statewide housing shortage and increasingly high cost of living. The state's residents are also concerned that outsiders are buying up property and renting it to unruly vacationers who disrupt peaceful neighborhoods.

Mike Biechler, a 36-year-old law student living in Waialua on Oahu's North Shore, told BuzzFeed News that he found the ad "disturbing."

In the 10 years that Biechler has lived in Waialua, he said he has seen an "impressive growth" in short-term vacation rentals, units rented for 30 days or less, which inspired him last year to start a grassroots group called Friends Against Illegal Rentals (FAIR).
Biechler described Waialua, which was once a sugar plantation town, as a surprising place to become a tourist hub, since it has "one of the least desirable beaches on the whole North Shore," because of sediment that flows out from the river. But just down the road is Mokuleia Beach, a white-sand beach where the plane crash scene in the hit network TV show Lost was filmed, and Waialua is only a five-minute drive to Haleiwa town, which has lots of surf shops and is home to the most popular shave ice spot on the island.
Biechler said he has watched Waialua transform: "All the old plantation houses are getting torn down and huge houses are getting built to be used for vacation rentals."
And it's not just in Waialua. The Hawaii Tourism Authority commissioned a study by SMS Research and Marketing Services that said over the past decade vacation rental listings have increased from 2,000 to more than 10,000, although these numbers may be underestimated. A supplemental search of listings done for HTA showed as many as 27,000 rentals in 2015, appearing in virtually every neighborhood in Hawaii.
Who Owns Hawaii?
The question of who belongs in the Hawaiian islands goes back to the Polynesians, who sailed the vast Pacific Ocean, and the arrival of Westerners in 1778, when James Cook, a British captain, came to Hawaii.
Ancient Hawaiians used land communally. By the mid-1800s, several attempts from foreigners, mostly by the British, French, or Russians, to take over the islands finally led the Hawaiian Kingdom to supervise the "Mahele" (division) of Hawaii's land. The idea was that even if the Hawaiian monarchy was later forced to transfer sovereignty to another government, the land would still remain in the hands of Hawaiians.

But the reality was that commoners acquired only a small amount of the land divided out for them, while other land was taken when the Kingdom was overthrown in 1893 by foreign businessmen, mostly Americans, with the backing of US military forces and the US diplomatic official in Honolulu.
"All the old plantation houses are getting torn down and huge houses are getting built to be used for vacation rentals."
While people have been coming to Hawaii for centuries, commercial flights in the 1930s accelerated the tourist industry. In the 1990s, the pineapple and sugar plantations started to close, and tourism became even more important to the islands' economy.

Twenty years later, the growth shows no sign of stopping. In just the last six years, Hawaii has seen the number of tourist visitors per year increase from 6.4 million in 2009 to 9.4 million in 2017, according to the Hawaii Tourism Authority.

Along with the uptick in tourism, there has been an increased demand for vacation rentals, with the number of rentals booked nearly doubling between 2009 and 2015.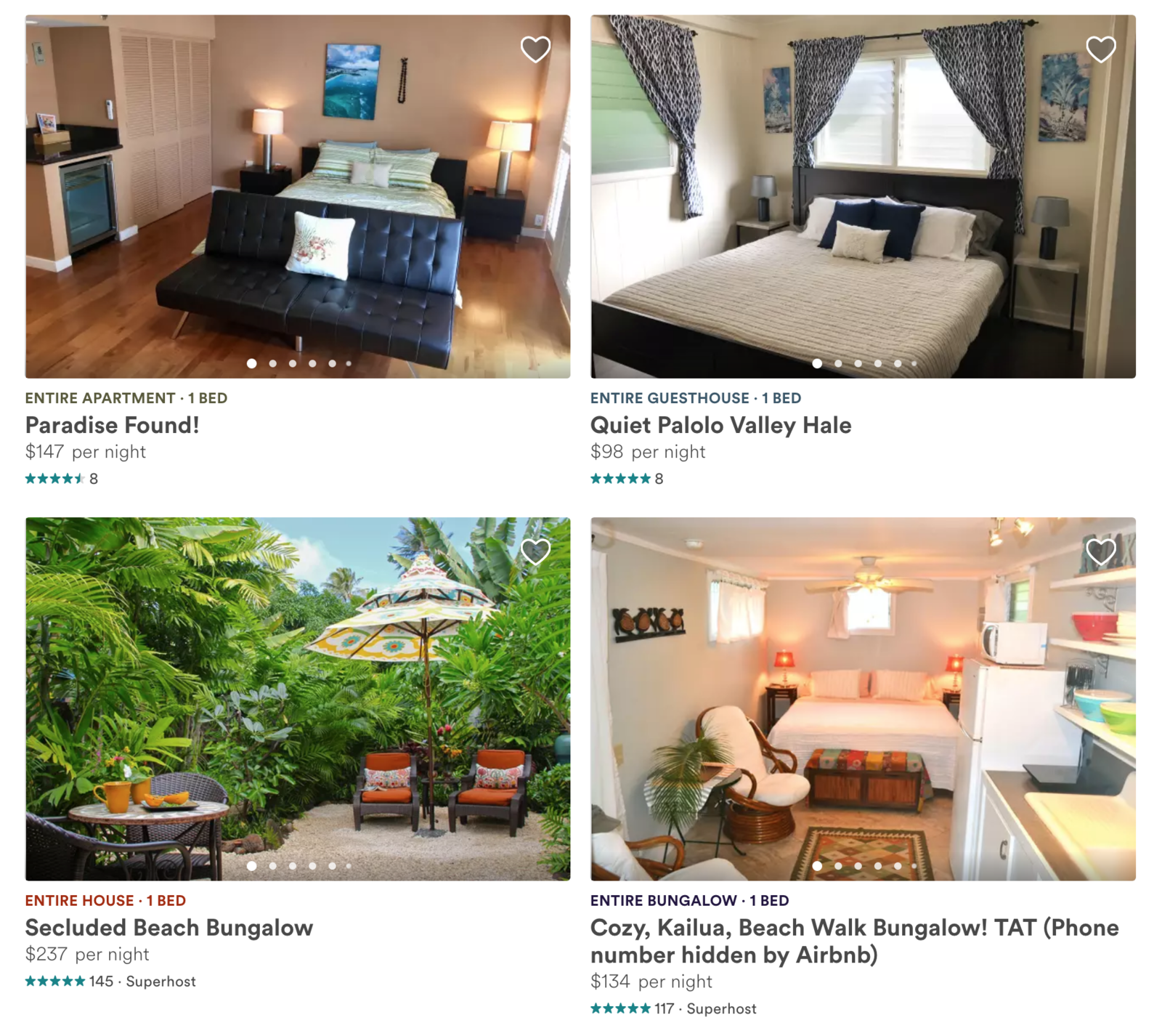 Finding Your Slice Of Heaven
Victor Geminiani, the executive director of Hawaii Appleseed Center for Law and Economic Justice, told BuzzFeed News that Hawaii has seen "a tremendous proliferation of people buying houses not to occupy them, but to invest in them."

The HTA study said almost 70% of vacation rentals were owned by people who live outside of Hawaii.
Geminiani said this is because of the state's low property taxes and the fact that a homeowner can profit by offering their home for rent, which he called the "siren song of economic attraction."
The HTA said that on Oahu almost 8% of housing units are owned by people who live out of state, while the island of Maui has the highest rate of out-of-state property owners with almost 30%.
Aukai Buttel, a 29-year-old apprentice lineman who grew up in Hauula, told BuzzFeed News that "before you couldn't even pay people to live out here on the North Shore just because it was quiet," but now he sees tourists come to the area who "enjoy the lifestyle here, so they'll buy homes, but they'll use it as a summer home and throughout the year they'll rent it out."
"That hurts," Buttel said, "because local families won't be able to purchase a home."

Buttel currently lives with his girlfriend and her parents in the home they have rented in Waialua for the past four years, while he waits to move into a one-bedroom condo that he recently bought with his girlfriend, closer to the neighborhood where he grew up.
He said he has also seen "a lot of tourists come into" Waialua over the last three years and that the house next door to where he currently lives is a vacation rental on Airbnb.
In Hawaii, 43% of households are renters, which is the fourth highest in the country, according to a report from the National Low Income Housing Coalition. So many residents in Hawaii rent because of the high cost of living and low wages, but even this is becoming more challenging, as monthly rents rose by 14% between 2009 and 2015.

Geminiani said that vacationers are competing with long-term renters for property, especially since a homeowner can earn more than three times as much from renting short-term, according to the HTA.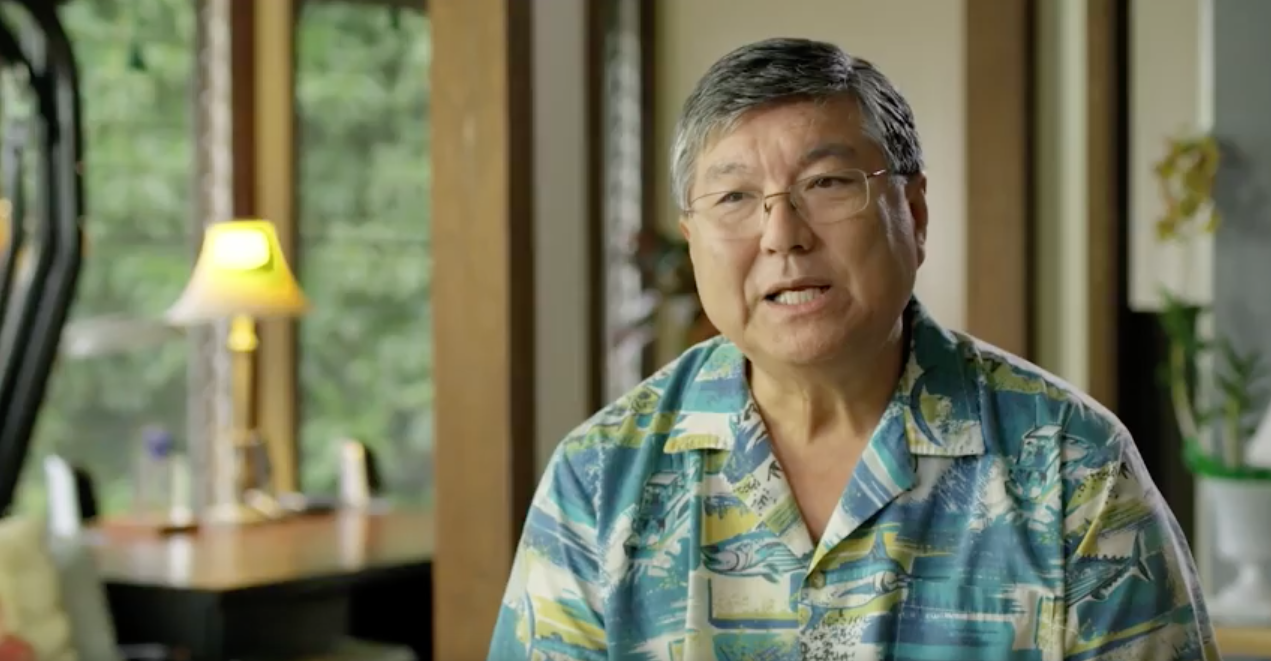 The Cost Of Living In Paradise
Airbnb isn't the only rental listing service in Hawaii — both VRBO and FlipKey are regularly used — but it has been the focus of lawmakers and advocates, because of the company's aggressive campaigning in Hawaii and its efforts to act as a tax collector.

The privately held company, which is valued at $31 billion, created commercials that aired on TV last year across the state, highlighting Hawaii hosts who say they rely on short-term vacation rentals to make ends meet.

One ad features a widow wearing a necklace of precious Niihau shells, who says she would not have been able to stay in Hawaii after her husband died if it had not been for Airbnb, since "the cost of living is so high."
The ad ends with an announcement that it was paid for by Airbnb. Middlebrook told BuzzFeed News that Airbnb does not pay the hosts to appear in the ads.
Another TV commercial starts with a man wearing an aloha shirt, saying that his guests are "ohana," which "means family." He calls Airbnb a "blessing," because "you'd have to live in Hawaii to understand that it is a very difficult place to make a living."
Middlebrook said the host-centered commercials were meant to highlight the "people in Hawaii who share their homes ... and make revenue to help them live in their homes."

"Their story is often overlooked," Middlebrook said. "We wanted to make sure that it was told and that the decision makers and the community understood that a lot of thepeople doing this are local residents for whom this is enjoyable and important."
Airbnb "likes to claim" that the hosts "are the mom and pop down the street trying to make pocket money by renting out a bedroom," Geminiani said. "The reality is overwhelmingly that the units being rented now are full-unit rentals, which means they are being taken out of the market while they're used as vacation rentals."

A report commissioned by Airbnb says 74% of hosts in Hawaii rent their entire property.
This is exacerbating the housing shortage, Geminiani said, contributing to Hawaii having the highest rate of homelessness per capita of any state in the country, according to the US Department of Housing and Urban Development's annual report.


Bills, Bills, Bills
Airbnb does not collect taxes when someone books a rental in Hawaii. Instead, the company asks hosts to explain in the listing description that taxes will be collected when guests arrive and expects hosts to remit them.

Three years ago, Hawaii Gov. David Ige vetoed a bill that would have allowed Airbnb to collect state taxes for accommodations, which Airbnb estimates would have brought in $70 million in tax revenue. In 2017, the state's Department of Taxation brokered a deal with Airbnb to collect taxes, but Ige rejected it again.
The governor said he vetoed the bill because allowing Airbnb to collect taxes on behalf of the state would have shielded and possibly even encouraged illegal rentals, since the bill did not require compliance with county laws.
Gov. Ige told BuzzFeed News that his goal is to "collect the taxes already owed" to the state, but that he "would [also] like to establish reasonable regulations that ensure that vacation rentals comply with all state and county ordinances."

He added that he believes "illegal vacation rentals exacerbates the housing shortage and therefore contributes to the homeless crisis."
"Illegal vacation rentals exacerbates the housing shortage and therefore contributes to the homeless crisis."
Airbnb approached the state "two and a half years ago and offered to set up a process by which we could collect or remit taxes to the state," Middlebrook said. "We could collect hotel taxes from 100% of our hosts and send them to the state to make sure they weren't missing out on that revenue. ... The state chose not to allow us to do that."
He said Airbnb is against any enforcement provisions that would require the company to hand personal information of anyone listing on its site over to the state.
"We as the platform cannot be the judge and jury and police in terms of who is on the platform at any given time," Middlebrook said. "What our goal has been ... is to come up with common-sense regulations to help the cities put the tools in place where they can appropriately enforce the rules."

Each county has its own regulations for allowing short-term rentals and the most populated island, Oahu, has by far the most restrictive rules. Oahu's regulations only allow rentals in designated areas, like Waikiki, and stopped giving out permits for rentals outside of resort zones back in 1990. There are about 800 permits for rentals on the island of Oahu, meaning that there are thousands of listings online that are illegal.
Biechler agreed with the governor's decision, because he thinks collecting taxes without first enforcing the permit system enabled the explosion of vacation rentals.
"A lot of people think that if people pay their tax, it's legal," Biechler said. "But that goes against the zoning use."

Kekoa McClellan, the spokesperson for the American Hotel and Lodging Association in Hawaii, a trade group that counts all the most recognizable hotel chains as members, told BuzzFeed News that the hotel industry helps the community by paying billions in taxes every year, supporting nonprofits, following safety and fire regulations, and paying into funds for improvements to Waikiki, which includes sand replenishment.

"We pay into the refurbishment of the sand on Waikiki's beautiful and pristine beaches," McClellan said. "We pay into certain tax pools that illegal operators of short-term rentals will never be required to do."
McClellan said vacation rental sites want to allow for taxation in order to seek legitimacy.
"In the same way that brothels have sought taxation to confer legitimacy on their activity for years, we see short-term rental platforms seeking taxation as a shelter for the illegal activities that are occurring on their platforms," McClellan said. "That's just not OK."
Community Action
Carmel Tomlinson, 46, is in the Navy Reserve and has owned a home in Waialua for about 10 years, but says that the neighborhood has changed because of vacation rentals.

Tomlinson, who lives about two blocks from the beach with her husband and young son, said that an attorney who lives in New Hampshire bought a house just a few doors down from her and started renting it on Airbnb. The house is described on the platform as a "pool/beach house" that can easily "accommodate large families."

With little oversight, Tomlinson said, the four-bedroom house has hosted 60-person wedding receptions, bachelor parties, and a fair share of fistfights.
"We've confronted her [the host] multiples times. She just doesn't give a damn," Tomlinson said. "She doesn't live here. She makes a ton of money."

Tomlinson teamed up with another neighbor to report the illegal rental to the city, submitting a list of noise complaints with dates when the police were called and a calendar from Airbnb showing when it was rented to the Honolulu Department of Planning and Permitting.

Tomlinson said she believed the department sent someone out once, but that the guests "were probably off sightseeing" and the officials "dropped the complaint as unverified," so she has resorted to calling the cops for late-night noise.

"These folks coming in from out of town are here to have a good time," Tomlinson said. "They just don't seem to respect the fact that it's a quiet, normal working neighborhood."
The owner of the house, a 55-year-old woman who lives in New Hampshire and asked to remain anonymous since she is running an illegal rental, told BuzzFeed News that she bought it in the summer of 2015 with her husband as part of their retirement plan. She acknowledged that she's been on the receiving end of a lot of anger from her neighbors.
When asked about the wedding, the host said it was her second booking and "I was unaware of it at the time, but my neighbor told me about it."

"My ad specifically states that there are not supposed to be any events," she said.

She said she was told the wedding had 10 people and that she had never heard about strippers or a bachelor party, and when asked about the fistfight said that "there was one altercation that occurred," which resulted in "a fist through one of my walls."

As a result of her neighbor's complaints, she said she had made a new rule that said if the quiet hours, which start at 10 p.m., are violated renters would lose their security deposit. She also said the house had a fire pit, which they got rid of after "our neighbor said someone had threatened to throw a tiki into the fire pit."
With little oversight, Tomlinson said, the four-bedroom house has hosted 60-person wedding receptions, bachelor parties, and a fair share of fistfights.
She told BuzzFeed News that she rents her unit on Airbnb and FlipKey, which is owned by TripAdvisor, but prefers the former because it has the "most reasonable" service fee.
"I have an on-island manager who manages the house while I'm away," the property owner said, adding that he takes care of the garden, pool, and cleaning, "and he takes care of any issues that arise while I'm not on the island."

She said she rents her property for between $350 and $625 a night and that it's booked anywhere between one week and three weeks a month with renters mostly coming from California, Oregon, Washington, and Canada. She and her husband stay in the house on average four times a year for about a month at a time, she said.

With the profits they make from vacation rentals, she said she and her husband were able to cover their mortgage and expenses, describing it as breaking even.
According to Geminiani, the state has an obligation to enforce laws and actually "shut down [illegal] vacation rentals."

"Politicians need to find a fair balance between the pressures we have to bring tourists into the state and the pressures we have to have residential neighborhoods retain their character for the people that live there," Geminiani said.
In San Francisco, where Airbnb is based, an ordinance was passed in 2016 that requires the company to make sure all hosts on the site have a permit with the city.
To obtain a permit for short-term rentals in San Francisco, a property must be the homeowner's primary residence, can only be rented to supplement income while they're traveling, and cannot be rented for more than 90 days during the year.
"About 4,000 listings were taken down," Middlebrook told BuzzFeed News. He added that many of the listings that were removed "were not active." Overall, he thought the results of the process were positive, because "we now have firm rules in place that are clear" and "homesharing is a legitimate activity throughout the entire city."

Another city in California, Santa Barbara, took it one step further and just banned short-term rentals in residential neighborhoods, while New Zealand is currently considering a bill that would ban foreigners from buying property.

Middlebrook cautioned against taking "a meat cleaver approach" to shutting down short-term vacation rentals in Hawaii, saying that it would "blow a gigantic hole in the state's economy."

He also said that "the millennials, who like to use Airbnb and other alternative accommodations," will not want to come back to Hawaii if those rentals aren't available.

"If the type of accommodations that they wanted to have is not available they will just go someplace else," Middlebrook said. "They won't go to Hawaii. They will go to Mexico. Or they will go to Fiji. Or they will go to Los Angeles. Or they will go to Canada."
Shore Up
The Hawaii Tourism Authority's spokesperson Charlene Chan told BuzzFeed News that it supports "implementation of stronger government regulations" for vacation rentals "as a means to help ensure that Hawaii remains a highly desirable place for residents to live and families to grow."
State Rep. Richard Onishi, who is the chair of the Committee on Tourism in Hawaii, told BuzzFeed News that the state House has been trying to pass legislation that focuses on the ability of counties to enforce local regulations.

"Every county has a different permitting regime, so it's not easy for us to try to address this issue at the county level," Onishi said. "They all focus on different things."
"If the type of accommodation they want t is not available they will just go someplace else. They won't go to Hawaii."
There is currently a bill being considered by the legislature that includes fines of up to $25,000, authorizes counties to "disgorge" all profits property owners collect unlawfully, and makes it illegal for a hosting platform to collect a fee for illegal rentals.
"I think part of the problem is there hasn't been any enforcement in the past; that's why this has ballooned to such large proportions," said Onishi.

Airbnb opposes the bill, which Middlebrook said "violates a number of federal laws" and "puts in place just incredibly onerous provisions on the platform and potentially on the host that will fine them tens of thousands of dollars."
When asked about the current bills, Gov. Ige told BuzzFeed News that "it's premature to discuss bills under consideration at this point in the legislative session."

Who's An Ideal Tourist?
Ultimately, according to Geminiani, who said that he often uses Airbnb when he travels, the onus shouldn't be on the tourist to determine if a unit is legal or not.

"You need to go to the other side of it and stop these units from being created," Geminiani said.
Tomlinson said she also enjoys renting homes when she travels, but that hosts and guests need to be respectful.
"I don't care if you have a stripper, but she needs to wear her clothes until she gets inside the house," Tomlinson said.

"They are up drinking all night. It does keep us awake sometimes," Tomlinson added. "The fights are the bad part."
Hosts "need to be very clear on the quiet times, and parking, and the maximum number of people staying at a location," Tomlinson said.

It comes down to finding a balance between tourism and keeping local populations happy, because the former does not work without the latter.
"The same things that you find desirable about our community are actually being destroyed by this use," said Biechler. "[It really changes] the whole character of what makes this place desirable." ●