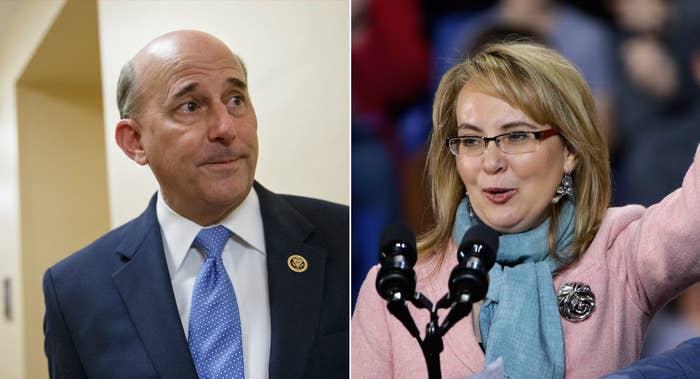 Former representative Gabrielle Giffords, a Democrat from Arizona who survived being shot in the head, told members of Congress on Thursday to have some courage and "face your constituents."

Her comments came after Republican Rep. Louie Gohmert of Texas used her shooting as justification for why he would not hold an in-person town hall meeting, citing safety concerns in the wake of Giffords' shooting in 2011.
"At this time there are groups from the more violent strains of the leftist ideology, some even being paid, who are preying on public town halls to wreak havoc and threaten public safety," Gohmert said Tuesday in a statement.
Republicans home for recess have been facing raucous crowds at town hall events, with many speakers livid over recent Trump administration actions and a perception that Congress isn't doing enough to stand up to the president.
"Threats are nothing new to me and I have gotten my share as a felony judge. However, the House Sergeant at Arms advised us after former Congresswoman Gabby Giffords was shot at a public appearance, that civilian attendees at Congressional public events stand the most chance of being harmed or killed — just as happened there," Gohmert said.
He added that through hosting virtual town-hall-style meetings as an alternative, he would be able to reach even more constituents.
"Then, when the threat of violence at town hall meetings recedes, we can go back to having the civil town hall meetings I've had in the past to supplement the masses reached in our telephone town halls," Gohmert added.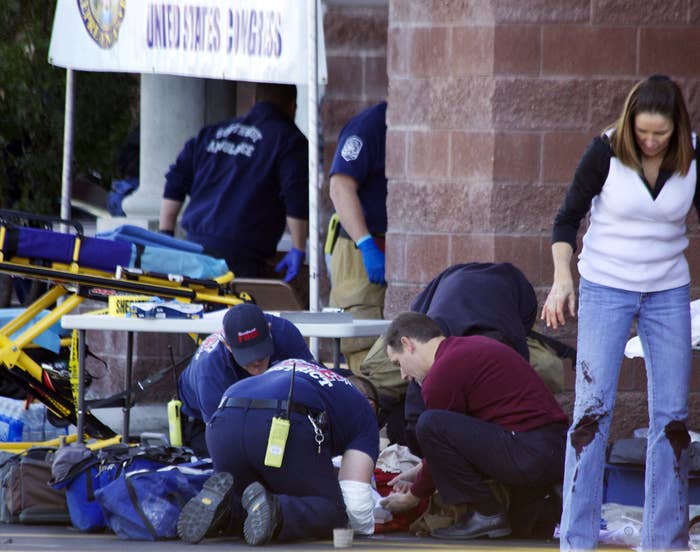 In 2011, Giffords survived being shot in the head during a constituent meeting in Tucson. The shooting left six people dead and many others wounded. Although she resigned after the shooting, she still remains active in politics and gun safety efforts.

In response to Gohmert's comments, Giffords took to Twitter to note her office was up and running days after her shooting.
"I was shot on a Saturday morning. By Monday morning my officers were open to the public," she tweeted.
In a statement, Giffords noted that she continues to appear at public events across the country and added, "Have some courage. Face your constituents."

"Town halls and countless constituent meetings were a hallmark of my tenure in Congress. It's how I was able to serve the people of southern Arizona. I believed that listening to my constituents was the most basic and core tenet of the job I was hired to do.

"I was shot on a Saturday morning. By Monday morning my offices were open to the public. Ron Barber – at my side that Saturday, who was shot multiple times, then elected to Congress in my stead – held town halls. It's what the people deserve in a representative.

"In the past year, campaigning for gun safety, I have held over 50 public events.

"Many of the members of Congress who are refusing to hold town halls and listen to their constituents concerns are the very same politicians that have opposed commonsense gun violence prevention policies and have allowed the Washington gun lobby to threaten the safety of law enforcement and everyday citizens in our schools, businesses, places of worship, airports, and movie theaters.

"To the politicians who have abandoned their civic obligations, I say this: Have some courage. Face your constituents. Hold town halls."
Her call to action found a receptive audience on Twitter: