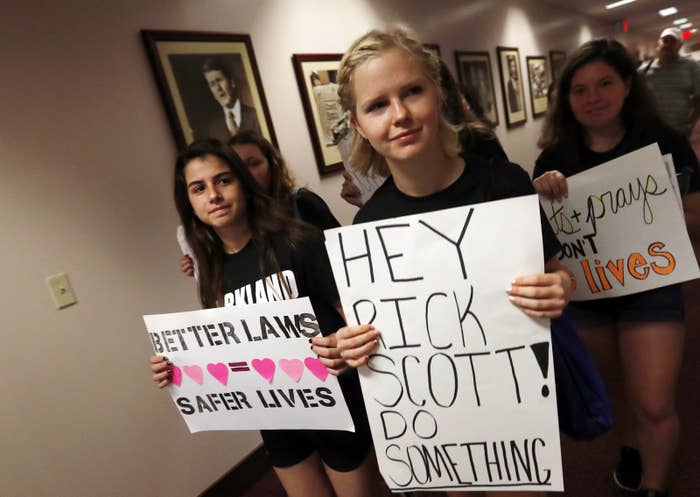 Florida Gov. Rick Scott signed new gun legislation on Friday that would raise the age limit for buying rifles and include a program to arm some teachers in response to the Parkland school shooting that left 17 people dead.
"We got historic legislation done," Scott told reporters. "It's going to make our schools safer."
The legislation was passed by the state lawmakers on Wednesday amid heavy lobbying from survivors of the shooting.
"To the students of Marjory Stoneman Douglas High School, you made your voices heard," Scott added.

Scott signed the bill despite being opposed to arming teachers, but noted that the program isn't mandatory.
Andrew Pollack, whose 18-year-old daughter Meadow was killed in the Marjory Stoneman Douglas High School shooting, told the Associated Press after the vote on Wednesday in the Florida House that he supported the new legislation.
"More needs to be done, and it's important for the country to be united in the same way the 17 families united in support of this bill," he said. "My precious daughter Meadow's life was taken, and there's nothing I can do to change that, but make no mistake, I'm a father and I'm on a mission. I'm on a mission to make sure I'm the last dad to ever read a statement of this kind."
On Friday, Scott, who is a Republican, said he shared concerns with families of the shooting victims about some parts of the legislation.
"Not everybody thinks it's the perfect bill. I don't," he said.
The bill passed the Florida house on a 67–50 vote, showing rare compromise between Republicans and Democrats in a typically pro-gun state after a three-week debate. During that time, students from Marjory Stoneman Douglas High School have continued to carry the Never Again movement aimed at banning the sale of assault rifles. A week after the Feb. 14 shooting, survivors and activists also marched on the state capitol to demand gun restrictions.

Even though it doesn't go so far as a ban on assault rifles, students who survived the shooting expressed their excitement on Twitter about the bill passing the Florida House.

The new bill requires a three-day waiting period before purchasing most types of long guns and raises the minimum age for purchasing them from 18 to 21.

The legislation also designates $100 million to improve school security and another $67 million for a program that allows some teachers and employees, with the approval of the school district and law enforcement training, to carry handguns on campus. Trump has repeatedly pushed the idea as a way to deter possible campus shooters from entering so-called "gun-free zones."
The bill also bans the sale of "bump stocks," which can make a gun shoot at the rate of an automatic weapon. Bump stocks were not used in the Parkland shooting, but were used in last year's shooting in Las Vegas that left 58 people dead.
President Trump addressed an upcoming ban of bump stocks on Thursday.
"Bump stocks, we're almost finished with the legal papers," he said. "Bump stocks are going to be gone."
President Trump applauded the Florida legislation on Thursday.

"I want to congratulate the state of Florida and your representatives on some very good legislation that's been passed," he said. "I guess they've been listening to me a lot more because unexpectedly they passed concealed carry for some very special teachers that have a great ability with weapons."
On Friday, Scott, who is an NRA member, criticized the federal government's slow reaction to passing "common-sense solutions" on gun policy.
"If you look at the federal government, nothing seems to have happened there," said Scott.
"We got legislation passed, that's how a government should work," said the governor.
"I think this is the beginning. I think there's now going to be a real conversation to make our schools safe," he added.
The Florida legislation also includes funds to raze and rebuild the building where the victims were killed at Marjory Stoneman Douglas High School, to create a memorial for those who died, to establish mental health programs at Florida schools, and to start an anonymous tip line to report threats. There is also a provision to improve communication between schools and law enforcement agencies.
State officials would also get new powers to take away guns from people deemed to be a risk to themselves or others.
Before the vote took place, the National Rifle Association's Florida lobbyist sent an "emergency alert" to members to pressure Republican representatives to oppose the legislation, the Washington Post reported.
People saw the passing of the bill as a direct threat to the far-reaching NRA.
Trump also said he was pushing for tougher background checks on a federal level. "We're working on common sense measures to protect the rights of law-abiding gun owners, while keeping guns out of the hands of those who pose a violent threat, or even a threat," he said. Trump also noted that states, "as was the case by Florida," are able to pass legislation to improve school safety.
Earlier on Wednesday, the shooting suspect, Nikolas Cruz, was officially charged with 17 counts of first-degree murder, which could mean the death penalty.

Cruz's public defenders have said he would plead guilty if prosecutors remove the possibility of a death penalty, which prosecutors have 45 days to decide if they will pursue.