Robber Shot After Yelling "Don't Shoot Me, I'm Pregnant" Was Not Pregnant, Official Says
UPDATED: An 80-year-old man said he has no regrets after shooting and killing a woman he found ransacking his home with another man Tuesday.
Andrea Miller, the 28-year-old woman who claimed to be pregnant before she was shot and killed by homeowner Tom Greer, was not pregnant at the time of her death, a Los Angeles County coroner official confirmed on Friday.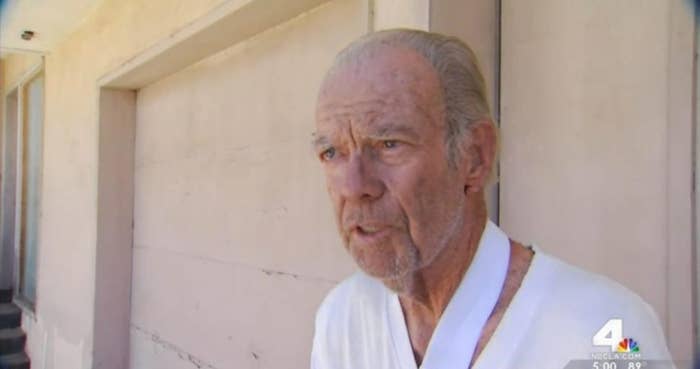 Tom Greer, an 80-year-old Long Beach, Calif., man, says he shot and killed a fleeing, unarmed burglar outside his home who claimed to be pregnant — and he has no regrets.
"She says, 'Don't shoot me, I'm pregnant! I'm going to have a baby!' And I shot her anyway," Greer said of the incident.
Police said Thursday they're still deciding whether to arrest Greer, but they have arrested 28-year-old Andrea Miller's accomplice, Gus Adams, 26, who was able to avoid being shot.
Greer said he returned home Tuesday and found two people had broken in and were stealing from his home. It was the fourth time he'd been robbed at his Long Beach home near Los Angeles.
"When I went in there, they tackled me," Greer told KNBC Wednesday. "Both of them jumped up on top of me."
The two suspects attacked him with their fists and eventually "body slamming" him to the floor, which broke his collarbone, Long Beach Police Chief Jim McDonnell said at a news conference.
Greer said Adams returned to his safe and began trying to pry it open, while he was able to slip into another room and retrieve his revolver. He returned to where the thieves were and opened fire.
The suspects fled through the garage and into an alley. Greer chased them and fired again outside, McDonnell said.
"The lady didn't run as fast as the man, so I shot her in the back twice," Greer told KNBC. "She's dead ... but he got away."
Miller was not visibly pregnant, but an autopsy will reveal the truth.
When asked what he saw happen to the woman after he fired shots, Greer responded: "She was dead. I shot her twice, she best be dead ... (The man) had run off and left her."
The woman died at the scene.
"I've never in my life shot anybody, killed anybody," Greer said.
Greer was being treated at the hospital Wednesday for a severe shoulder and collarbone injury, but he hoped to send a warning to the man who got away.
The district attorney will decide whether to charge Greer with a crime. Under California law, homeowners can defend themselves if they are in "imminent danger of serious bodily injury or death."
Prosecutors will have to determine whether chasing after the suspects and firing on them outside the home goes beyond self-defense, McDonnell said. Both Adams and Miller were found to be unarmed, he said.
The surviving suspect was arrested Wednesday. Adams could face charges of burglary as well as murder because he is accused of being involved in a felony that led to a death.
Both Miller and Adams had committed similar crimes in the past, and Greer, who had been burglarized multiple times, believes the same suspects were responsible.