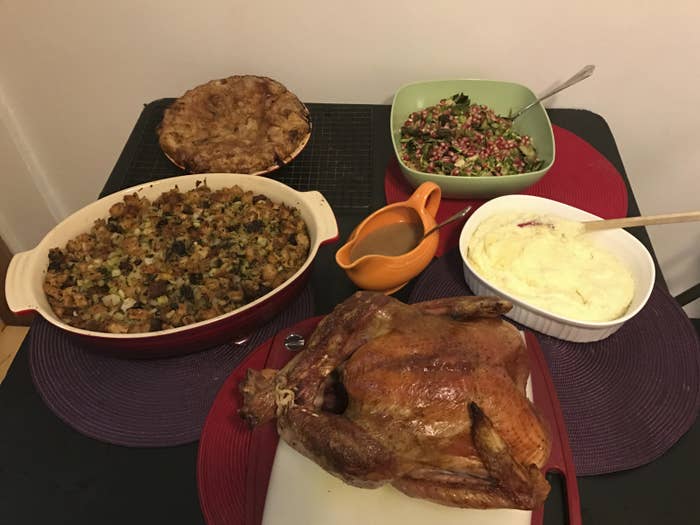 Officials are trying to determine if a Thanksgiving dinner served by a church in California is what led to the deaths of three people.

Contra Costa Health officials said on Wednesday that they had found a total of 19 people who were likely sickened by food or drink from the same Thanksgiving event. Common symptoms included vomiting and diarrhea.
The Thanksgiving meal was served at the American Legion Hall in Antioch and hosted by Golden Hills Community Church for seniors, homeless people, and others who might have otherwise been alone for the holiday, Contra Costa Public Health officials said.
"We recently were informed that several people from the same care facility in Antioch, who were at our Antioch Thanksgiving Dinner, became sick," the church said in a statement. "We are fully cooperating with health officials and are praying fervently for the families who lost loved ones and for others who are sick."

The food served at the Thanksgiving meal was donated by restaurants and volunteers, as well as prepared on site, and included typical holiday standards, such as turkey, gravy, mashed potatoes, and stuffing. Officials urged anyone with leftovers from the meal to throw them away.

Marilyn Underwood with Contra Costa Health Services said the nonprofit had been hosting the event for 30 years and that it did not require a permit.
"When we spoke with them regarding food safety techniques, they all sounded very appropriate," Underwood said on Monday.

Sutter Delta hospital treated eight elderly people on Friday and Saturday who became sick after the meal, possibly from a food-borne illness, officials said. The initial eight victims lived in the same board-and-care facility, but the additional eleven contacted later did not, so officials said it was not certain if the meal caused the victims to become ill but it was the common link.
Officials said 835 people attended the event and ate the meal.

Three of the patients died, four others were released, and one remains hospitalized, but is improving. Officials identified the victims on Wednesday as 43-year old Christopher Cappetti, 59-year-old Chooi Keng Cheah and 69-year-old Jane Evans.
The autopsies for all three victims showed similar intestinal abnormalities, the sheriff's office said Wednesday. The Forensic Pathologist is still trying to determine the exact cause of the sickness, as they wait for more test results.
Contra Costa Health investigators said Tuesday that they had contacted nine additional people who fell ill less than 24 hours after attending the Thanksgiving event, but were not hospitalized.
Underwood said the ages of the people who fell sick ranged from teens to 70s.
Health officials said there is no risk to the general public.