Singer-guitarist Tom DeLonge announced earlier this year that he was leaving Blink-182 to focus on "a national security issue" and now an email dump by WikiLeaks of correspondences with Hillary Clinton's campaign manager show DeLonge has been taking his new work of searching for aliens very seriously.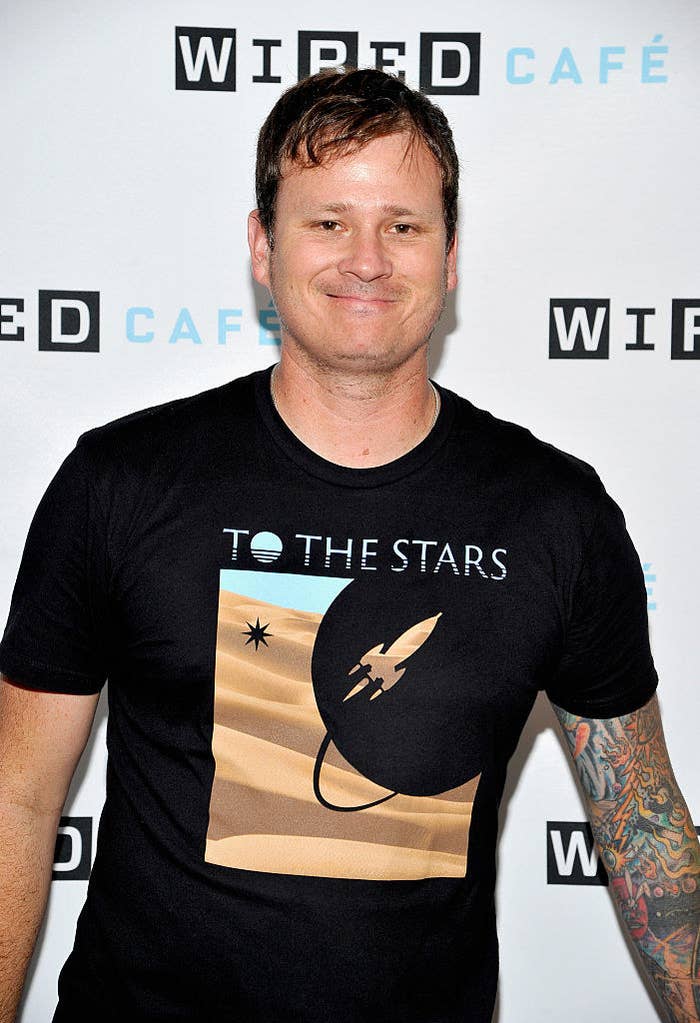 Among the emails released by WikiLeaks this month were at least two from DeLonge to Clinton's campaign chairman John Podesta about extraterrestrial life, the Wall Street Journal first reported.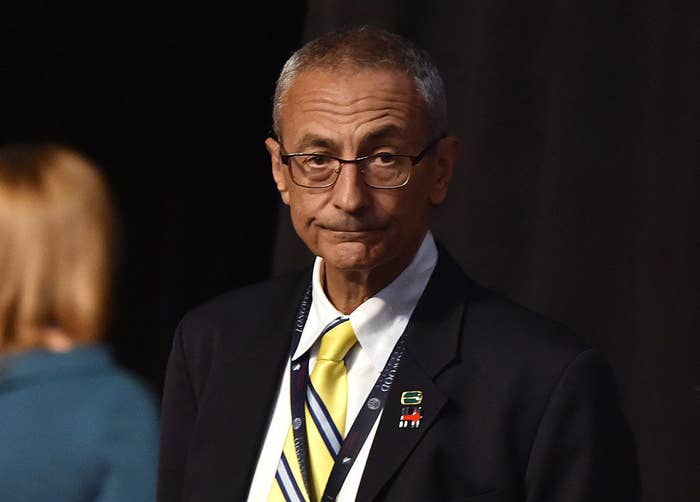 Podesta, who also served as a White House adviser for presidents Barack Obama and Bill Clinton, is a noted UFO enthusiast. He even said his biggest failure under Obama was "not securing the disclosure of the UFO files."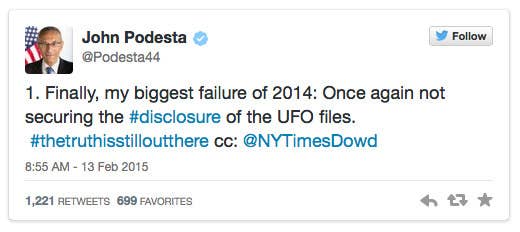 In an email from 2015, DeLonge wrote to Podesta about their mutual interest in alien life and discussed the documentary he is producing that Podesta apparently appears in.
DeLonge said he would like to introduce Podesta to "two very 'important' people."
"I think you will find them very interesting, as they were principal leadership relating to our sensitive topic," DeLonge wrote. "Both were in charge of most fragile divisions, as it relates to Classified Science and DOD topics. Other words, these are A-Level officials. Worth our time, and as well the investment to bring all the way out to you."
It's not clear from the dump if Podesta responded to the email.
The second email is from 2016 and DeLonge wrote that he has been working with a former military official who worked on the Roswell crash, which the government maintains was a weather balloon crash.
Air Force Major General William N. McCasland, DeLonge wrote, is not a skeptic.
"I've been working with him for four months. I just got done giving him a four-hour presentation on the entire project a few weeks ago," DeLonge said.
"When Roswell crashed, they shipped it to the laboratory at Wright Patterson Air Force Base," DeLonge continued. "General McCasland was in charge of that exact laboratory up to a couple years ago. He not only knows what I'm trying to achieve, he helped assemble my advisory team. He's a very important man."
A third email from, January 2016, shows astronaut Susan McCasland Wilkerson accepted an invitation to an event titled "DeLonge/Podesta Meeting," suggesting that the space enthusiasts did meet.
DeLonge has been a believer for years, penning Blink-182's "Aliens Exist" in 1999. The following year, he started a multimedia project focused on unexplained phenomenons called To the Stars.
DeLonge is currently working on a novel, titled Sekret Machines Book 1: Chasing Shadows, with author AJ Hartley, along with an accompanying album. He's also said he's working on further entries, including a documentary. Podesta is possibly a source for this endeavor, and maybe aliens do exist.
In an April interview on CNN, Podesta said, "The US government could do a much better job in answering the quite legitimate questions that people have about what's going on with unidentified aerial phenomena."
Clinton has said that barring any threats to national security, she would open up government files on Area 51, the air force base in Nevada where some people believe proof of extraterrestrial life is stored.