Morolake Akinosun tweeted when she was 17 that she would compete in the 2016 Olympics. Now, the 22-year-old Olympic runner is about to fulfill her dream.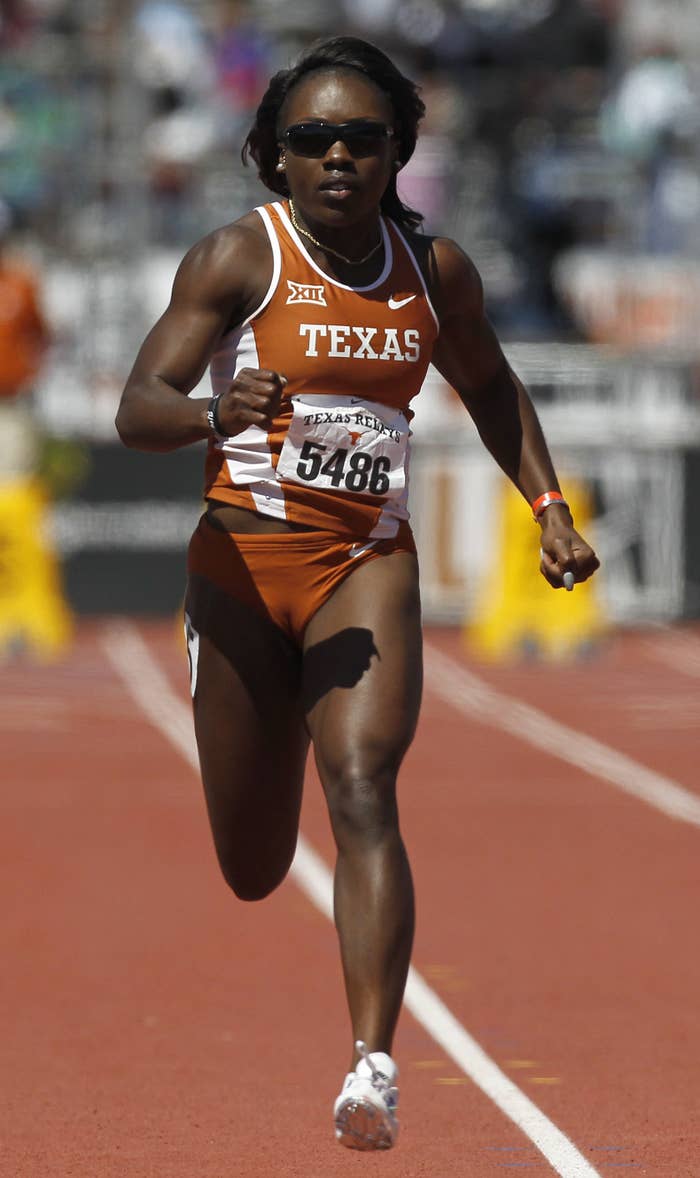 Akinosun tweeted this almost exactly five years ago, and now it's all happening.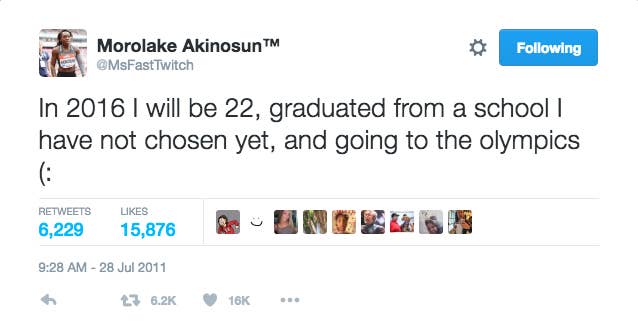 Akinosun told BuzzFeed News that she sent out the prophetic tweet in 2011 shortly after watching the televised World Championships for track and field.
"Watching it may have inspired me to tweet that," Akinosun told BuzzFeed News.
Akinosun, who attended Waubonsie Valley High School in Illinois, said it was the summer before her senior year and she was about a month into the recruiting process for college track and field at the time she sent the tweet. She hadn't yet chosen to attend the University of Texas, from which she will graduate in December. Akinosun spent her first year at University of Illinois, but transferred to Texas to follow her coach Tonja Buford-Bailey after she took a job there in 2013.
"At the time I tweeted that out, it was more of a dream and an aspiration," Akinosun said. "A goal has to be somewhat realistic," she added, explaining that in 2011, "I wasn't on the level yet and I didn't know for sure that I would ever get there, but I for sure wanted to get there."
Now, she's only a week away from flying to Rio de Janeiro to compete in the 4x100-meter relay for the 2016 Olympics.
"When I crossed the finish line in Eugene a few weeks ago," Akinosun said, referring to Oregon-based Olympic trials that qualified her for Rio, "it was sort of like disbelief ... and then I realized I was really going to the Olympics and I started crying."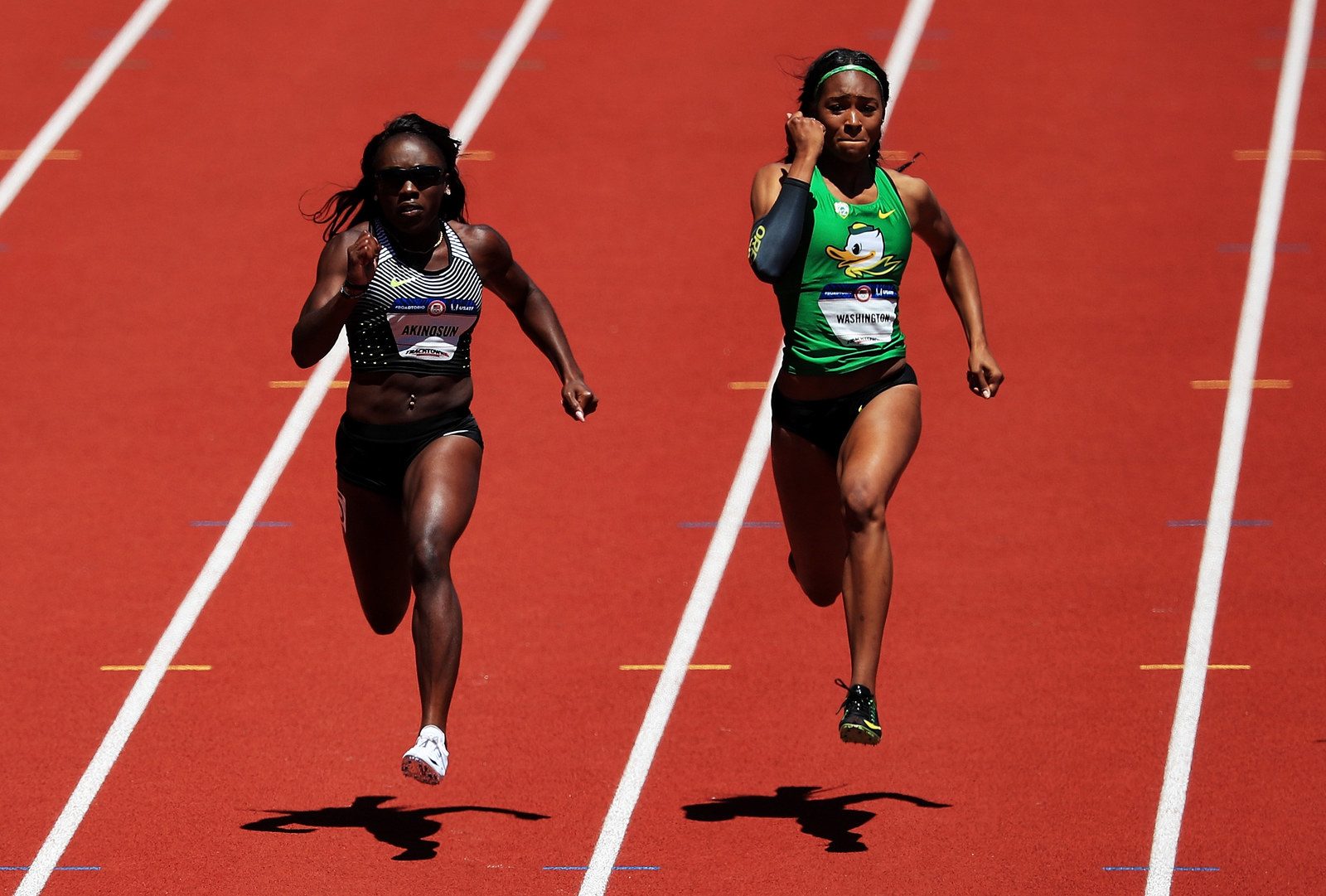 Akinosun said she tweeted a lot of different things when she was 17 and had forgotten about the tweet — until it showed up recently on her Timehop app.
"A few days ago on Timehop, the tweet came up," Akinosun said. "And I just thought to myself, This is crazy."
She decided to tweet a reflection on how far she has already come, noting the current year, that she is graduating from school, and that she is going to the Olympics.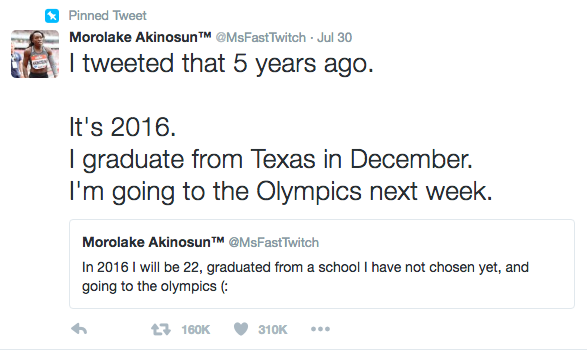 "I had no idea the tweet was going to become this big," Akinosun said of her post, which has already been shared more than 160,000 times.
"My one thing is believe in yourself," Akinosun said, reflecting on how far she has already come and what advice she wanted to share. "In 2011, I truly believed this was a goal of mine, and I dreamed big, and I was able to achieve my dream."
"It wasn't always easy, and no one knows the work that I put in the five years in between the two tweets," Akinosun added. "I put in a lot, a lot, a lot of hard work over the course of the five years, and I went after my dream."
"So if you have a dream, I want to encourage girls to go ahead and go after it, no matter how big it is, no matter how many people think your dream is unachievable," Akinosun said. "It's yours — go for it."