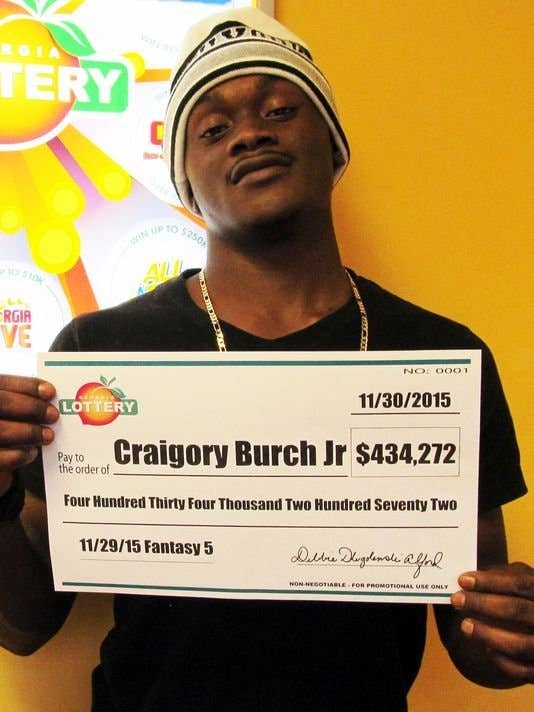 Seven people were arrested Monday on suspicion of killing a former forklift driver in January after he won a nearly half-million dollar lottery.
Craigory Burch Jr. from Fitzgerald, Georgia, won $434,272 in November when he matched all five numbers in a Fantasy 5 drawing, WALB reported.
Officials said Burch's girlfriend, Jasmine Hendricks, was home on Jan. 20 when a shotgun blasted the door open and three masked people stormed the residence.
"When they came in, he said, 'Don't do it, bro. Don't do it in front of my kids,'" Hendricks told police. "'Please don't do it in front of my kids and old lady. Please don't do that, bro. Please don't.' He said, 'I'll give you my bank card.'"
Hendricks, who ran for help, said Burch threw his pants at the masked men, but they could not find his wallet and killed him before running away.
All seven suspects were charged with malice murder, armed robbery, aggravated assault, and possession of a firearm during the crime, according to WALB.
Two suspects are women: Keyona Dyous, 24, and Rosalyn Swain, 22. The other five suspects are: Nathaniel Baker, 28; Earnest Holcomb, 27; Anjavell Johnson, 21; Dabrentis Overstreet, 19; and 17-year-old Wayan Jordan, who was charged as an adult.
It was not immediately clear what role each of the seven people played in the murder. BuzzFeed News reached out the Fitzgerald Police Department for additional information.
Burch isn't the only lottery winner to allegedly be killed for money.
Abraham Shakespeare won a Florida lotto worth $31 million in 2006. Four years later, his body was found buried under a concrete slab and a woman who had swindled his money was convicted of murder.
In 2013, Urooj Khan died the day after winning a million-dollar lottery in Illinois. A medical examiner later determined he was poisoned with cyanide, but the investigation into who killed him remains open.