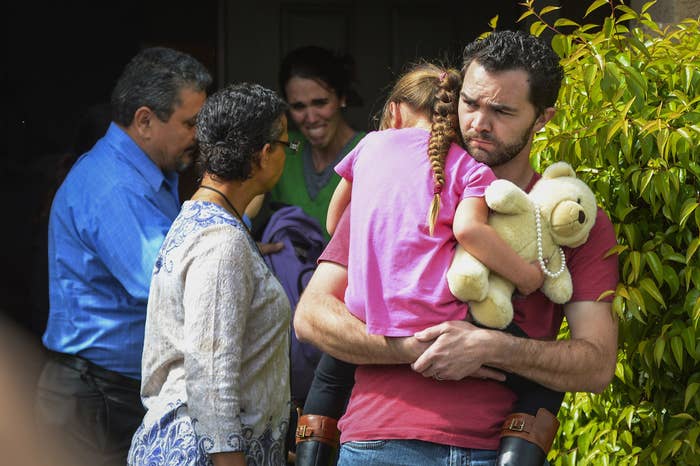 The California Supreme Court has declined to intervene in a lower court's decision to remove a 6-year-old girl from her longtime foster family to be sent to live with relatives in Utah – despite resistance from her foster parents and thousands of supporters — because she is part Native American.
Lexi, who is 1.5% Choctaw, was seized from her foster parents Rusty and Summer Page in Santa Clarita, California, by social workers earlier in March under rules dictated by the Indian Welfare Act, a 1978 federal law that is intended to protect rights of Native American children who were disproportionally removed from their homes by the government and placed in non-Native American families.
The Page's lawyer, Lori Alvino McGill, said in a statement to ABC that she was not surprised by the latest legal decision, and vowed to take the case all the way to the U.S. Supreme Court.
"Every day without a stay threatens irreparable harm to the Pages and to Lexi," McGill said.
Supporters of the Page family had been surrounding the home for days holding a vigil, KABC-TV reported. And campaign to keep the girl with her foster family called "Save Lexi" has gained momentum with an online petition and Facebook page.
On Sunday, demonstrators initially stopped the Los Angeles County Department of Children and Family Services agents from removing Lexi by blocking passage to the house, but on Monday social workers were successful.
Lexi was seen begging to stay with her foster parents, clinging to Rusty as her foster mother yelled she loved her.
The Pages, who have three children, took in Lexi in December 2011 after the girl's mother struggled with substance abuse and her father had a criminal history, court documents show. When Lexi's biological father gave-up efforts to reunify with her, the Pages said they wanted to adopt her, as did her extended family members.
The Indian Child Welfare Act, which says Native American children must be placed with their relatives or tribes, was enacted in the 1970s because of the high removal rate of Native American kids from their homes by government agencies. Before the law was passed, 25 to 30% of Native American children were removed from their homes in an effort to assimilate them into mainstream culture, according to the American Bar Association.
The Page family has been fighting to maintain custody and said they recently lost their appeal to keep Lexi. The family then asked the Los Angeles County Department of Children and Family Services to let Lexi remain with them until a case could be filed with the California Supreme Court, which they did the day after she was taken from their custody.
But on Wednesday, the high court declined to intervene in the lower court's decision that removing Lexi from the Pages home would not cause her emotional harm.
"The injustice here is not that she is leaving California, but rather that her foster parents pursued litigation which prevented her from joining her family sooner," Lexi's court-appointed attorney said in a statement.
Lexi was sent to live with her extended family, who are also not Native Americans but have made regular visits to see the girl and have a relationship with her half-sister, Anna, who was adopted by the girls' step-grandfather. The couple is related to Lexi's father by marriage.
The Choctaw Nation, in a statement, said the tribe "desires the best for this Choctaw child. The tribe's values of faith, family and culture are what makes our tribal identity so important to us. Therefore we will continue to work to maintain these values and work toward the long-term best interest of this child."
The National Indian Child Welfare Association also said the decision to remove the girl was the right one.
"The purpose of foster care is the provide temporary care for children while families get services and support to reunite with their children, not to fast-track the creation of new families when there is extended family available who want to care for the child," it said in a statement.
The Page family said after Lexi was taken on March 21 that they were "incredibly devastated" by the action.
In a Facebook post, the family said removing Lexi from their home "was an abuse of power by LA County DCFS, Children's Law Center and the Choctaw Nation."
"Our daughter is just one of many victims of the Indian Child Welfare Act, a horrific law that the U.S. government continues time and time again to give absolute power to tribal leaders who judicially ABDUCT children at-will," the family said. "This law claimed another victim today."