Boxing Champ Vitali Klitschko Steps Into The Ring Over Ukraine's European Future
Ukraine's move away from Russia's embrace and towards the European Union looks in serious jeopardy. But don't count the country out just yet, boxing champion turned opposition leader Vitali Klitschko tells BuzzFeed.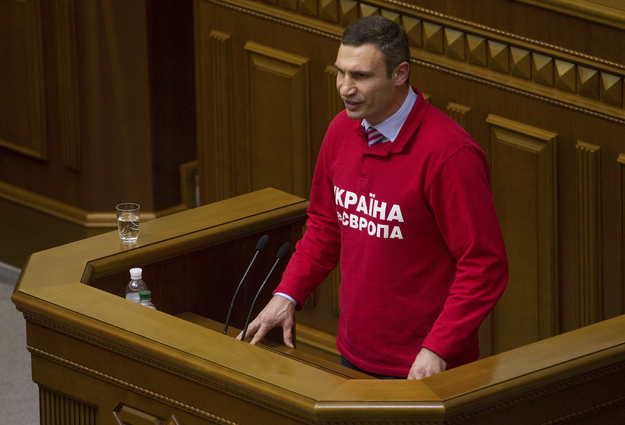 KIEV, Ukraine — It's been a rough week for pro-western forces in Ukraine, which looked set to sign a crucial agreement with the European Union only recently but now appear to be pirouetting 180 degrees back towards Moscow. After President Viktor Yanukovych snuck off to the Kremlin for informal negotiations with Vladimir Putin last weekend, parliament postponed a vote on bill that would release jailed former prime minister Yulia Tymoshenko, breaking a condition pushed by the bloc for the agreement to go ahead.
The tug-of-war between Brussels and Moscow has all the twists and outsized personalities of a classic soap opera. If Yanukovych is the stern, mansion-inhabiting patriarch and Tymoshenko its golden-braided damsel in distress, that makes boxing legend turned opposition leader Vitali Klitschko its brooding strong and silent type. In just a few years since his semi-retirement from the sport — he still holds the World Boxing Council heavyweight title, but has not fought since September 2012 — Klitschko, now a lawmaker in Ukraine's parliament, has leveraged his national hero status in this former Soviet republic of 46 million to emerge as one of the country's strongest pro-European voices.
His newness to politics made him a breath of fresh air in Ukraine, riven since 2004's Orange Revolution by vicious fighting between Tymoshenko and Yanukovych, complete with fistfights in parliament. Klitschko's anti-corruption platform struck a chord, too, in a country where the president lives in a palace appropriated from the state and has a son whose fortune was recently found to have almost tripled in six months. His party, UDAR (it's an acronym for Ukrainian Democratic Alliance for Reform, but it means 'PUNCH') is the third-largest in parliament. Klitschko announced last month that he would run for president in 2015 and appears a serious contender, with some poll numbers higher than Yanukovych's and rock-star status that could sway the president's base in the sports-mad, Russian-leaning east. Yanukovych's Party of Regions, which controls parliament, recently passed an amendment to the tax code that could bar Klitschko's candidacy over his German residence permit.
"You can't compare Ukrainian politics with sports. In sports there are clearly declared rules and you get disqualified for breaking" them, he told BuzzFeed in an interview at UDAR's party headquarters on Thursday. "Ukrainian politics is more like a no-holds-barred fight, and we really want to introduce rules which won't change [and] will be fundamental, European rules," he added, tapping his massive fist on the table for emphasis.
Introducing European rules is precisely what the agreement, which EU officials still hope Yanukovych will sign at the end of the month at a summit in Vilnius, Lithuania, is about: part of a program aimed at drawing former Soviet states away from Russia's embrace to the path to membership, it involves aligning Ukraine's laws to meet a vast number of EU standards. But though EU officials say Ukraine has made broad strides on most fronts, progress has foundered over demands to release Tymoshenko, sentenced to seven years in 2011 on abuse of office charges and currently in a prison hospital in the city of Kharkiv. Yanukovych's office told her supporters this week it would not pardon her. His party has stalled consideration of several bills, including one written by Klitschko, that would allow her to travel to Germany for medical treatment. An EU mission set up to secure her freedom has visited Kiev 26 times without success.
"Yanukovich has no desire whatsoever to sign the [agreement], because it would mean the destruction of all the corruption schemes that exist in the government," Klitschko said. "[But] he doesn't want to be the governor of Ukraine in the Russian Empire either," he added.
The Kremlin has attempted to woo Ukraine with the stick rather than the carrot, starting a small trade blockade in late summer, telling it that moving towards the EU would be "suicidal," and threatening it over an $882 million gas bill. Klitschko suspects the issue may come down to which partner can best aid Ukraine's ailing economy — western financial institutions, Russia's natural resource coffers, or third countries like China, which was reported to have leased 5 percent of Ukraine for farming in September (though this was later denied).
But if Yanukovych forsakes the EU for the vaguely defined customs union that Moscow wants it to join, Klitschko says, the president will have favored his own short-term political interest over the country's long-term future. Opinion polls consistently show Ukrainians favor alignment with Europe, rather than Russia. Russia itself, Klitschko insists, is far more European than it seems.
"If you leave politics and the struggle for a sphere of influence out of it, Russians want to integrate with Europe too," he said. "They value European standards very highly: they love buying and driving European cars, they're happy preferring European education to their own, they prefer medical care in Europe, and they love buying real estate in Europe, if they can afford it. So there's no need to convince them what European standards" are, he added.
Nonetheless, the time for Ukraine to get its house in order in time for the Vilnius summit is running out. Parliament is not scheduled to reconsider the law that would let Tymoshenko leave for Germany until Tuesday — a day after the European Parliament session at which the question of Ukraine singing the agreement is due to be settled. EU diplomats, however, have said they are prepared to wait until the "last seconds" before Vilnius. Klitschko, too, vows to fight to the end. "We'll see what happens on Tuesday," he said. "Hope dies last."
Max Seddon is a correspondent for BuzzFeed World based in Berlin. He has reported from Russia, Ukraine, Azerbaijan and across the ex-Soviet Union and Europe. His secure PGP fingerprint is 6642 80FB 4059 E3F7 BEBE 94A5 242A E424 92E0 7B71

Contact Max Seddon at max.seddon@buzzfeed.com.

Got a confidential tip? Submit it here.