This Journalist's Jailing May Mean The End Of Free Speech In Azerbaijan
Khadija Ismayilova worked tirelessly to expose corruption in Azerbaijan's president's family and assist activists who came under fire. Now she's in jail with them.
The jailing of Azerbaijan's leading investigative journalist has rights activists and observers worried the country is intent on stamping out all dissent whatsoever.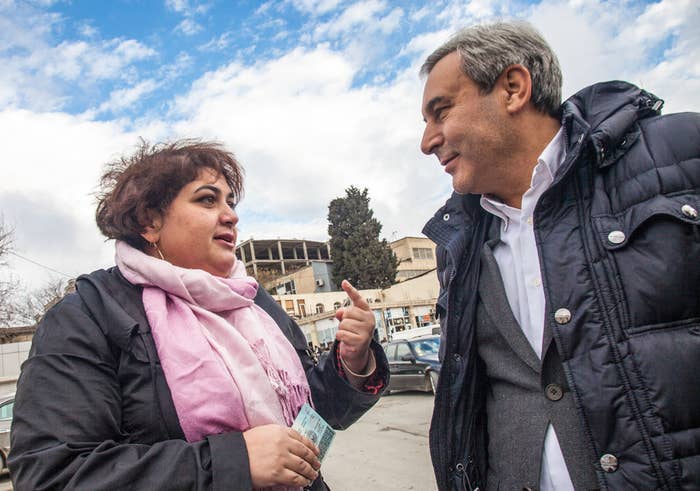 A court in Azerbaijan's capital, Baku, ordered Radio Free Liberty reporter Khadija Ismayilova (pictured above left) to spend two months in pretrial detention on Friday for allegedly nearly driving her boyfriend to suicide.
Her supporters say that the government cooked up the charges to muzzle the media in retribution for her work, which has seen her expose murky business dealings of the president's family while tirelessly supporting Azerbaijan's under-fire community of rights activists.
Ismayilova's jailing may be the nail in the coffin for this small, mostly Muslim post-Soviet country's civil society movement, which has been driven underground this year by a wave of repressive laws and arrests on spurious charges. Fifteen independent journalists are currently behind bars, while a list of political prisoners stretches to nearly a hundred — including the respected activists who compiled it. With Ismayilova now among them, her supporters fear that critical reporting and activism may simply die out.
"Khadija had really taken on the work of everyone else. Now she's in jail, there's really nobody else," Rebecca Vincent, a human rights activist and former U.S. diplomat in Baku, told BuzzFeed News. "Most have been arrested, one is in hiding, several have fled, and the others have just shut down."
Ismayilova, 38, came to prominence in 2010, when she published the first in a series of articles about how President Ilham Aliyev's daughters got rich through seemingly exploiting their close ties to the government.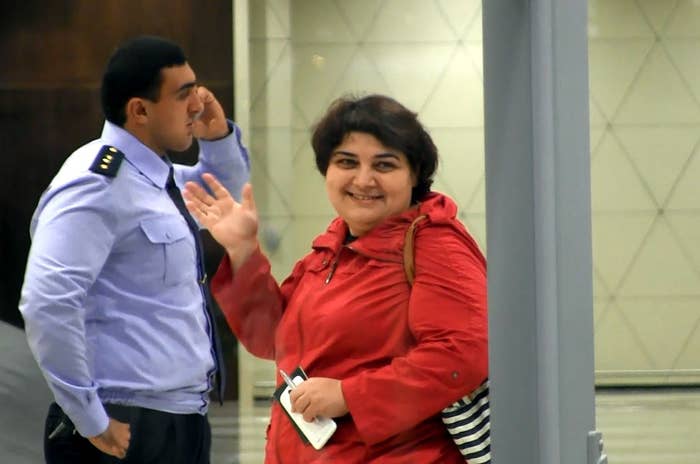 The articles caused a sensation in Azerbaijan, which has splashed its petrodollars on a sophisticated Western lobbying campaign to portray it as a squeaky-clean emerging democracy despite Aliyev's firm grip on power. By 2012, Azerbaijan's parliament changed its laws to make company ownership records confidential — a move many saw as a direct response to Ismayilova's reporting.
Retribution came that same year, when she was sent a letter with stills from a video of her having sex with her boyfriend on a hidden camera installed in her apartment. After she refused to back down on her reporting, the video was posted online.
Rather than deter Ismayilova, however, the pressure spurred her to take on even more advocacy work. She became a point person for raising awareness of human rights issues to foreign NGOs, governments, and reporters. When reporters and activists fell into legal trouble on apparently politically motivated charges, she took charge of funds for their defense and to support their families. Harassment and the threat of arrest only seemed to spur her on further, even prompting her to issue defiant instructions to her friends about what to do if she were jailed.
"The tragedy is, when I heard the news that Khadija is jailed, I was relieved, because I was expecting all this time that they would kill her," Emin Milli, who runs an independent Azerbaijani online news channel from self-imposed exile in Berlin, told BuzzFeed News.
Over time, the pressure on Ismayilova increased. Prosecutors brought a criminal defamation case against her for posting a government document revealing apparent plans to spy on the opposition. Police accused her of passing on state secrets to congressional staffers she met earlier this year. After she returned to Baku from briefing the European Parliament on Azerbaijan's deteriorating corruption and human rights record in October, officials interrogated her for hours, then banned her from leaving the country.
Eventually, Ismayilova learned that the ban was due to criminal charges brought against her for allegedly driving Tural Mustafayev, a former colleague whom she recently dated, to suicide. Mustafayev, who Izmayilova's friends say has a history of mental problems, failed to go through with his attempt and made a statement to psychologists that prosecutors used as evidence against her.
She faces up to seven years in prison if convicted.
Despite the case's criminal veneer, Azerbaijan's government has barely attempted to conceal its vendetta against Ismayilova. The day before her arrest, presidential Chief of Staff Ramiz Mehdiyev published a 60-page diatribe against Western "colonialism" that singled out Ismayilova for accusations of "treason" by being part of a "fifth column" serving as proxies for foreign secret services.
Though officials and state media have long used foreign powers as bugbears in front of domestic audiences, Mehdiyev's article appeared to mark a line in the sand for Azerbaijan. Aliyev, who inherited the presidency from his late father in 2003, has lobbied lavishly to position the country as a key U.S. security partner in the war on terror and alternative energy source to Russian gas for Europe. An official who interrogated Leyla Yunus, the activist who compiled the list of political prisoners, even showed off his EU Schengen visa to her, claiming that Western governments were "prostitutes" and would not do anything to help, according to Milli.
After pro-democracy protests in Ukraine overthrew a pro-Russian president and sparked a shadow war with Russia last winter, Baku appears to have lost interest in keeping up democratic appearances. Azerbaijan's six-month chairmanship of the EU's top human rights body this year was accompanied by a wave of arrests and series of Russian-inspired laws that essentially made it impossible for critical organizations to receive grants. Mehdiyev's article reserved particular scorn for a September speech by U.S. President Barack Obama in New York that singled out Azerbaijan in front of an audience of global dignitaries at the Clinton Foundation.
"It certainly is a break with the West," Richard Kauzlarich, a former U.S. ambassador to Azerbaijan who teaches at George Mason University, told BuzzFeed News. "Azerbaijan has decided that the U.S. will not say anything positive and just criticize them, and that following Georgia and Ukraine towards the EU will only invite more criticism."
It's not clear if Azerbaijan's crackdown is part of a broader shift toward Russia, which has sought to expand its influence over its former Soviet neighbors.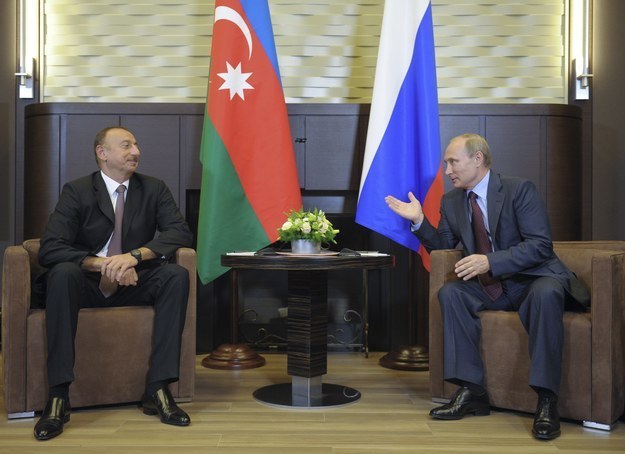 Vladimir Putin has wooed Aliyev to join the customs union he set up as a rival to the EU and posited himself as a mediator with neighboring Armenia over a frozen conflict that has simmered since the mostly ethnic Armenian enclave of Nagorno-Karabakh seceded from Azerbaijan shortly before the USSR's collapse. Azerbaijan's reliance on Western oil revenue and trade, however, means there is little financial incentive to join. Armenia's recent ascendance into the union also makes doing so politically unpalatable, since the two countries are technically still at war.
The few independent Azerbaijani journalists and activists are more concerned with trying to continue Ismayilova's work and fighting for her release. Some have set up Facebook pages and organized protests around the world. Other colleagues are vowing to complete investigative reports left unfinished when she was arrested until they meet the same fate.
"I will continue my activities till I am arrested," Gunay Ismayilova, a media freedom activist who runs many imprisoned colleagues' Facebook pages, told BuzzFeed News. "We do not know who will be arrested next. As the charges are trumped-up, we do not have a clue what charges the government is planning to bring," continued Ismayilova, who is not related to Khadija Ismayilova.
But Khadija Ismayilova's singular significance to their cause means that many are struggling to keep their heads above water. Mehman Huseynov, a 23-year-old photographer and popular blogger, moved into her house after officials invalidated all his documents, making it impossible for him to rent an apartment. He relied on her to communicate with his brother Emin, a media freedom campaigner who has been in hiding since August to escape charges similar to those used to jail other activists. With only rudimentary English, he needed Ismayilova to publicize his and his brother's case to foreign rights groups and governments.
"Having Khadija around me was my last chance," he told BuzzFeed News. "Now we have lost her and the situation in the country has gotten even worse. The circle has become even smaller."
Max Seddon is a correspondent for BuzzFeed World based in Berlin. He has reported from Russia, Ukraine, Azerbaijan and across the ex-Soviet Union and Europe. His secure PGP fingerprint is 6642 80FB 4059 E3F7 BEBE 94A5 242A E424 92E0 7B71

Contact Max Seddon at max.seddon@buzzfeed.com.

Got a confidential tip? Submit it here.