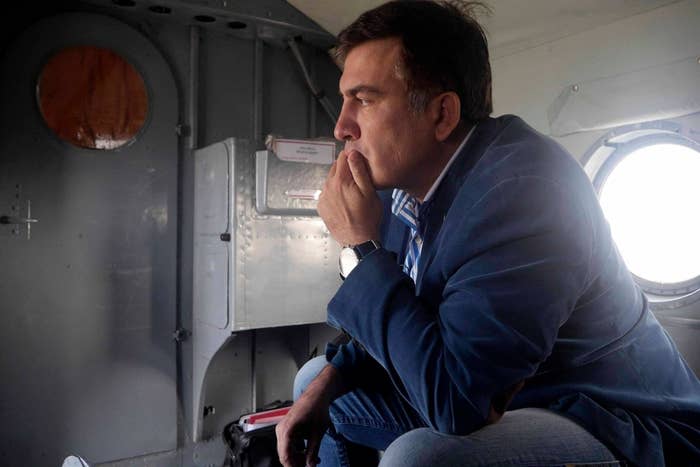 KUTAISI, Georgia — The cows had to be chased away from Georgia's new parliament, a glittering snail shell of concrete and glass, before the president's helicopter landed. Mikheil Saakashvili ran across a bumpy soccer field with no nets on the goalposts, jumped into a motorcade of three black luxury SUVs, and drove a hundred yards up a mud-and-gravel road, where a group of Georgian journalists was waiting for him to speak.
"I warned you!" he shouted, waving at the building behind him. "They're trying to turn back everything we've developed over the past eight years. People should look forward!" In the distance, children kicked a ball around the husks of half-completed apartment blocks and piles of waste. Spare glass panels for the parliament were stacked up in the dirt, some of them cracked. The cows grazed in a distant field.
Conceived as a keystone of Saakashvili's efforts to modernize Georgia, the 40-meter, $200 million building in the country's second city Kutaisi is now emblematic of where he fell short. Three people died during its construction on top of a Soviet World War II memorial, including an 8-year-old girl. Parliament moved there a year ago after elections in which Saakashvili's party, the United National Movement, was unexpectedly trounced by Georgian Dream, a ragtag coalition formed by billionaire Bidzina Ivanishvili with the sole purpose of removing Saakashvili from office. The new ruling party now hopes to move parliament back to Tbilisi, the capital, by next spring. Villages along the sleek new road linking the cities remain mired in poverty.
Georgia has been indelibly associated with Saakashvili ever since he led the Rose Revolution against a corrupt, neo-Soviet government in 2003. Now, as he prepares to make way for a new president with sharply reduced powers following elections on Sunday where his party's candidate lost, what happens to him will indelibly mark what his country becomes once he is gone. A slew of arrests of senior UNM members, a sustained harassment campaign, and Ivanishvili's repeated threats to prosecute Saakashvili have led many to fear Georgia is yet another post-Soviet state to backslide into Moscow's embrace or, at least, its ways. But Saakashvili's voluntary concession of power, unprecedented in Georgian history, has kept hopes alive that Georgia remains on the path to democratic development.
At 46, Saakashvili feels he still has much to offer his country. But the nation he transformed — and the Western allies who once embraced him — have moved beyond him, like a Falstaff figure Georgia must leave behind in order to mature. A public that first elected him with 96% of the vote when he first came to power overwhelmingly backed a presidential candidate perceived as a stand-in for Ivanishvili on Sunday. The United States, which once made Saakashvili the poster child for democracy worldwide, seems eager to envision Georgia without him.
"Before, Americans would tell me how you should take care of your legacy, and I would tell them, 'Go to hell.' We don't have Mount [Rushmore] to carve my face, I don't give a shit about it," Saakashvili said during a recent dinner in Batumi. "Now, when we lost the elections, my legacy really matters. Because it's these things that are concrete."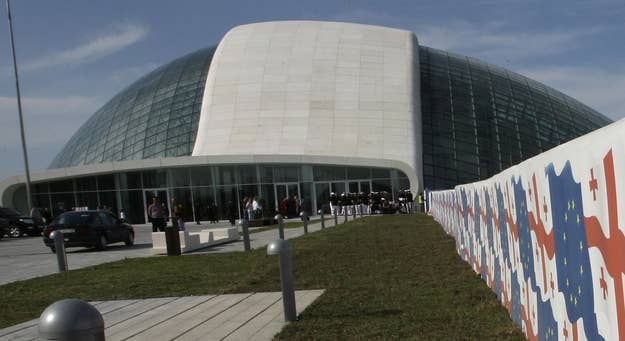 Saakashvili was an entirely new kind of leader for the post-Soviet world when he came to power: just 36, fluent in English, and with a degree from Columbia Law. He aligned Georgia with George W. Bush's "freedom agenda" and drove his country firmly away from Russia's embrace.
"Saakashvili became very convenient because of the freedom agenda," Fiona Hill, a senior fellow at the Brookings Institution and a National Intelligence Council officer from 2006 to 2009, said. The White House was keen to find a positive story in the increasingly dim light of Iraq and Afghanistan; so-called "color revolutions" in Ukraine and Kyrgyzstan quickly proved far less rosy than Georgia's. "One of the reasons Georgia was chosen as the poster child was the other color revolutions went bad — they had nowhere else to go to."
Saakashvili jumped at the role. He knew he would be at home among fellow devotees of Reagan and Thatcher. He also did his homework. Less than an hour before he met the Bush administration for the first time in 2004, he asked an aide to print him some of Bush's recent speeches, which he quickly skimmed. At the meeting, Saakashvili began quoting some of Bush's own lines to him verbatim. Bush, who had apparently forgotten that the lines were his, was so enraptured that he stayed for an hour after the meeting mixing with the Georgian delegation and taking pictures.
"We saw leaders who were willing to take a risk, and we wanted to make the point that the Baltic states were not an exception," Damon Wilson, executive vice president of the Atlantic Council and National Security Council director of European affairs under Bush, said. "Imagine a post-Soviet country becoming a democracy and moving to Europe — that would have had reverberations back to Moscow."
Georgia did all it could to become a staunch U.S. ally: It is the largest non-NATO member of the international security force in Afghanistan and, according to a report by the Open Society Foundation, participated in the CIA's "extraordinary renditions" program detaining alleged enemy combatants in the war on terror. Saakashvili repeatedly told U.S. officials his country was as important a security priority as Israel. In 2005, Bush became the first U.S. president to visit Georgia, which he called a "beacon of liberty." The road leading to Tbilisi airport was renamed "George W. Bush Avenue." Georgia became a favored destination for U.S. officials, whom Saakashvili would fly around in helicopters, take Jet Skiing, joke with in the bathhouse, and treat to sumptuous supras, interminable Georgian feasts. He claims Bush was so hungry when he arrived from Russia that he ate 20 khinkali — giant soup dumplings.
Saakashvili says he became so associated with Bush that other regional leaders would talk to him as a Bush conduit. He even claims, somewhat outlandishly, that when he first met Dmitry Medvedev, Russia's president from 2008 to 2012, Medvedev spent large portions of the meeting reeling off Bush facts Saakashvili didn't know, like Bush's birthday and favorite music, in an attempt to impress him.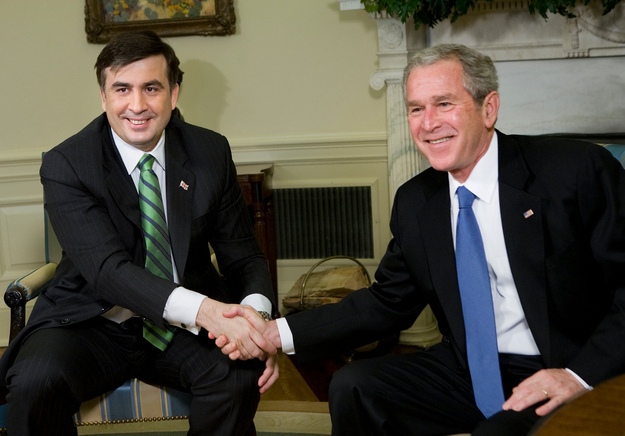 Nearly a decade later and following a disastrous war with Russia in 2008, the relationship has cooled. Both sides now portray the once-rapturous marriage between the U.S. and Georgia as one of convenience. Many in Washington speak of "Misha fatigue," the phenomenon of simply being physically exhausted by his extensive lobbying efforts.
"Saakashvili just rubbed a lot of people the wrong way," a congressional staffer who follows Georgia closely said. "The big ideas, cutting corners, driving hard, and then this lack of follow-up — forgetting to send a thank-you note, that kind of thing."
The war showed the U.S. Saakashvili's other side. Amid deteriorating relations, both Russia and Georgia massed troops on their borders. In August 2008, Georgia launched an assault on Tskinkhvali, the capital of the Russian-controlled breakaway region of South Ossetia, to avert what it said was a Russian invasion. Georgia initially won the sympathy of the international community, but over time most observers in both Georgia and the West have come to place significant blame on Saakashvili for taking Russia's bait.
"He brought Georgia into the trap that Russia put out there. We knew it was coming, and it was avoidable," Irakli Alasania, Georgia's current defense minister and special envoy for relations with Abkhazia in 2008, said. "He never had faith in a negotiated solution."
The U.S. "told him 30,000 times" not to confront Russia, Hill, the former NIC officer, said. "But he was actively courting it. He thought Russia wouldn't respond."
Saakashvili remembers events differently. He is particularly affronted by Condoleezza Rice, Bush's second secretary of State, and her claims in her memoir that she repeatedly warned Saakashvili not to start a war with Russia. "She would say, 'I know the Russians,'" he said. "That was her favorite phrase. She would say, 'As a student, I skated in Moscow.'"
After having spent years telling U.S. officials that Georgia was as important to American national security as Israel, Saakashvili now found himself unwanted in Washington. Bush administration officials were furious with Saakashvili for what they saw as his recklessness in starting the war and failing to heed their advice. U.S.–Russia relations sank to a low unseen since the end of the Cold War, which many blamed on the Georgian conflict. Barack Obama had to deal with a perceived campaign gaffe in calling on both sides to show restraint when the war broke out (while John McCain said, "We are all Georgians") and was eager to wash his hands of a perceived Bush project. His first foreign policy priority upon being elected was an ill-fated "reset" of relations with Russia. Georgia was left out in the cold.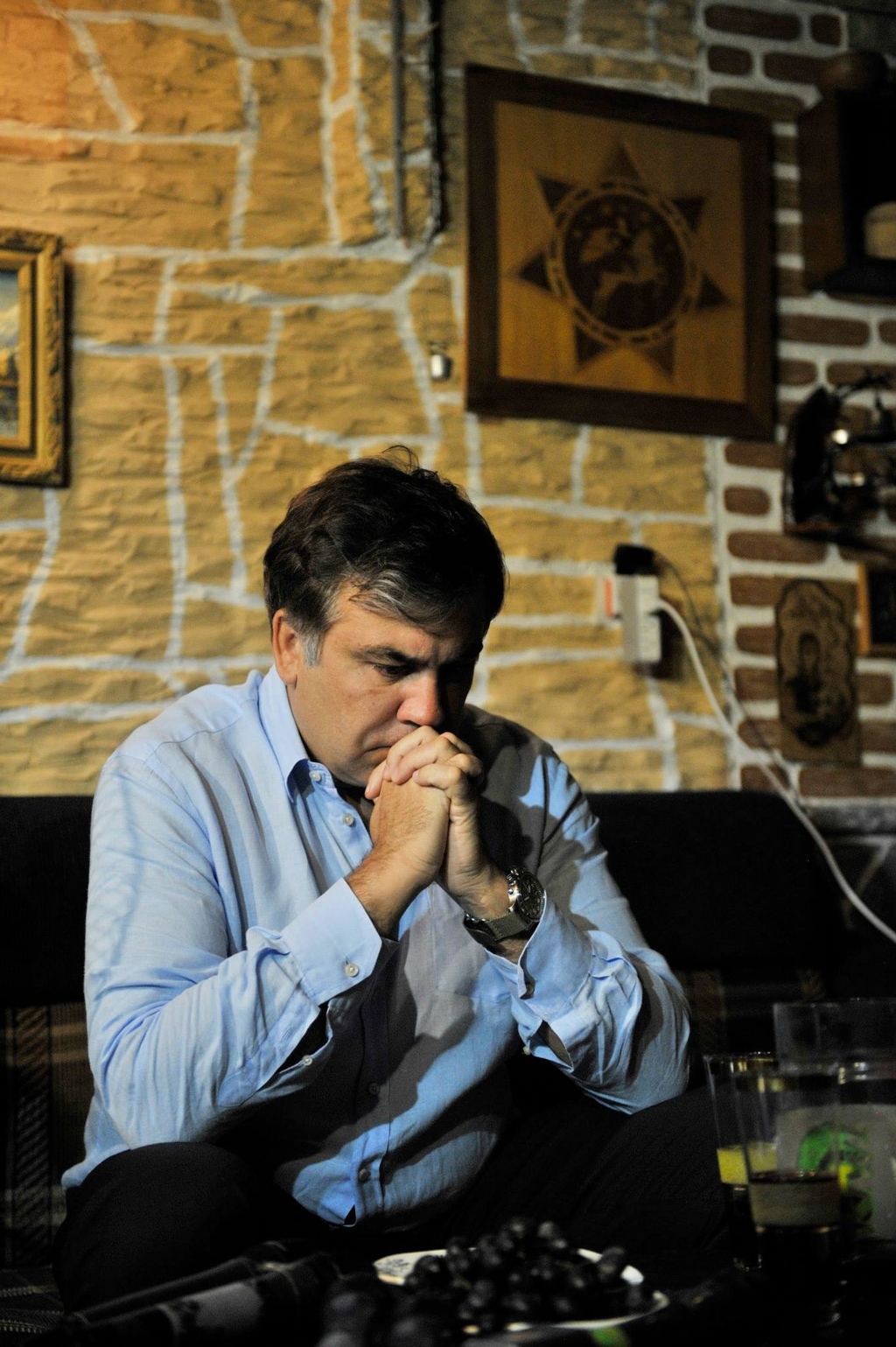 Saakashvili claims his relationship with Obama is actually more productive in real terms than it was with Bush. When they met briefly on the sidelines of the U.N. General Assembly last month, he says Obama congratulated him on leaving a "great legacy for democracy." Privately, however, Saakashvili's supporters complain that the U.S. is turning a blind eye to Georgian Dream's stated intent to eliminate UNM as a political force. Saakashvili aides claim the first thing Ivanishvili said at the two men's first post-election meeting last year was, "I will arrest all of you." The presidential accountant has spent every day for the last three months meeting with prosecutors and going over every single presidential expenditure since Saakashvili took office since 2004. Ivanishvili conspicuously refrained from criticizing Nino Burjanadze, a conservative presidential candidate who favors a stronger relationship with Russia and intensifying the crackdown on UNM, and said he would like to see her party become the main opposition, though she performed disappointingly in Sunday's election with about 10% of the vote.
Saakashvili, meanwhile, is literally being hounded from office. In recent months, he has been chased everywhere he goes by about 200 "political prisoners," people released from jail in an amnesty passed by Georgian Dream. Many of them had been convicted of crimes like spying for Russia, taking part in military mutinies, or violence against minorities. The men were identified as political prisoners by a parliamentary commission last year. All of them were opponents of UNM and were released when parliament mustered enough votes to overturn Saakashvili's veto. UNM officials claim they are paid agents of the Ivanishvili government.
The "political prisoners" have also assaulted UNM MPs in public. One was hit over the head with a wine bottle. Another was stabbed. In most cases, the offenders were let off with token fines. UNM has accused Ivanishvili of further encouraging the climate of violence by making outlandish statements about alleged crimes committed by senior party members under indictment, then only charging them with lesser offenses, like misusing electoral funds. The government has denied that the charges are politically motivated, citing thousands of witnesses they have interrogated, and has cited popular support for prosecuting the officials. "Saakashvili's the lowest of the low now, and Georgians feel the right way about him," Ivanishvili said in a recent BuzzFeed interview.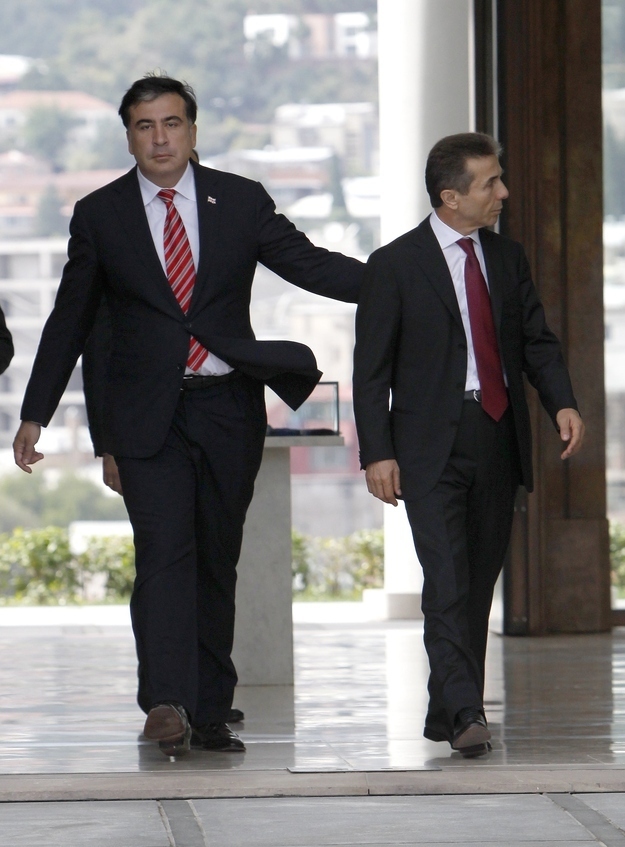 UNM members accuse the government of using interrogations as a political tool to scare people out of the party. "Ivanishvili thinks he's a civic patriarch who has the right to say, 'You don't have the right to be politically active,'" Giga Bokeria, the secretary of the national security council and a top Saakashvili ally, said. "They are creating this environment themselves. Justice isn't about voters. It should be about procedure."
It is a disconcerting end to a heady, but turbulent rule. Since he ensured Georgia's first peaceful transition of power by conceding last year's elections, the ursine, garrulous Saakashvili has cut an increasingly forlorn figure. He recently moved back into the apartment he lived in before the Rose Revolution. Pressured into surrendering most of his powers to the prime minister's office before his second term ends after Sunday's presidential election and constitutional changes take effect, he watched helplessly as Ivanishvili's government froze his signature infrastructure projects, like the parliament, and filed criminal charges against several dozen senior party members. Some have fled the country. Others, including his last prime minister, Vano Merabishvili, are in jail.
U.S. Ambassador Richard Norland has remained on the sidelines during the crackdown, saying only that the embassy was "closely following" the charges and seeming content that "the Georgian authorities have indicated the intent to abide strictly by due process and the rule of law." As a result, the key intermediary in Georgia's internecine political conflict is no longer the U.S., but Europe. Ivanishvili has pledged to continue Saakashvili's mission of moving Georgia toward the European Union and NATO. His minister for European integration, Alex Patriarshvili, claims no ministers in Brussels have questioned Georgia's Euro-Atlantic aspirations and points to a recent, largely complimentary human rights report from an EU observer that did not address the justice issue. However, two EU ministers who visited this week — Sweden's Carl Bildt and Poland's Radek Sikorski — urged Ivanishvili to avoid the "politics of revenge." Last Wednesday, the European Parliament passed a resolution strongly suggesting that Georgia would not be able to sign an association agreement with the EU if it does not end the prosecutions. (An early draft referred to Merabishvili, the former prime minister, as a "political prisoner.") Ivanishvili has expressed his interest in "forgiveness and reconciliation," but made several statements throughout the week implying Saakshvili would be charged with the murder of his first prime minister, Zurab Zhvania, who died in mysterious circumstances in 2005.
"If they do that, it's over with Europe. Georgia will really be adrift," an EU diplomat in Tbilisi said.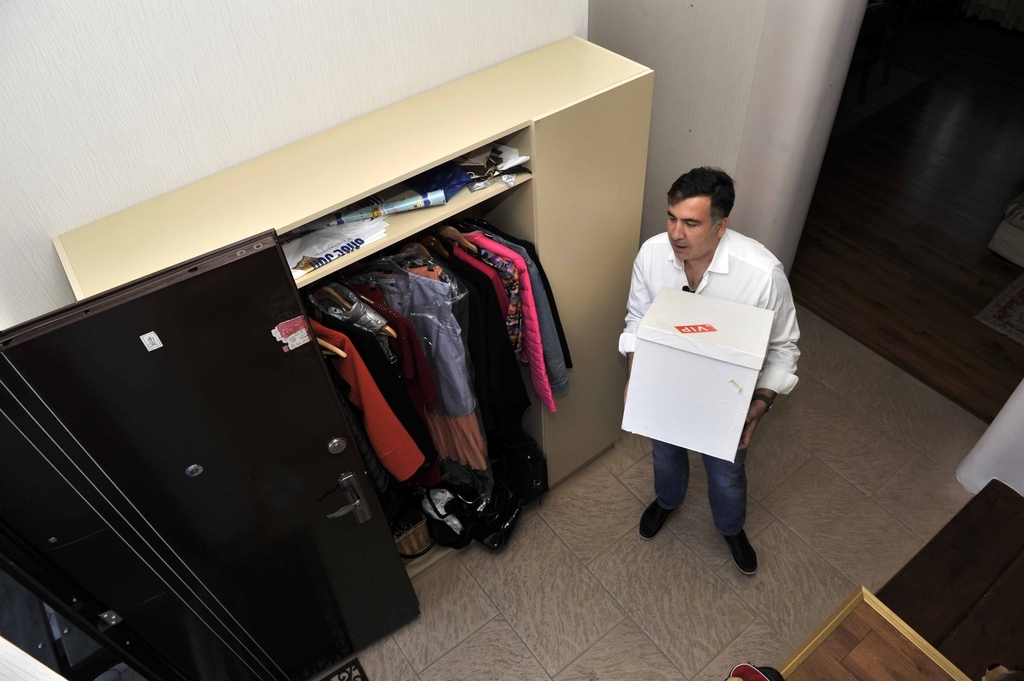 Saakashvili does not intend to make the issue easier for the government by taking the easy way out and leaving. He remains chairman of UNM, although the party has been reorganized and some of his functions have been transferred to David Bakradze, the presidential candidate. Bokeria, the national security advisor, has clashed with Saakashvili over the role he should play in restoring the party. He is planning a presidential library aimed at educating young Georgians and sending them to study abroad, as well as a center for Georgian winemakers to learn techniques from European vintners. He has been in talks with several Western universities, including his alma mater, Columbia, about visiting professorships, although he says nothing has been finalized and he would never leave Georgia permanently.
Many of Saakashvili's achievements remain far more popular than he is. Polls indicate overwhelming support for Georgia's turn toward the EU and NATO. He all but stamped out petty crime and corruption. Radical reforms, described by their architect as "selling everything but our conscience," kickstarted Georgia's moribund economy. But his zero tolerance on crime gave Georgia the highest incarceration rate in Europe, sparking fury when videos showing appalling human rights abuses in prisons surfaced last year. UNM were widely accused of using their near-monopoly on power to intimidate businessmen into supporting their projects or surrendering their property. The judiciary was viewed as completely subordinate to the prosecutor's office. Few benefits of Georgia's 6% average economic growth trickled down to its citizens, 25% of whom live below the poverty line.
As his time in office neared its end, his rule became more erratic and centralized, leading many to fear that he would use the constitutional changes to prolong it. His beloved infrastructure projects became more outlandish — and included an attempt to build Lazika, an "instant city" of half a million in a swamp on the Black Sea intended as a Caucasian rival to Dubai that critics deemed an unfeasible waste of money.
"If you make people happy in their daily lives, if you give them jobs, work, they don't care," Tedo Japaridze, chairman of the parliamentary foreign relations committee, said. "The parliament in Kutaisi is a Potemkin village. It's something extraterrestrial. And you look out and it looks like London bombed by the Nazis."
One evening this month, Saakashvili gestured from the balcony of his mother's penthouse apartment in the port city of Batumi. "You want to know why I lost?" he asked. Space-age skyscrapers flickered in the distance by the coastline. Closer to the building, a slum of shacks with corrugated iron roofs festered in darkness. "We didn't extend the electricity and the sewage in time. They didn't get it."
In the slum earlier that day, half the people Saakashvili walked past greeted him as if they knew him, and he greeted them back. As he sat down for dinner in a square, a group of girls at a table in the far corner giggled with glee and blushed before they mustered up the courage to ask him for a photograph. Most of Batumi, however, is immune to his charm — Georgian Dream won there in a landslide.
Saakashvili's undeniable charisma was also his Achilles heel, he said. "People get sick of seeing you around everywhere," he said. "They went for the opposite — [Ivanishvili's] distant, cold, you never see him. It's very easy to blame me for everything. 'Why are you in the disco? I live in a slum.'"