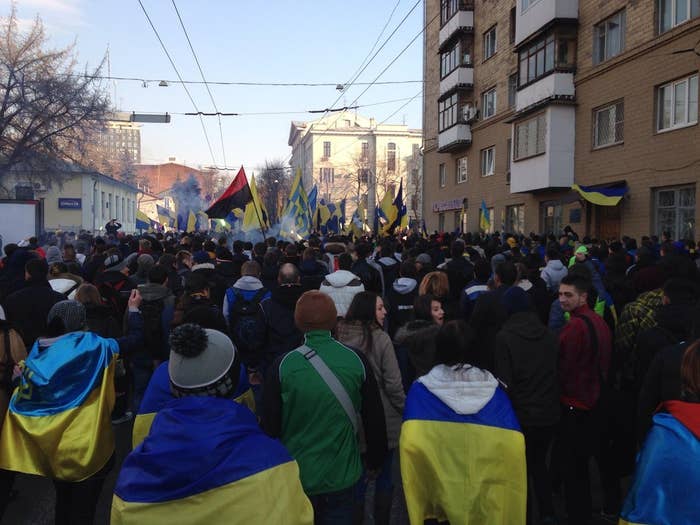 KHARKIV, Ukraine — Until Ukraine's revolution, the country's soccer fans spent their weekends looking for excuses to beat each other up. Now, they're under a truce in the name of keeping Ukraine together.
You might not have known it, but the thousands of yellow-and-blue clad soccer fans, or ultras, who marched through this eastern Ukrainian city on Sunday chanting nationalist slogans, setting off flares, and letting slip the odd Nazi salute were doing so in the name of peace.
"Let's hear it for the Shakhtar fans who came here to march with us!" said a fan of Metalist Kharkiv, a rival club to Shakhtar, from the eastern city of Donetsk. He led chants as a column of ultras paused outside a factory. They had invited Shakhtar fans to join them. "We need to be together in times like this," the fan said, before the ultras broke out into Ukraine's national anthem.
Calls for unity began in mid-January when police started violently clashing with anti-government protesters in Kiev. Often, they were accompanied by paid-off thugs known as titushki — semi-professional hooligans sent in to attack protesters and pave the way for a police clearout. Fans in several cities immediately announced they would protect local protesters; they felt new laws passed at the same time that effectively outlawed protests put them in the same position they found themselves in at the stadium every weekend.
"Many ordinary Ukrainians from different parts of the country have had to deal with what fans have seen and gone through for many years — injustice, maltreatment, beatings, and torture," the ultras wrote in a joint statement published in February. "Continuing any confrontations between fans at the present time would be a crime against the bright future of Ukraine."
That was a particular surprise in the east, where the young working-class men that make up fan groups were a key part of then-president Viktor Yanukovych's base. Maps of Ukraine's national political turmoil even added badges to denote which regional ultras groups had gone over to the revolution. Many fans, however, were motivated just as much by their own longstanding issues with the police and hatred of the titushki, who they saw as violating a sort of moral code.
"I got into being a hooligan because I really love the team — it's my passion," said Sergei, an ultra who declined to give his last name. "These new guys who do things for money? They're not like us."
The struggle against titushki had particular resonance for Metalist fans. According to Ukraine's interior ministry, many of the titushki were sent from Kharkiv by Metalist's owner, 28-year-old oligarch Sergei Kurchenko, and paid with money he embezzled from the state. After Metalist's ultras declared their intent to protect Kharkiv's protest movement, the club threatened to ban them from home games.
Before Ukraine's mid-season winter break had ended, however, Kurchenko had fled the country along with Yanukovych, on the heels of bloody clashes in Kiev that claimed the lives of over 100 people. Metalist's coach quit soon after, claiming that neither he nor the team had been paid for three months. (Kurchenko and the team deny this.) The team now has to play canned noise over the loudspeakers to drown out fans' obscene songs about Kurchenko and Vladimir Putin.
With tensions between Ukraine's strongly nationalist west and largely Russian-speaking east still high following Yanukovych's flight, soccer fans hope they can set an example for the rest of the nation. Earlier this month, ultras from the country's two fiercest rivals, Dynamo Kiev and Shakhtar, played an exhibition game against each other — with star players in attendance. Other fans struck a deal with Ukraine's new government to ensure security at games and help the season resume following a break caused by the turmoil.
For the league's two Crimean clubs, whose directors have announced their intent to play in the Russian league next season, the fans are the only thing keeping them there. Last Saturday, the team from Ukraine's nationalist stronghold in the West, Karpaty Lviv, hosted one of the Crimean teams, Sevastopol. Both players and fans had to make the journey by train, since all domestic flights from Crimea were cancelled after the Russian takeover. With 70 minutes gone, hundreds of Karpaty ultras rushed towards the few Sevastopol supporters hardy enough to make the trip, as if they were about to start a riot.