Shellshocked City At Heart Of Ukrainian Conflict Emerges Blinking After Rebels Flee
Residents hope the worst is over for Slovyansk after a brutal, weeks-long siege. But the struggle for east Ukraine is far from over.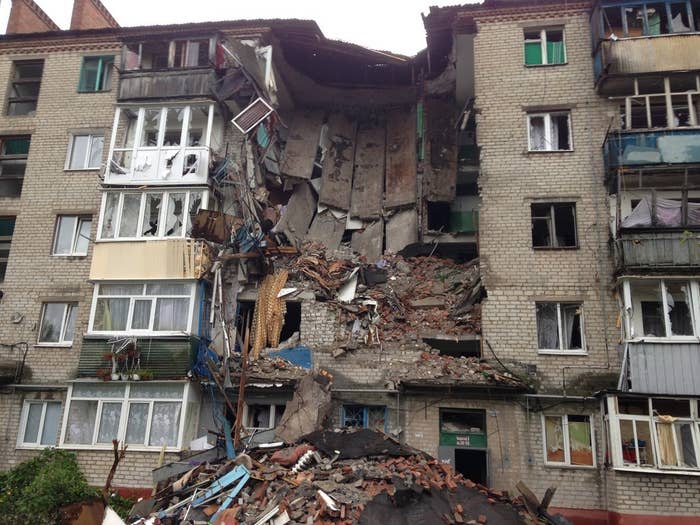 SLOVYANSK, Ukraine — The electricity in Nina Kulikova's home had already been gone for a day, and scores of her terrified neighbors for even longer, when the shell ripped a hole four stories high in her apartment block. Dazed, the 64-year-old grandmother stumbled out of the apartment she's lived in for 45 years and across broken glass to take shelter with those who had already taken refuge in the basement of the school across the street.
When emergency services came last week to sift through the piles of glass and concrete, they could only find one victim of the shelling. All but 25 residents of Bulvarnoye Street, 4, had already fled the city, leaving Marina Reznichenko, 76, alone, bleeding profusely from her neck. They took her to join the injured separatist militiamen in the overflowing city hospital.
Days later, none of her neighbors knew if she was dead or alive. They didn't even know who attacked the building: Ukraine's army had been shelling the city of Slovyansk for weeks, but its officers claim that much of the damage to residential buildings was done deliberately by separatists in need of ready-made victims for Russian TV. The city's residents don't really care who was responsible, given that there's still no electricity in the city. Or running water. Or gas. Or source of income. Or contact with the outside world.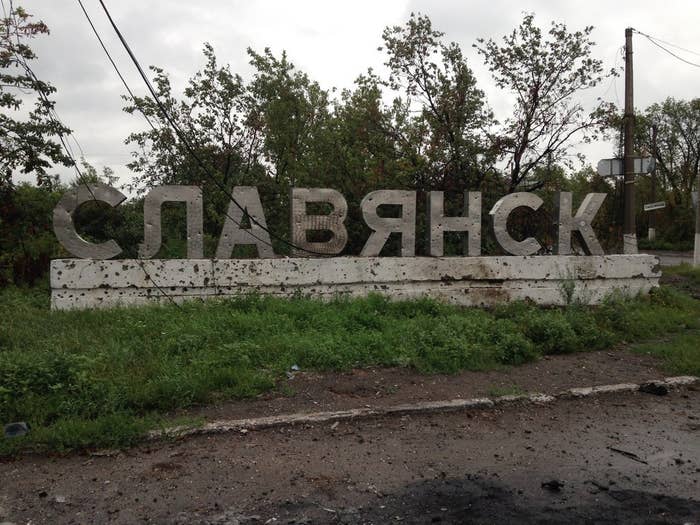 The worst now seems over for Slovyansk, the eastern Ukrainian conflict's epicenter until rebels abruptly abandoned their stronghold on Saturday. A mishmash of Ukrainian soldiers, policemen, and nationalist protesters hastily bundled into a national guard swept into the city as the militia, led by enigmatic Russian commander Igor Girkin, retreated to set up strongholds in the provincial centers of Donetsk and Luhansk. The abrupt surrender was a surprise after Ukrainian forces' frustrated attempts to reclaim the city throughout the three-month conflict. During that time, the rebels — who numbered only a few dozen in mid-April — reinforced their ranks with men, weapons, and armored vehicles Ukraine says came over the border from Russia.
Moscow has built up forces along the border and repeatedly threatened to intervene on behalf of Russian speakers in the region, but has been unusually quiet since Ukrainian President Petro Poroshenko spurned tripartite negotiations in favor of ending a 10-day unilateral ceasefire last week. The rebels' increasingly desperate appeals for support have gone unanswered and, in a first, have not been shown on Russian TV. Ukraine claimed on Monday that it had finally sealed the eastern border, seemingly depriving the rebels of reinforcements — and an escape route.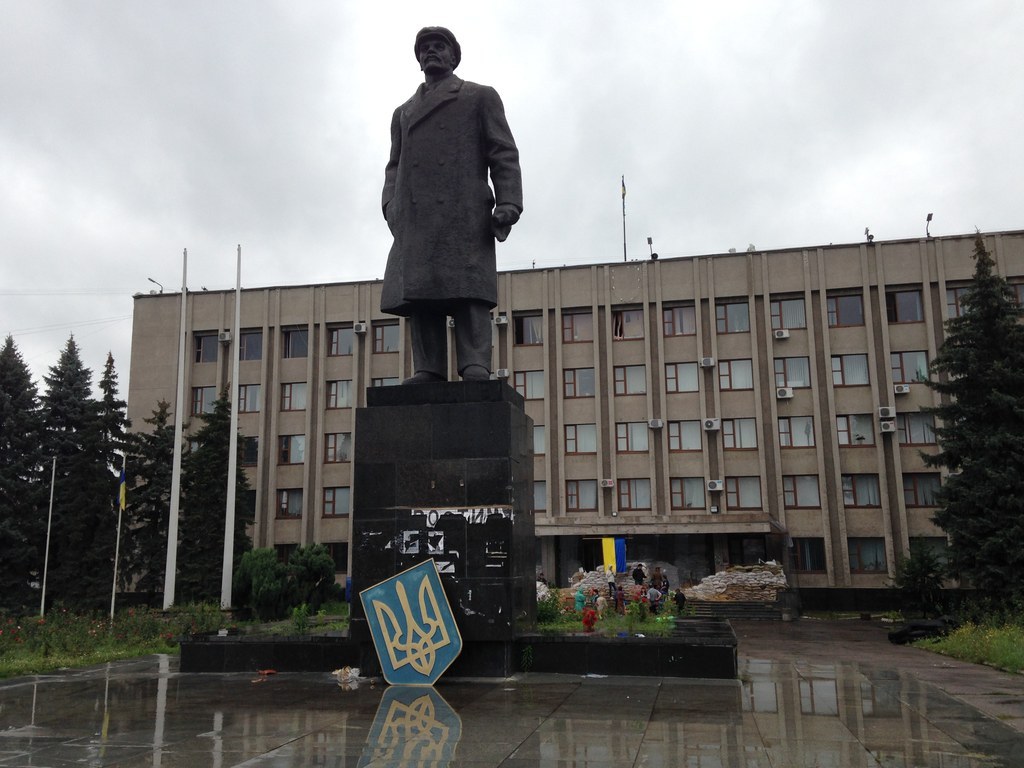 In Slovyansk, Ukraine's blue-and-yellow flags now fly over the buildings the rebels occupied and the checkpoints they set up all over town. (A sign on one sardonically reads: "We're open!") But normal life is still a long way away for this once-sleepy town of 119,000, formerly known for its hot springs and ceramics industry. Much of it is in ruins. Many residents, after embracing the self-proclaimed "Donetsk People's Republic" and its maverick Russian commando, see Ukrainian forces as occupiers. Local men who took up arms and joined it have returned home, but some still sneak out at night in civilian clothes and fire on Ukrainian positions.
"I never thought I'd be on my pension and see all this happen," Kulikova said, leaning on her first-floor windowsill and looking wistfully at the debris next door. "But there you go."
Kiev's central government is eager to spin the capture of Slovyansk and a few other small rebel-held towns in northern Donetsk province as a turning point, following months of fumbling and frustrated attempts to fight the separatists. Poroshenko said the news had "incredible symbolic importance." Politicians have streamed into the city to pose with Ukrainian insignia by the Lenin statue on the central square.
On Monday, Interior Minister Arsen Avakov told several dozen women who quickly surrounded him there that "the city is coming back to peaceful life." Slovyansk would be "beautiful," Avakov said. The women, some of whom were denouncing Avakov's national guardsmen as Nazis only moments earlier, cooed appreciatively when he said he hoped to have electricity restored by the end of the day.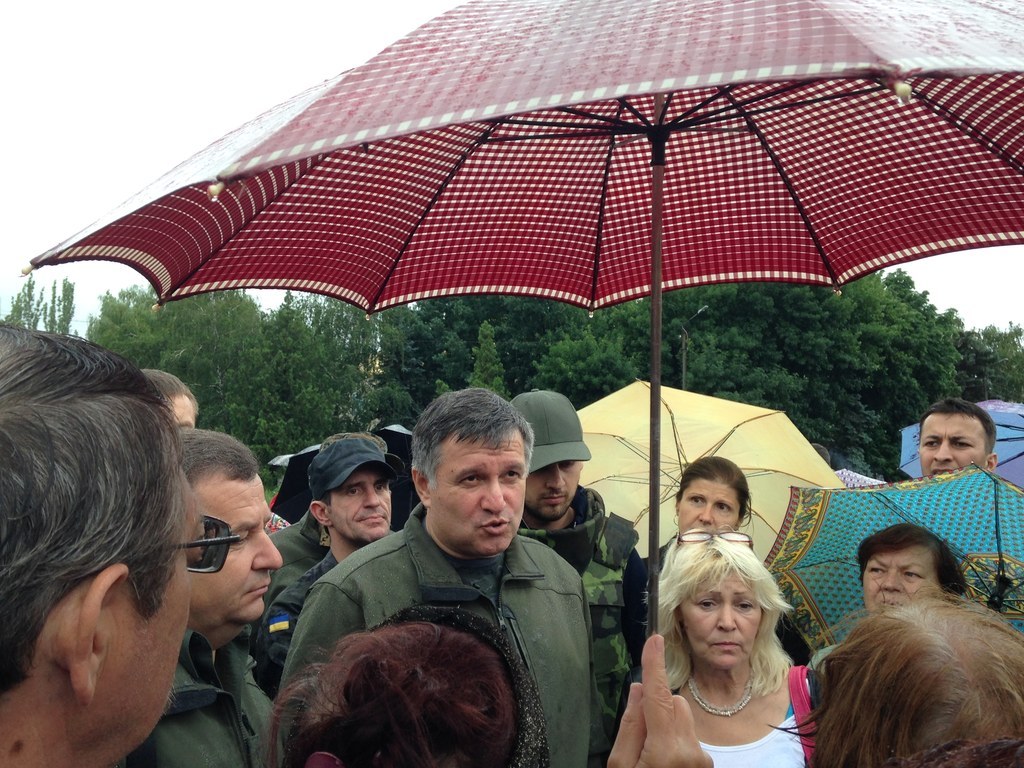 By dusk, however, the city remained dark. Downed electrical cables line the road that once led into town from the north and is now blocked off from all sides. Unexploded mortars are scattered in front of the bullet-streaked sign bearing the city's name. Every shop is closed. Some houses are missing windows; others doors, walls, and roofs.
Unable to bring herself to leave her nine cats and two dogs, Elena, a former courtroom assistant, braved the two fiercest weeks of shelling last month in a dank cellar, as terrified of the Donetsk People's Republic's slipshod martial law as of the constant shelling overhead. (Like many people BuzzFeed met in Slovyansk, she declined to give her last name. "They might come back, you know," she said.) Most of the militia, she and other locals said, were mercenaries from out of town, including many Russians. They took over their apartments. They commandeered their cars, reducing most locals to cycling around town. Dozens who disagreed were taken hostage in the basement of the police station or the security services building and held as human shields.
Even as the conflict intensified, the People's Republic retained the support of many among the half of the population without the means to flee. Its leadership may have been motley — figures include local mobsters, a Ponzi schemer, former (and possibly current) Russian military intelligence officers, and a neo-Nazi marketing manager — but its promises spoke to people fearful of a perceived threat from the new revolutionary government in Kiev. Old women saw it as a return to their nostalgic Soviet youth. The responsibility of manning a checkpoint and the thrill of holding a gun broke the dreary cycle of unemployment and substance abuse afflicting many of the city's young men. (Pro-Ukrainians also suspect many of both were paid.)
Extended shelling has helped that hostility hold, even with the rebels on the run. "Maidan was violent, and violence begat violence," said Father Oleg, a local priest, referring to the protests in Kiev that led former president Viktor Yanukovych, eastern Ukraine's domineering political figure, to flee in February. "A state that is built upon violence and hate is doomed to destruction," he said, as he shifted through a dustpan full of shrapnel. A parishioner drove up on a bicycle, surprised to see him alive. "They said up on the north side that the Nazis banned church services when they came. And our Batyushka Vladimir is dead," he said.
Winning the battle for military control — which all but came at the cost of the city — will make it all the more difficult for Kiev to win back those hearts and minds. Poroshenko intends to create a special broadcasting service for the east, where the pervasive influence of Kremlin TV helped convince many that Russian speakers faced mortal threats from rabid Ukrainian nationalists. The brutal siege of Slovyansk and strong-arm tactics against rebels in other cities has only reinforced that notion, although locals are sharply divided on who bears the blame: Several people repeated Ukrainian claims that the rebels themselves shelled the city to create ready-made atrocities for Russian TV. Evaluating and verifying credible evidence of abuses on both sides is often difficult.
Officials are now handing out leaflets explaining Poroshenko's peace plan and demonizing the insurgents. "An armed person who seizes buildings and hostages is a TERRORIST," one reads. "A Ukrainian citizen helping terrorists, diversants, occupants, and separatists in any way is ABETTING OCCUPANTS, or a COLLABORATOR." Russian TV, which Kiev is currently trying to make illegal, devoted much of its Monday evening newscast to reports of concentration camps for separatist supporters in Slovyansk and a "genocide" of Russian speakers in neighboring Luhansk.
Though rebel leaders are now vowing a decisive final battle for Donetsk, Kiev insists it will not bombard their positions for fear of civilian casualties. But a swell of public pressure for decisive military action and against a solution brokered by Russia has created an impetus for results that will make a return to normalcy in the east all the more difficult. Oleh Lyashko, a radical nationalist whose theatrical stunts on the front lines of Donetsk and Crimea have made his poll ratings skyrocket, stormed around Slovyansk on Monday campaigning for a law that would ban the separatists' supporters from public life for a decade, akin to de-Nazification in postwar Germany. When he ran into the chair of the city council in a stairwell, he forced him to write an impromptu resignation letter confessing his "cowardice," addressed to "the Ukrainian people" and signed, "Glory to Ukraine! Death to the Occupiers!" (Lyashko also found the time to interrogate someone with a plastic bag over his head in the back of a van, then post it to YouTube.)
For now, at least, the Donetsk People's Republic is gone from Slovyansk, leaving a legacy of little more than terror and destruction. The security service headquarters that housed the militia's central command is now a festering hulk of a building after Ukrainian forces detonated mines the rebels left on its top floor. Memorabilia of this short-lived potted police state are scattered among the mulch, spilt fuel, and detritus. Dirt-covered IDs belonging to Irma Krat, a Ukrainian journalist held hostage there for three months, and a dead Ukrainian man blamed for an obviously staged attack on the city lie on the table. Rectangles of dust line the walls where the republic's flags once hung. Filthy mattresses are spread across the floor of the basement where dozens of hostages were kept. A bar of soap they used is still on the windowsill. A few socks are still hanging out to dry on disconnected wires. A bowl of unidentifiable food has gone rancid.
Outside, a sign pinned to a tree warns, "DO NOT LITTER!!! VIOLATORS WILL BE SENT TO THE BASEMENT!!!" Folders of court documents are strewn on the ground. Next to them are a few mugs, slightly burnt in the explosions but intact in plastic wrap. The sides are embossed with the flag of the "First Slovyansk Volunteer Brigade" in the army [LOOK AGAIN] of Novorossiya, the "New Russia." On the bottom, the inscription reads "Made in China."
Max Seddon is a correspondent for BuzzFeed World based in Berlin. He has reported from Russia, Ukraine, Azerbaijan and across the ex-Soviet Union and Europe. His secure PGP fingerprint is 6642 80FB 4059 E3F7 BEBE 94A5 242A E424 92E0 7B71

Contact Max Seddon at max.seddon@buzzfeed.com.

Got a confidential tip? Submit it here.