Updated 4:35 p.m. ET — Kiselyov addressed the news on Russian state television, but denied the program was organized by the State Department.
KIEV, Ukraine — Standing in front of a giant mushroom cloud and making his trademark jazz-hands gestures, Vladimir Putin's propagandist-in-chief fantasized about the imminent nuclear destruction of the United States.
"Russia is the only country in the world that is really capable of turning the U.S. into radioactive ash," said Dmitry Kiselyov, the host of Vesti Nedeli (This Week in News), a weekly current affairs show on state television perhaps best described as a cross between 60 Minutes and the Two Minutes' Hate from George Orwell's 1984. "I don't know if it's a coincidence or not, but Obama's started calling Putin more often — and going gray faster," he continued as the screen showed the trajectories of hundreds of Russian nuclear missiles launching from silos and submarines in the "right direction."
The frothy rants that Kiselyov, 59, delivers against the Kremlin's enemies as he prances and pirouettes around the studio have made him the face (and hands) of Moscow's propaganda machine against the West. The European Union even put him on a sanctions list published Friday for being a "central figure of the government propaganda supporting the deployment of Russian forces in Ukraine."
Kiselyov's own relations with the U.S., however, are more complicated. He may fantasize about the mutually assured destruction of America — but that didn't stop him from participating in a State Department program, former U.S. ambassador to Russia Michael McFaul tweeted early Friday.
"Colleagues, your 'patriots' love to criticize America, then come relax in our country," McFaul wrote in Russian. "We gave these people so many visas when I was ambassador."
BuzzFeed can reveal the details of the program Kiselyov participated in from July 23 to July 25, 2012 — just one month before he started hosting Vesti Nedeli. Along with eight other journalists from seven countries, Kiselyov visited Washington on a trip focused "on global security threats in the 21st century as seen from the U.S.," according to a description provided by the State Department.
The State Department declined to speak about individuals' participation in the trip, citing protocol, but provided BuzzFeed with information about the trip. Multiple calls to Kiselyov's cell phone went unreturned.
Two U.S. officials confirmed that a certificate of participation provided to BuzzFeed was genuine.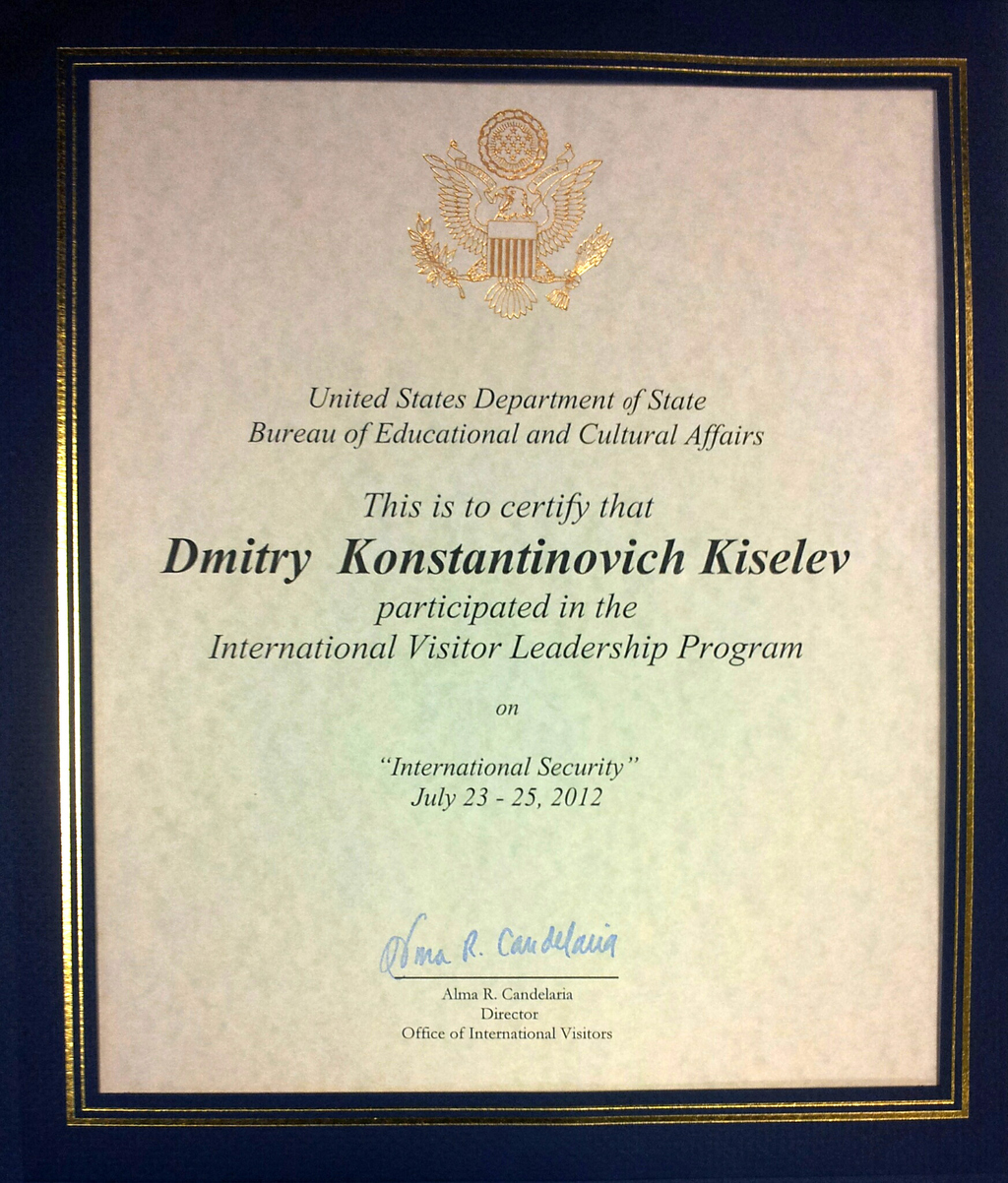 In a hastily convened special edition of fellow top pro-Kremlin journalist Vladimir Solovyov's show Voskresny Vecher (Sunday Evening) on Friday, Kiselyov admitted that he had attended the program, but said he had paid for the trip himself and was unaware that the trip was organized by the State Department.
"If a State Department program smears someone in any way, then that's McFaul's opinion, not mine," Kiselyov said. Kiselyov added that his trips to foreign countries "don't mean I support the domestic or foreign policy of that country's government. Nothing of the sort. I don't see any act of treason here."
During the trip, organized by the State Department and paid for by the European Broadcasting Union, Kiselyov met U.S. officials, academics, and analysts who briefed him and the other reporters on U.S. security and military policy, diplomacy, cybersecurity, and non-military global threats such as climate change, according to a program shown to BuzzFeed. The State Department could not confirm that Kiselyov attended all the meetings, but said the program was so intensive that skipping any of them would have been difficult.
If he did attend all the meetings, Kiselyov would have met two intelligence officials from the Office of the Director of National Intelligence; two officials from the Bureau of Counterterrorism, who briefed the group on European security issues; officials from the Pentagon, which the journalists toured; and two officials from the State Department's Bureau of European and Eurasian Affairs. The group was also briefed by a staffer from the Senate Foreign Relations Committee, whose chair, Sen. Robert Menendez, is on a visa ban list released by Russia Thursday in relation to U.S. sanctions. (Committee member and outspoken Putin critic Sen. John McCain was also on the list.) The journalists visited the offices of Voice of America, a U.S. government-funded media conglomerate that was funded by the CIA to combat Soviet influence during the Cold War. They were greeted by the U.S. Helsinki Commission, which was then pushing for Congress to pass legislation it drafted placing sanctions on corrupt Russian officials implicated in the death of whistleblowing lawyer Sergei Magnitsky.
U.S. officials insisted to BuzzFeed that Kiselyov's meetings with high-ranking officials and figures from non-governmental organizations were innocuous and routine. The State Department's International Visitors Leadership Program, under which Kiselyov visited the U.S., is intended to "put the best foot forward about what America is," department spokesperson Susan Pittman said. "We look for people who are prominent in their fields. They don't necessarily need to be someone who loves America."
That someone as high in Russia's propaganda hierarchy as Kiselyov would do so, however, is particularly striking. State media routinely demonizes anti-Putin opposition activists for meeting Western officials, who, it hints, are really CIA agents giving them "instructions." Non-governmental organizations in Russia also face pressure under a new law and accompanying public campaign led by the likes of Kiselyov dubbing them "foreign agents" for taking funding from the West. That didn't stop Kiselyov signing up for a program that included meetings with the New America Foundation, the Woodrow Wilson Center, German Marshall Fund, Atlantic Council, Earth Policy Institute, CSIS, and George Washington University's Graduate School of Political Management. Putin's repeated allegations that the State Department is seeking to export revolt to Russia didn't stop Kiselyov from taking part in a program that included a dinner the department paid for in the journalists' honor.
Kiselyov is "the poster child for the massive cynicism inside the system of Putinism," a Western diplomat in Moscow who closely follows the Russian media world said. "They don't believe in anything they say and will say whatever they are paid to say."
Opening him to "U.S. perspectives on the global security structure" doesn't seem to have worked. In a recent broadcast, Kiselyov said "Americans are shocking the world by attempting to remake it in their own image." He once painted Sweden's foreign minister as a CIA agent who wanted to pervert Ukrainian children by making them watch TV shows about bodily functions as revenge for a battle his ancestors lost to Peter the Great. He has likened opposition politicians to Hitler. He once argued, on a different show, that gay people's "hearts, in case of an automobile accident, should be buried in the ground or burned as unsuitable for the continuation of life."
Meanwhile, what remains of Russia's free media has been steamrolled. Dozhd, the country's only independent TV channel, faces closure after being kicked off the air under Kremlin pressure; on Thursday, it received an eviction notice and a visit from the tax police, a clear sign in Russia that the knives are out from on high. According to a report in Gazeta.ru, a formerly respected news site now seen as a semi-official organ for Putin's presidential administration chief, they will be replaced by LifeNews, a slavishly pro-Kremlin news site believed to have close ties to the security services.
Putin, meanwhile, has ordered Kiselyov to "liquidate" Russia's relatively objective state news agency and merge it with Russia Today, creating a Frankenstein's monster to broadcast the Kremlin's message to the world. "There's an information war on, after all," Kiselyov said on Sunday's broadcast. "And in the end it'd be good to know who supports whom."