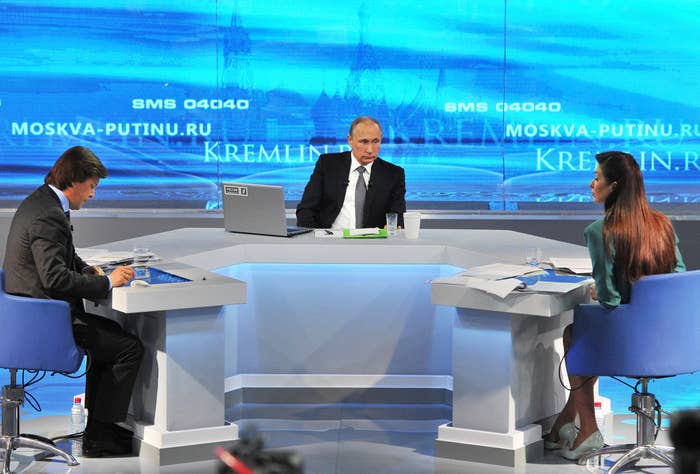 MOSCOW — Russians had millions of questions for Vladimir Putin, but the president had few new answers in a marathon phone-in that touched on subjects from ISIS and Ukraine to pet dogs and the price of milk.

Putin held court for nearly four hours without interruption at an annual "direct line" question-and-answer session broadcast on national TV on Thursday, a format designed to emphasize his virility and supreme personal power. Quizzed by a mixture of Russian journalists, studio guests, and ordinary people in far-flung corners in the country, Putin remained defiant on a series of international issues, but said little to suggest that they would be resolved soon.
Putin said Russia's decision this week to resume supplying S-300 surface-to-air missile systems to Iran was justified because the embargo was not covered by United Nations sanctions. Iran had shown "a desire to reach compromise" by agreeing to a preliminary deal on its nuclear program last month, Putin said. Dismissing U.S. and Israeli criticism, Putin said that supplying the "purely defensive" weapons systems would increase regional stability, especially in light of the Saudi-led campaign against Iranian allies in Yemen.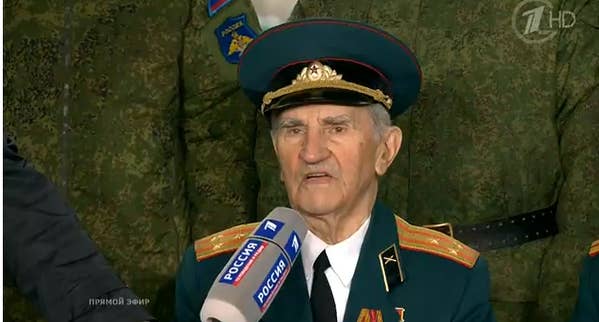 Putin was equally defiant when asked about Russia's relationship with the West, which has plummeted to a low unseen since the height of the Cold War because of the Ukraine crisis. He said the United States was attempting to turn European nations into "vassals" modeled in their own image, deterring them from attending World War II anniversary celebrations in Moscow next month. Putin has resurrected the bombastic Brezhnev-era cult of the war — which claimed the lives of over 20 million Soviet citizens and remains traumatic for many — to assert the Kremlin's geopolitical might and paint Russia as the vanguard in a battle against resurgent modern fascism he says is prevalent in Ukraine. Asked by a veteran of the battle of Stalingrad who Russia's allies were in that struggle, Putin quoted the 19th century tsar Alexander III. "Russia has two allies: its army and navy," he said.
Putin said that Russia had no troops in eastern Ukraine, which he said owed its woes to the misguided policies of Kiev's central government. Moscow's repeated denials that its army is involved have lost all credibility in the face of a wealth of evidence from NATO intelligence to ill-advised admissions on the ground. Putin added he considered Russia and Ukraine "one nation," but repeated his assertions that he reserved the right to protect ethnic Russians outside Russia's borders.
Putin's rhetoric on Ukraine differed little from last year's "direct line," where he admitted that the "little green men" who seized Crimea were Russian soldiers. In a shift from the triumphalism immediately following Crimea's annexation, however, Putin told visibly disappointed Ukrainian refugees that Russia had no plans of annexing the self-proclaimed rebel republics in Donetsk and Luhansk.
In a shift from the triumphalist tone of previous years, most questions focused on meat-and-potatoes economic issues. The gloomy mood reflected that popular concerns have shifted since catastrophic slumps in the ruble rate and oil price sent Russia's economy teetering toward recession last year.
Putin reassured Russians that the worst for Russia's economy was over and predicted a return to growth in the next two years. "Our task is to get through this period with the fewest possible losses," he said. "Can we do it or not? Yes, we can." Putin said that he did not think U.S. and European economic sanctions, brought in last year to punish Russia for its military intervention in Ukraine, would be lifted in the near future. The restrictions offered Russia a chance to develop domestic production, he said.
Most of Putin's interlocutors were worried about pocketbook problems rather than macroeconomics. Putin spent nearly half an hour discussing subsidies and market access for small-scale milk producers. The heavily stage-managed discussion seemed designed to allow Putin to rattle off a ream of statistics he learned while spending two days preparing for the phone-in. Worried farmers were beamed in from a yard in southern Russia as cows milled behind them. A British farmer in Russia, whose flowing white beard and garishly embroidered green shirt made it look as if he had wandered in from a Grateful Dead concert, engaged Putin in the studio.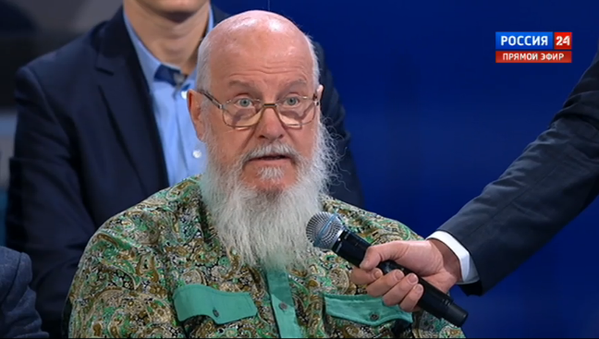 The purpose of all this was to show Putin as a kind-hearted, all-powerful ruler, a format consciously borrowed from a centuries-old Russian tradition of writing direct appeals to the tsar. Putin was inundated with questions from ordinary Russians, who often have few avenues to resolve even petty personal disputes. Over 3 million people sent in questions, organizers said, including 2 million phone calls and half a million text messages.

Putin attempted to resolve some of their problems on the spot, a traditional feature of the phone-ins. After a woman who lost her house in Siberian wildfires broke down in tears, Putin sketched out a compensation plan for all victims. He promised to personally investigate why construction workers at a cosmodrome had not been paid in four months. He encouraged a 4-year-old boy who wanted to succeed him as president. "It's good that you love sleeping; that means you'll make a good president," he said. He intervened on behalf of a woman whose husband didn't want her to get a puppy for her 40th birthday. "Boris, please, be kind," Putin told the man. "Let your wife buy a dog. It's a good deed and will strengthen your family."
At other times, the extent to which Russia's entire political system depends on Putin personally became painfully clear. He declined to answer a question about why police have yet to question associates of Chechen strongman Ramzan Kadyrov in the recent murder of opposition leader Boris Nemtsov — an investigation he is supervising personally. He suggested that the men who ordered the hit would never be found, "if they exist." At the end, he said he had no interest in cloning himself to create an army of doubles before the presenter could finish a viewer's question: "No other officials are worthy of trust!"